This easy-to-use, simple, and professional Spa. You can use the MS Word Business Plan Template to make a Simple Small Business Plan For Spa that looks good and will convince investors. The brief business plan overview will just be a blueprint, with the chance that it will grow in the future. Among the things to see are:
A short, clear executive summary that puts the focus on your action plan


Your business's goals, final customers and specifics about your product or service


A short analysis of what makes you different from your competitors


Predicting sales and income, looking at profit and loss, and analyzing the balance sheet


A confidentiality agreement about bonuses and perks to protect your business and ideas.


You can choose as many colors, fonts, and graphics as you want for your brand.
What you Get in Your Spa Business Plan Package
| | |
| --- | --- |
| Use this Spa Financial Model Demo As An Example | |
Spa Financial Model in Excel, Google Sheets and Numbers
Entrepreneurs may use this Spa cash flow projection template excel to construct a business plan that will help them better comprehend their firm. This is accomplished by highlighting all of the company's primary components and how they all work together. It will help a start-up FM better understand cash flows and the rate at which they are using it. These two factors are critical because they demonstrate how much money is available and how long the funds will endure.
| | |
| --- | --- |
| Use this Spa Financial Model Demo As An Example | |
I.- Spa Executive Summary
Business Overview
New, premium day spa, [Company Name], located at [insert address here], provides high-quality, full-service beauty services to the neighborhood. With our product and service lines, we are able to cater to the needs of middle-class suburbanites who need high-quality beauty care but aren't willing to pay for it.
Services
[Company Name] will offer a wide range of cosmetic procedures to people of all ages and genders. Massages, facials, and hair removal will all be available (waxing and threading). There will be a wide range of unique services, including massages and facials, on offer.
Beauty care items will also be available for purchase from [Company name]. You won't find these things at your local food shop, but you can purchase them at [Company name].
Customer Focus
As part of our spa and salon business plan, we have identified that residents within a 5-mile radius of our area will be our primary focus. These consumers fall under the following categories:
There are 27,827 people living there.


$74,700 is the average annual wage.


Most of those surveyed (58.9%) were married, with 49.6% of those employed in management or professional positions.


Average age: 38 years old
There are also two big high schools and four middle schools in the vicinity, making it an ideal location for a premium day spa. [Company Name] will be a regular stop for students from these schools on special occasions.
Management Team
[Founder's Name] has been in the beauty care industry for 20 years and is in charge of [Company Name]. Even though [Founder] has never owned a day spa of his own, she has been massaging people since the age of 15 and has worked in spas and salons for much of her adult life as a masseuse. To be able to do so, [Founder] has extensive experience in both the day spa operations (such as day-to-day operations) and the day spa company management.
Success Factors
Because of the following factors, [Company Name] is uniquely suited to succeed:
In the rapidly expanding neighborhood we are entering, the Company will serve a special need.


Our site is in a high-volume region with easy access from numerous residential and commercial district zones.


We have conducted a poll of the local community and obtained highly excellent feedback expressing that they expressly want to frequent our business when it launches. Success in the salon and spa industry is nothing new for the management team.
The premium day spa company is a tried and true industry that has seen success across the country. It's hard to find a mid-range day spa in the area; the only options are a low-cost provider ($30-50 for a facial) or an ultra-luxurious salon ($120+).
Financial Highlights
To get started, [Company Name] is looking for $260,000. This was estimated using the spa budget template. As a specific example, these monies will be used as follows:
Design and construction of the store: $140,000


[Company Name] needs $120,000 in working capital to cover marketing, payroll, and leasing costs until it reaches break-even.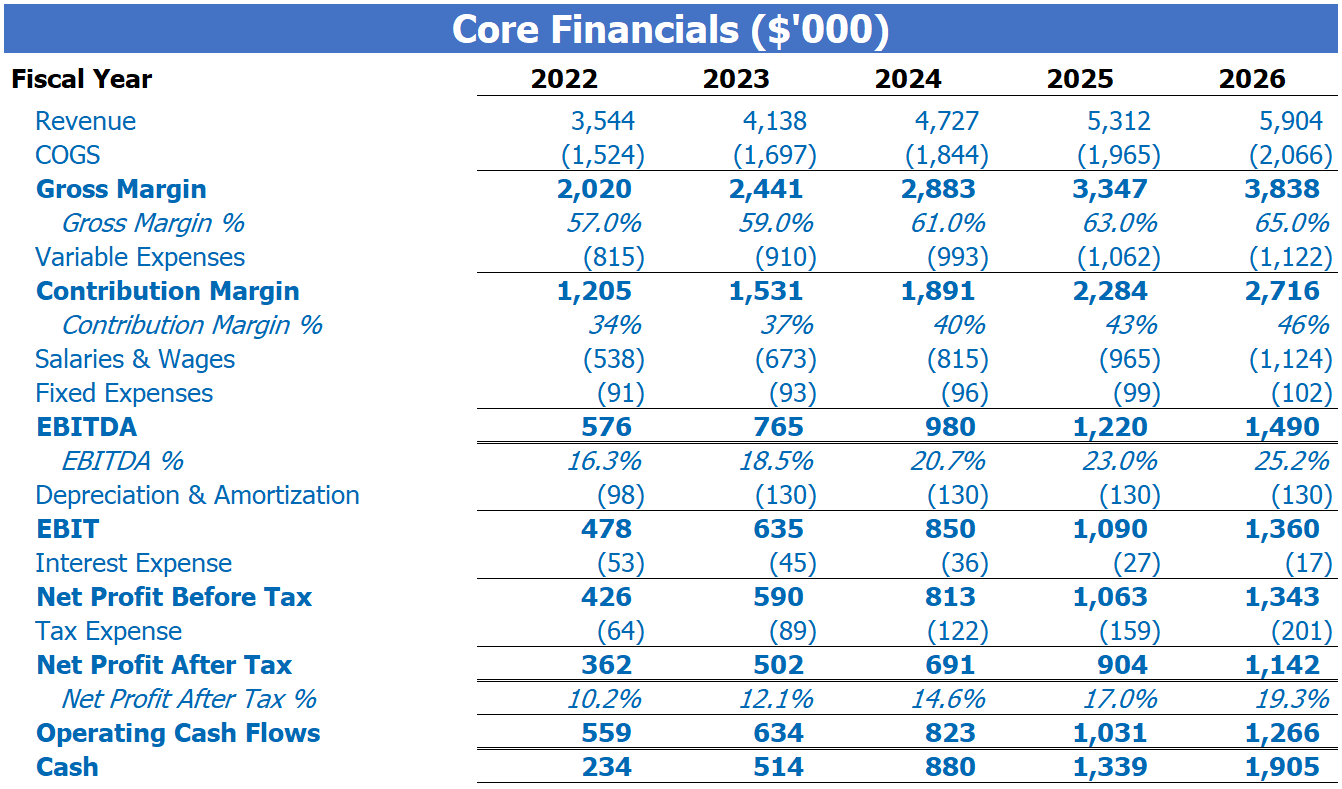 II.- Spa Business Overview
Who is [Company Name]?
[Company Name] is a brand-new, high-end day spa in [insert location here] that offers high-quality beauty treatments and services in a relaxing setting. In addition, it will contain a beautifully-designed interior, as well as a full-featured waiting area with television screens and at-your-service refreshments. Beauty goods from [the Company] are also on display in the waiting room.
[Founder's Name] started [Company Name]. It was in [month, year] that [Founder's Name] made the decision to start [Company Name] in the massage industry, after creating a business plan for salon and spa. In particular, [Founder] visited Fort Lauderdale, Florida, during this time. [Founder's Name] visited a popular day spa while on vacation. When [Founder's Name] spoke with the spa's proprietor, [Founder's Name] realized that a comparable business would be a huge hit in her area as well.
Specifically, the demographics and competition in Fort Lauderdale and his hometown were so similar that he was confident that the business would succeed. As soon as [Founder's name] had completed a reconnaissance of the area, he went ahead and formed [business name].
[Company Name]'s History
A few days after returning from Fort Lauderdale, [Founder's Name] formed [Company Name] as an S-Corporation after analyzing the local client base and discovering a viable store location. Shortly prior to this, [Founder] wrote the salon and spa business plan for the company.
After [Company Name]'s retail site lease is finalized, the business will be conducted from there. Currently, the business operates out of [Founder's Name].
The following achievements have been made by the company since its inception:
Created a firm name, logo, and website at [website]


Decor and furniture layout were handled by an interior designer hired by the company


Recruitment of key staff with existing beauty industry experience began.


| | |
| --- | --- |
| Use this Spa Business Plan Sample As A Guideline | |
[Company Name]'s Products/Services
Below are [Company Name]'sinitial service offerings and in-store products sold.
Specialists will be asked to perform the following services for both men and women:
Facial treatments
Massages (full-body, neck and shoulder, foot, etc)
Waxing
Threading
Each appointment, if desired, will include an initial beauty assessment and suggestion phase where the specialist will discuss the customer's beauty. There will then be a cleansing skin wash with our in-store products, followed by the desired services for the face or skin.
[Company Name] will feature premium beauty products in-store from these well-established brands. It will continue to update its offering in order to provide the newest beauty products to its customers.
Some of its featured brands will include:
Aveda
Greatskin
Repechage
Spa Concepts
Furthermore, the waiting area will have television screens and popular publications to make the wait for service more pleasurable. Toys and board games will also be on hand for waiting children, as well as at-request refreshments which we will provide for free during the waiting period.
Design
[Company Name] will develop a 2,500 square foot store whose key elements will include the following:
Cosmetologist Booths
Reception Desk
Self-service coffee area
Sinks
A waiting area with TV screens
Restrooms
Below please find a rough sketch of the floor plan:
The retail location has 10 dedicated parking spots which should suffice even in peak hours.
[Company Name] plans to be open 7 days a week, from 10AM to 6PM. As demand dictates, we may extend or reduce our hours.
III.- Spa Industry Analysis
Spas, salons, and massage parlors run by individuals as well as regional and national chains are competitors of [Company Name]. In the United States, there are more than 450,000 licensed beauty or spa salons.
It is estimated that only 15 percent of the market is held by the 50 largest companies in the spa and salon industry. Three years from now, the market is expected to be worth more than $35 billion. This is good news for [Company Name] because the entry hurdles are not as high as they are in some other industries, and a start-up can expect success in this developing industry. There are no truly powerful competitors. Local day spas with a focus on a specific region or demographic have a lot of possibilities to grow in this market. As [Company Name] has demonstrated, size does not always matter when it comes to building a successful spa business; this bodes well for [Company Name].
| | |
| --- | --- |
| Use this Spa Business Plan Sample As A Guideline | |
What you Get in Your Spa Business Plan Package
Industry Statistics & Trends
The market in which [Company Name] plans to participate is going through a variety of changes at the moment. These are all found in the spa business plan template.
Trends in the market
:
Growth has been consistent yet slow. The market for this product is predicted to expand at a rate of about 2% each year.


The pursuit of success serves as a motivator. In the end, it is the level of customer pleasure that determines whether one spa succeeds or fails. Whether or not a client returns to a spa and refers others to the same facility is determined by the quality of their experience.
Trends at the firm level
:
Scalability economies. Larger spas are succeeding because of the efficient use of support staff. There are a number of jobs that can be performed by receptionists, washers, and assistants in larger spas that would otherwise be handled by trained masseuses and hairdressers. Because of this, a trained masseur or cosmetologist can devote more of their time to providing high-quality services to their clients.


Independent day spas of the highest quality. Even in the high-end sector, independent day spas are a viable option for clients. These businesses cultivate long-term relationships with their clients and base their placement decisions on the characteristics of the local community.


Specialty spa salons. Spas that target to specific consumer groups, such as those who want gemstone treatments or dermatologist brands, are already carving out a niche.
Trends at the level of the customer
:
Extremely devoted customers. Recurring consumers make up a large part of the money generated by many spas, as they become regular clients. Long-term success should be expected for spas that hire staff who can build close relationships with their clients.


Gender roles are shifting. In the past, women have traditionally accounted for the majority of spa revenue, as they frequently visit the spa for cosmetic treatments and spend more money each time they do so. However, in the last several years, the attitude of male consumers has begun to evolve. About a quarter of spa patrons are men these days.


Gender bias. Spas are more profitable for women because they return more frequently and spend more money on particular treatments.


IV.- Spa Customer Analysis
Profile of Target Market
In addition to serving the residents of [business location] and the local surrounding area, [Company Name] will also serve individuals who work in [company location].
The target market is expected to afford the higher quality service and is looking for a hair and beauty service midway between the deep discounters and the top-end luxury brands.
| | |
| --- | --- |
| Use this Spa Business Plan Sample As A Guideline | |
Demographics
The precise demographics of the town in which our retail location resides are as follows:
Customer Segmentation
The company's primary focus will be on the following consumer groups:
There are many stay-at-home parents in the town who are active in their children's schools and communities through soccer and other extracurricular activities. These moms go to the salon on a daily basis for beauty procedures. A mother's allegiance is typically linked to her children's and her husband's as well. As a result of their extensive professional networks, these women are a valuable source of new client referrals. It is expected that [Company name] would continue to acquire new clients via referrals.


A popular commuting route passes right by [Company name]. Working men and women will flock to [Company name] because of its convenient location and excellent customer service.


Many high schools and middle schools may be found in the surrounding area for students. While still dependent on their parents' income, these students are able to pay more for higher-quality services than those offered by discounters because of their financial situation. Based on the beauty needs of the local young culture, [Company name] can anticipate to create large seasonal revenue. These are estimated within our beauty spa business plan.


V.- Spa Competitive Analysis
Direct & Indirect Competitors
Within a five-mile radius of [Company Name], the following retail establishments offer direct or indirect rivalry to [Company Name].
Joe's Beauty Salon
It has been 32 years since Joe's Beauty Salon opened its doors as the town's most well-known beauty parlor. Joe's is a full-service beauty salon with everything you'd expect.
Joe's provides facials, manicures & pedicures, and hair styling. There is a significant portion of Joe's revenue that comes from services that are not related to hair care. In addition, Joe's does not provide its consumers with salon-quality goods.
For example, there are just two types of skin cleansers and four types of moisturizing creams available. Since the local pharmacy and grocery store also stock these common products, Joe's is now in direct rivalry with them. When it comes to exclusive products, however, [Company Name] has a plethora of possibilities that are unavailable in [Town's Name].
Lux Facial
After five years in business, Lux Facial is a well-known brand name. Lux Facial is a high-end facial spa that offers treatments starting at $120.
Unlike [Company Name], Lux Facial will primarily target households in the top 10% of the city's income distribution as its primary target market.
A number of Lux Facial's services and products are also available at [Company Name], including:
Facial clean-up
Facial masks
Skin care spot treatments
High-end beauty goods from industry giants
Freddie's Fast Day Spa
From [Company Name], Freddie's Fast Day Spa is just four stores away. As a result of its outstanding location and three years in business, Freddy's has seen tremendous success.
Freddy's firm offers low-cost facials and massages for the neck, and it prioritizes output over product quality. Teenagers aged 13 to 18 make up a significant portion of its customer base.
In comparison to Freddy's Fast Day Spa, [Company Name] offers a number of advantages, including:
There should be a waiting area with TVs and board games for youngsters to enjoy while they wait for their mothers.
It is more important to provide high-quality service than it is to provide quick service if you want them to come back. At [Company Name], we spend an average of 20 additional minutes per client with each one.
However, we expect [Company Name] to survive because of its high-quality service, rather than Freddy's Fast Day Spa's location and client relationships, which we intend to continue.
| | |
| --- | --- |
| Use this Spa Business Plan Sample As A Guideline | |
What you Get in Your Spa Business Plan Package
Competitive Advantage
Detailed in our spa business plan, Advantages that [Company Name] has over its rivals include the following. Included in these benefits are:
For commuters heading to and from the train station, local office workers, and passersby shopping in the city, [Company Name]'s location is ideal. Customers may also take advantage of our ample parking, which makes it easier for them to shop with us.


At a reasonable price, [Company Name]'s beauty care services are comparable to Lux Facial's most expensive offerings. [Company Name] will be able to provide these services at a lower cost.


Marketing and customer service are handled more effectively by our management team than by our competitors because of their years of experience.


Being in the neighborhood for 25 years and having a strong network of friends and colleagues, [Founder's Name] knows everyone in town. Thus, [Company Name] will be able to quickly establish a brand identity and consumer base.


VI.- Spa Marketing Plan
[Company name] seeks to position itself as a respectable, upper-middle-market competitor in the spa market. Customers can expect to receive professional beauty care from skilled cosmetologists and masseuses for a price somewhere between discount chains and luxury establishments.
| | |
| --- | --- |
| Use this Spa Business Plan Sample As A Guideline | |
The [Company Name] Brand
You should expect to see a lot of attention paid to the [Company Name], based on the following value offering:
The setting is ideal.
Specialists you know and trust
A significant amount of one-on-one time
In a reasonable pricing range
A welcoming and customer-oriented setting
Promotions Strategy
Customers who live or work within a 5-mile radius of [Company Name] are its primary focus. [The Company's] marketing strategy comprises the following:
Publications in the area
For at least two weeks before to the opening of its doors, [Company name] will place advertisements about it in a variety of regional newspapers and magazines. In order to stay in front of target audiences, we'll run ads on a regular basis. There will be a lot of advertising in local newspapers, schools, sports programs, and other outlets.
Reputable Sources of Information
We plan to deploy targeted advertising in some of the most prominent periodicals. On a limited basis, we can anticipate to reach a larger geographic area through [Publication or newspaper name]. On the basis of cost-effectiveness, the employment of advertisements in major magazines will be limited. In order to gauge the effectiveness of the commercials, they will provide discount vouchers.
Communal Organizations/Events
As part of its marketing strategy, [Company name] will distribute marketing materials and participate in community activities such as school fairs and local festivals. We'll not only be able to reach adult women, but their families as well, because mothers are typically strongly involved in these kinds of activities.
Commuting advertising
Employing individuals to carry placards along the side of [a road or highway] can help draw attention to [Company name]. We can reach a big number of working people with disposable income by advertising on major commuting routes.
Customer Retention Initiatives
A customer loyalty program designed by [Company name] will keep its most loyal customers coming back for more. When our pros and other personnel aren't offering services to consumers in the store, they will make regular phone calls to them. The purpose of these phone calls is to make sure clients are happy with their treatments and to remind customers that they may desire a fresh facial or massage after a specific period of time has passed. Customers who have been with the company for a long time will be eligible for the loyalty program, and customers who refer others will also receive rewards.
Direct Mailing
Direct mail pieces from [Company Name] will be sent to every home within a five-mile radius of its business sites. If you're interested in learning about [Company Name], you'll find it here.
Continual Customer Interaction
Every month, [Company Name] will send out an email newsletter informing customers about upcoming events, new goods, and other noteworthy information.
Opening-Day Activities
[Company Name] will host pre-opening activities for consumers, local businesses, and members of the media in the weeks leading up to the official opening. These events are a great way to get the word out about [Company Name].
Expenses are detailed in our day spa business plan.
Pricing Strategy
Since the prices at [Company Name] will be reasonable, guests will think they're getting a wonderful deal when they visit the spa. Customers may expect to pay $80 for a typical face treatment and receive personalized attention both during and after their appointment. At a fraction of the cost of an ultra-premium salon or spa, the consumer can anticipate the same high-quality service they would receive elsewhere.
VII.- Spa Operations Plan
The majority of [Company name]'s daily operations will be conducted by appointment. Priority will be given to walk-in patients, but those who phone beforehand will be served first. While they wait, customers can pass the time watching television or reading current popular magazines in the lounge.
Several tasks must be completed in order for [Company Name] to carry out the business strategy. Cosmetologists and masseuses are expected to help consumers upsell additional products and services. [Company name] expects to make use of the following X workers in the following capacities.
Services
Treatments for the face
Removing unwanted body hair with a massage
Administration
Including legal, marketing, bookkeeping, and other administrative duties.
Purchasing and storing goods
Recruiting and training employees
Functions of the cash register and customer service
Miscellaneous
Personnel in charge of repairs
| | |
| --- | --- |
| Use this Spa Business Plan Sample As A Guideline | |
What you Get in Your Spa Business Plan Package
Milestones
The following are a series of steps that lead to our vision of long-term success. [Company Name] expects to achieve the following milestones in the following [xyz] months:
VIII.- Spa Management Team
[Founder's Name] has been in this industry for 20 years and is in charge of [Company Name].
Despite the fact that [Founder] has never been in charge of a day spa, she has over two decades of experience working as a massage therapist at luxury spas. For the first X years of her employment, she worked for a prominent chain as a massage therapist after receiving a certification from [Massage School].
[Founder] earned her bachelor's degree in Communications from the University of ABC.
Customer service will be overseen by [insert name of alternate individual]. [He/she] has worked in the hotel sector for a long time.
| | |
| --- | --- |
| Use this Spa Business Plan Sample As A Guideline | |
Hiring Plan
The store manager will be [Founder]. We need to hire the following people to get our spa up and running:
Cosmetologists are those who work in the beauty industry (3 to start)
Therapists (2 to start)
Employees (1 to start)
In charge of the front desk (2 to start)
[Founder] will consider recruiting the following staff members based on demand and operational maturity: Assistant Store Manager Receptionists [Number]
IX.- Spa Financial Plan
For the most part, [Company Name]'s revenues comes from the services it provides, but it also sells beauty care goods.
Spas, like most businesses, rely heavily on personnel costs. Specialists are compensated with a mix of salaries and commissions, which encourages them to take an active role in the survival and expansion of their companies.
The company's operational costs will be dominated by the following:
Per service commissions
Salary payments
Lease payments
Cost of goods sold and continuous marketing expenditures are also significant factors for [Company Name].
More details to be found in our business plan for spa salon.
| | |
| --- | --- |
| Use this Spa Financial Model Demo As An Example | |
Capital Requirements and Use of Funds
[Company Name] is looking for $265,000 in borrowed capital to open its first retail location. [Company Name] All of these costs, as well as marketing, employment, and working capital expenditures, will be funded by the capital.
As a specific example, these monies will be invested according to the following schedule:
$135,000: Store design and construction
130,000: To cover the company's operating expenses until [Company Name] achieves positive cash flow.
Spa Financial Plan Sources And Uses Report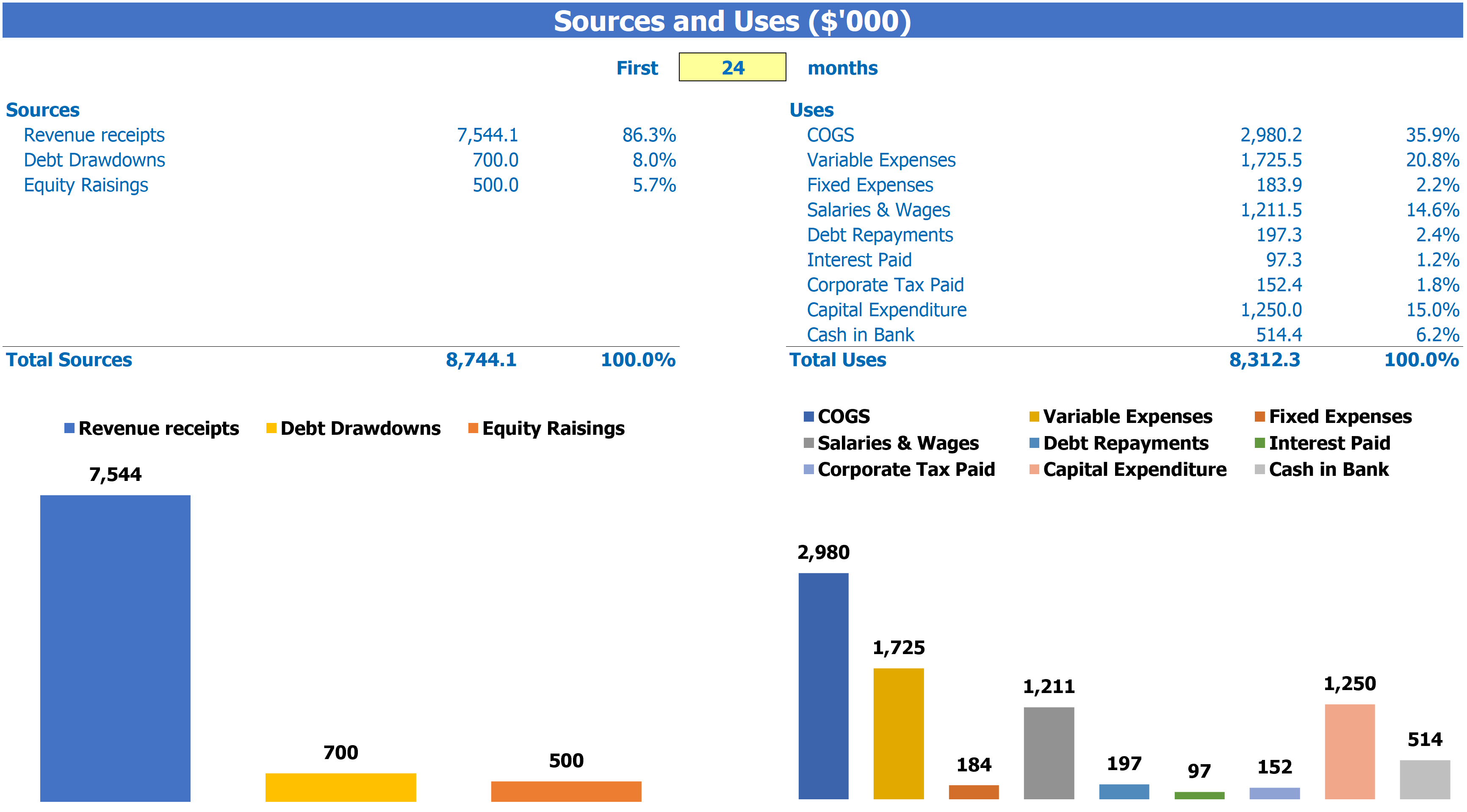 Key Assumptions
The following table reflects the key revenue and cost assumptions made in the financial model.
Spa Financial Plan Core Inputs

Spa Financial Plan Top Revenues Report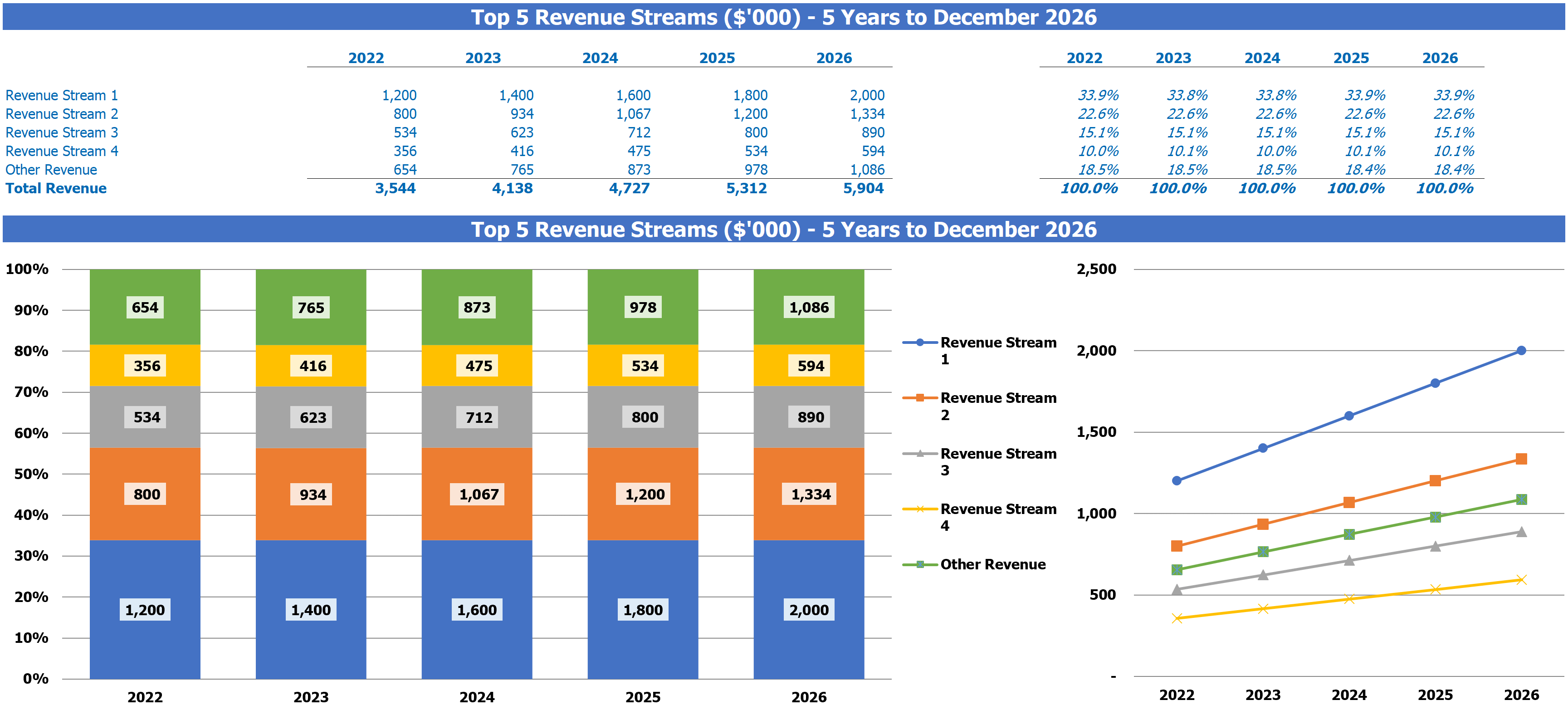 Spa Financial Plan Top Expenses Report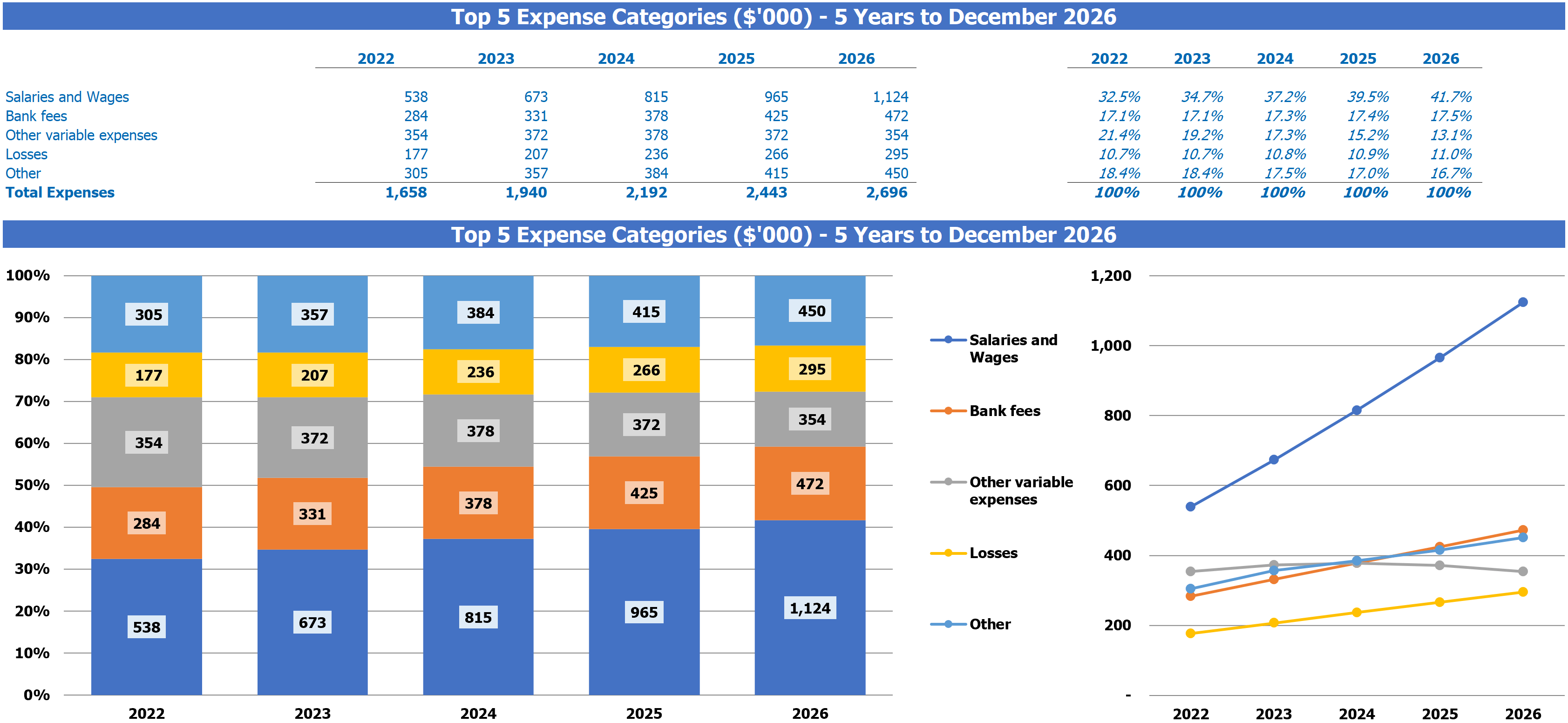 Spa Financial Plan Income Statement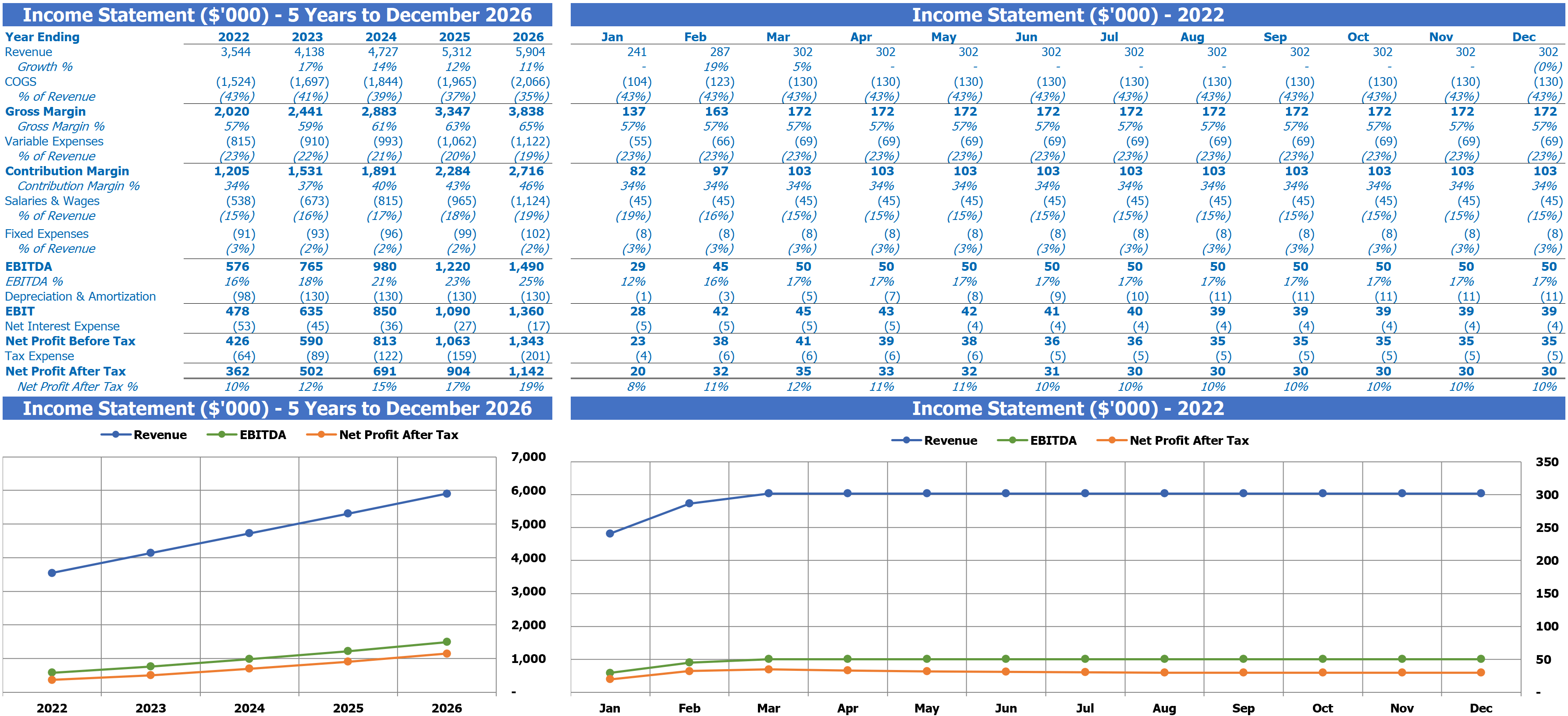 Spa Financial Plan Cash Flow Statement

Spa Financial Plan Balance Sheet Statement