Our 36-page Word business plan template is named Restaurant. The document is sectioned. Each part offers key factors to effectively promote your Restaurant project. Each part and sub-section provides sample text that you can simply edit. Here's a section from your Restaurant Word business plan.
What you Get in Your Restaurant Business Plan Package
| | |
| --- | --- |
| Use this Restaurant Financial Model Demo As An Example | |
Restaurant Financial Model in Excel, Google Sheets and Numbers
Make investor meetings a breeze with our fully integrated Restaurant excel financial model template, which combines everything you need to captivate your investors with one simple click. All of your financial assumptions, financial statements, computations, cash flows, and other reports will be right there for you to access whenever you need them. The best part is that our FM demonstrations are geared at investors.
| | |
| --- | --- |
| Use this Restaurant Financial Model Demo As An Example | |
I.- Restaurant Executive Summary
Business Overview
[COMPANY NAME] offers a modern, sophisticated fine dining experience unlike anywhere else in [LOCATION]. At [COMPANY NAME], every ingredient is 100% organic, sourced locally from farmers committed to excellence. By locally sourcing ingredients, [COMPANY NAME] provides an opportunity to support farmers while offering customers the highest quality menu designed to highlight seasonal ingredients. With a delicious menu rotated seasonally, diners can expect a unique experience every visit.
Offering lunch, happy hour, and dinner service, [COMPANY NAME] delivers a warm, inviting place to celebrate life's big moments. Dinners will feel good about eating locally and supporting local farmers while eating healthy and organic. This restaurant is committed to culinary excellence while leading the charge for sustainable eating. Proving that upscale dining and mindful eating can coexist, [COMPANY NAME] is pioneering a new era of sustainability in the restaurant industry. Customers will feel good about what they eat and experience the highest level of service guarantee to keep them coming back for more.
Services
[COMPANY NAME] offers a sophisticated lunch and dinner menu that offers a unique and memorable experience. The restaurant provides exceptional cocktails and a robust collection of wines to appeal to every taste. With healthy, local ingredients and excellent service, [COMPANY NAME] is a memorable dining experience.
Customer Focus
[COMPANY NAME]'s target customer segment is residents in the community of [COMMUNITY NAME], with some disposable income interested in upscale dining experiences and locally sourced, organic meals.
Target Segment Demographics:
Average income of $74,700


59% Married


61% employed in white-collar occupations


Median Age: 38 years


Management Team
[COMPANY NAME] is owned and operated by its founder, [FOUNDER NAME], a 20-year veteran in the restaurant industry. After working as a sous chef for the esteem chef and restauranteur, Gordan Ramsey, [FOUNDER NAME] felt inspired to pursue [HIS/HER/THEIR] dream of opening a restaurant featuring locally grown ingredients. In this debt restaurant, [FOUNDER NAME] manifests [HIS/HER/THEIR] experience and creativity into an unforgettable dining experience.
Success Factors
[COMPANY NAME] has several points of strength in its business that differentiate them from the competitive landscape, including:
High-quality, upscale restaurant experience, conveniently located in the center of [LOCATION]


Our location is in a high-volume area with little direct traffic and will thus be highly convenient to significant numbers of passersby each day


The management team has a track record of success in the restaurant industry


[COMPANY NAME] fulfills consumers' increasing demand for healthy and organic restaurant and food products amid a societal shift toward health-conscious living


Financial Highlights
[Company Name] is currently seeking $370,000 to launch. Specifically, these funds will be used as follows:
Store design/build: $250,000


Working capital: $120,000 to pay for Marketing, salaries, and lease costs until [Company Name] reaches break-even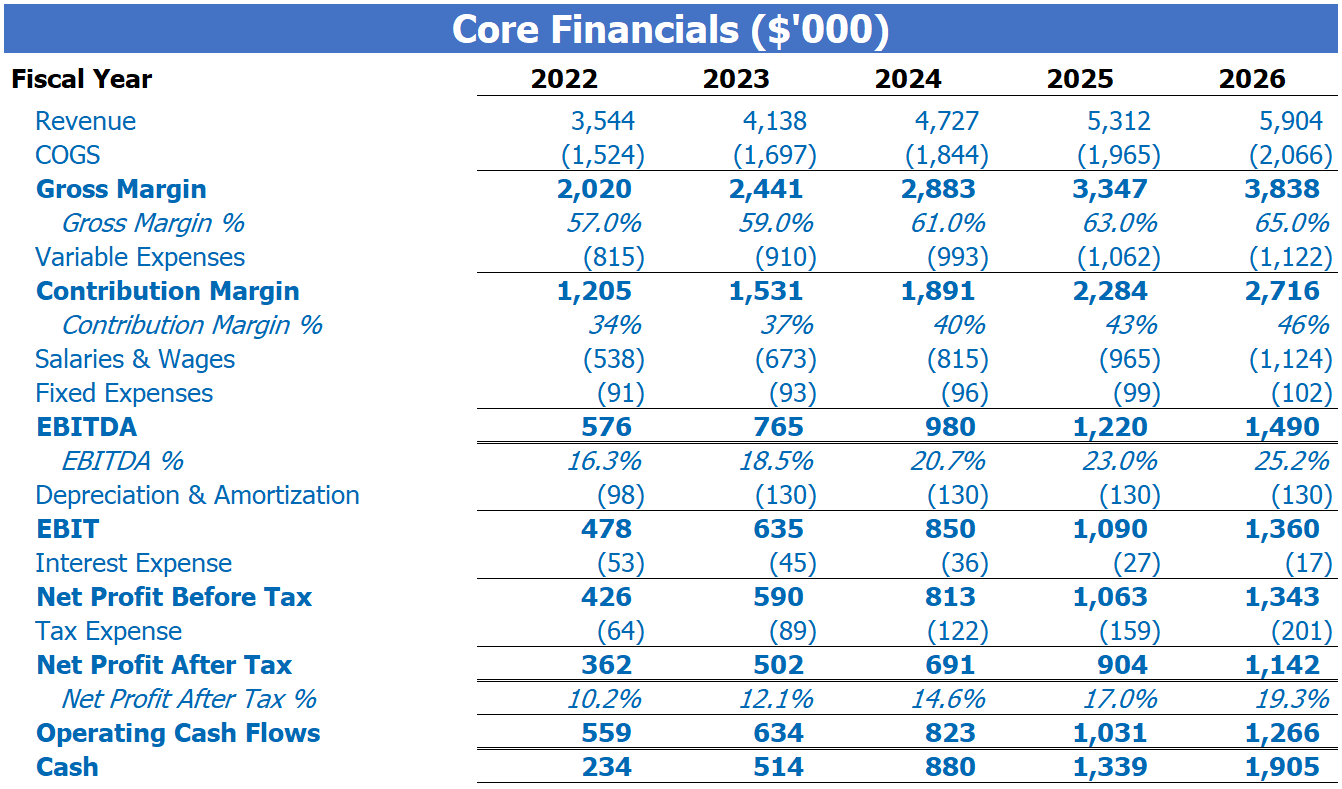 II.- Restaurant Business Overview
Who is [Company Name]?
[COMPANY NAME], located at [LOCATION], is a fine dining restaurant focused on delivering locally sourced ingredients to provide organic, sustainable meals that support local farmers. [COMPANY NAME] provides a warm atmosphere where customers can enjoy lunch, dinner, or a drink.
[COMPANY NAME] was founded by [FOUNDER NAME], who serves as executive chef. A leader in the restaurant industry for 15 years, [Founder] established [COMPANY NAME] in May 2021. [HE/SHE/THEY] was inspired to create the restaurant, a restaurant replying only to locally-sourced ingredients because of their passion for fresh foods and grown responsibility. On a question to support sustainable eating and local farms, [FOUNDER NAME] began creating unique seasonal menus, using only ingredients grown in the [LOCATION] area.
[Company Name]'s History
[COMPANY NAME] operates as a limited liability corporation in [LOCATION] and was founded on May 29, 2021.
[COMPANY NAME] is headquartered at [ADDRESS], a commercial building leased by [FOUNDER NAME].
The restaurant will open for business on [DATE], at which time the following milestones will be reached:
Secured [number] month lease at [location]


Activated building and business insurance


Successfully implemented workforce management software


Hired restaurant staff, including six full-time employees, and six part-time employees


Purchased and installed necessary equipment in a fully renovated kitchen.


| | |
| --- | --- |
| Use this Restaurant Business Plan Sample As A Guideline | |
[Company Name]'s Products/Services
Below is [Company Name]'s initial menu. All items will be 100% natural and organic.
As you can see all items are classified under the following six main categories:
Appetizers


Soups


Salads


Sandwiches


Entrees


Desserts


| [Company Name] Initial Menu | |
| --- | --- |
| Soups | Salads |
| Black Bean Soup | Cobb Salad |
| Broccoli Cheddar Soup | Waldorf Salad |
| Cabbage Soup | Garden Salad |
| Chicken Gumbo Soup | Grilled Chicken Salad |
| Clam Chowder | Southwest Chicken Salad |
| French Onion Soup | Asian Steak Salad |
| Potato Leek Soup | Arugula Salad with Parmesan |
| Split Pea With Ham Soup | |
| Vegetarian Chili | |
| Wild Mushroom Bisque | |
| Chocolate Chip Muffin | |
| Appetizers | Entrees |
| Veggies and Dip | Ginger Chicken with Grilled Bok Choy |
| Grilled Eggplant with Tomato Sauce | Moroccan Chicken with Cous Cous |
| Avocado and Spinach Dip | Braised Short Ribs with Polenta |
| Grilled Tofu Skewers | Prime Rib Eye Steak with Broccoli |
| Chicken and Pepper Skewers | Braised Lamb with Polenta |
| Asparagus and Prosciutto | Grilled Salmon with Lemon and Dill |
| Sandwiches and Wraps | Vegetable Stir Fry |
| Baja Turkey Sandwich | |
| Caprese Sandwich | Desserts |
| Chicken Pesto Sandwich | Banana Nut Pound Cake |
| Eggplant And Mozzarella Sandwich | English Toffee Cookie |
| Mediterranean Wrap | Lemon Pound Cake |
| Roast Beef Caesar Sandwich | Tiramisu |
| Smoked Turkey Club Sandwich | Flourless Chocolate Cake |
| Spicy Tuna Sandwich | Marble Pound Cake |
| Tuna Melt | |
Design
[Company Name] will develop a 5,000 square foot restaurant whose key elements will include the following:
Kitchen area


Ordering counter


Waiting area


Tables to comfortably seat 50 customers


Restrooms


Below please find a rough sketch of the floor plan.
The location has 40 dedicated parking spots which should suffice even in peak hours.
[Company Name] plans to be open 7 days a week, from 12PM to11PM. As demand dictates, we may extend or reduce our hours. Likewise, as demand dictates, we may offer delivery service.
III.- Restaurant Industry Analysis
Direct competitors of [COMPANY NAME] include other local restaurants, both fine dining and casual dining. Indirect competitors include grocery stores, fast food restaurants, and food delivery services.
| | |
| --- | --- |
| Use this Restaurant Business Plan Sample As A Guideline | |
What you Get in Your Restaurant Business Plan Package
Industry Statistics & Trends
[COMPANY NAME] operates in the US restaurant industry. The market demand for fine dining experience is significant – the industry earns approximately $250 billion annually, according to the 2022 "Market Demand Report" published by McKinsey & Company. The same report revealed that fine dining restaurants' average gross profit margin is 29.5%.
As of 2022, the median annual sales earned by fine dining restaurants is approximately $200,000 per 2,500 sq. ft annually, as reported by the US Bureau of Labor Statistics.
When considering consumer behaviors and demand for fine dining experiences, the following statistics published by the National Restaurant association reveal:
Annual fine-dining sales are expected to grow by 6.5% over the next three years.


Full-service restaurant sales are expected to grow by 3%, and quick-service restaurant sales are expected to grow by 4% over the next three years.


Consumer surveys reveal an increased interest in eating healthy, locally grown produce.


Market trend reports indicate that US consumers are looking for healthier dining options that deliver value and excellent service.


IV.- Restaurant Customer Analysis
Profile of Target Market
[COMPANY NAME] will serve the residents in the city and suburban area of [LOCATION] and the immediate surrounding communities. The [LOCATION] area has an affluent population with above-average spending power, making them more likely to seek high-quality foods and fine dining experiences.
| | |
| --- | --- |
| Use this Restaurant Business Plan Sample As A Guideline | |
Demographics
The area we serve is affluent and has an affinity to healthy and organic foods and beverages like we will be offering.
Customer Segmentation
[Company Name]'s restaurant business plan outlines three customer segments that the business will target:
Target Customer Segment 1: Young and established professionals with disposable income who enjoy spending money on experiences and like to dine out on the weekends.


Target Customer Segment 2: Urban professionals seeking a place to conduct business lunches and happy hour events with clients.


Target Customer Segment 3: Adults seeking a place to have lunch or dinner that enjoy a robust selection of cocktails and exciting appetizers.


V.- Restaurant Competitive Analysis
Direct & Indirect Competitors
Several restaurants are located within a 10-miles of [COMPANY NAME] that provide direct and indirect competition for customers.
Callahan's
Callahan's is a local bar and tavern popular within the local city area. The casual, cool atmosphere attacts all types of customers looking for a fun, relaxed, inexpensive evening out. In business for nearly 30 years, Callahan's offers bar food and a wide variety of beers and drinks.
City Steakhouse
City Steakhouse is a local, upscale restaurant that offers high-quality steak and seafood options. Offering an extensive menu of food and drinks, the restaurant provides customers with an elegant, relaxed atmosphere and an excellent dining experience. One of the few fine dining establishments in [LOCATION], City Steakhouse is a destination for locals seeking a weekend date night or celebrating a special occasion.
Dan Dan Noodles
Established in 2005, Dan Dan Noodles is an upscale Asian fusion restaurant with a delicious menu and fun happy hour drinks. Dan Dan Noodles attracts many local business professionals for lunch and drinks during the week by providing an open, trendy atmosphere and refined menu. The restaurant is a local attraction on weekends, offering live entertainment within the restaurant and outdoor seating.
| | |
| --- | --- |
| Use this Restaurant Business Plan Sample As A Guideline | |
What you Get in Your Restaurant Business Plan Package
Competitive Pricing
Here is the pricing of our key competitors:
Competitive Advantage
[Company Name] enjoys several advantages over its competitors. These advantages are categorized in this restaurant business plan as the following:
High-Quality Ingredients: [Company Name] 's menu is designed to serve dishes and cocktails that utilize 100% natural, organic, local ingredients.


Leadership Team: [Company Name] has an experienced leadership team of culinary experts with experience in high-end food service, bartending expertise, and menu creation.


Relationships: Having lived in the community for 25 years, [Founder's Name] knows all local leaders, newspapers, and other influencers. [His/Her/They] can leverage this network to create brand awareness and a strong reputation for the restaurant.


VI.- Restaurant Marketing Plan
The Marketing Plan describes the type of brand [Company Name] seeks to create and the Company's planned promotions and pricing strategies.
| | |
| --- | --- |
| Use this Restaurant Business Plan Sample As A Guideline | |
The [Company Name] Brand
This restaurant business plan for [COMPANY NAME] declares the company's unique value proposition:
[COMPANY NAME] serves the [LOCATION] community with the highest quality fine dining experience, with a menu made of all-natural, 100% organic, locally sourced ingredients from farmers


[COMPANY NAME] provides a warm, relaxing atmosphere that customers can enjoy to celebrate all of life's important events, whether it be a romantic dinner date, a lunch with favorite clients, or a happy hour with friends


[COMPANY NAME] offers an opportunity to do something special with the people who matter most


At [COMPANY NAME], customers can expect a truly distinctive and memorable dining experience with excellent service and unforgettable dishes made with sustainable, locally sourced ingredients


Promotions Strategy
[COMPANY NAME] is a local restaurant focused on serving customers within a 10-mile radius. The restaurant will attract customers by promoting itself via the following channels:
Direct Mail Campaign
[COMPANY NAME] will send direct mail flyers to residents in the community. This campaign aims to raise awareness about the new restaurant and build brand recognition in the community.
Public Relations
The company's founder, [FOUNDER NAME], will leverage their influence in the community and restaurant industry to gain press coverage in local area newspapers, websites, and news stations.
Advertising Investment
[COMPANY NAME] will invest in paid advertising in local magazines and billboards near bus stops in the immediate area. Money will also be invested in digital advertising campaigns, specifically Google Ads.
Digital Marketing
Customers can visit [COMPANY NAME] at [DOMAIN NAME] to place orders, view the menus, and subscribe to a monthly newsletter about promotions, events, and new products.
Opening Events
The restaurant will host a pre-opening party, inviting local food influencers and industry experts for an evening of food and fun to create a buzz in the industry about the restaurant opening.
Pricing Strategy
[COMPANY NAME] uses high-quality, local, and organic ingredients in all menu items; as such, the dining experience is on the premium end but remains competitive. See [Appendix – Figure 1 – Menu & Prices]
VII.- Restaurant Operations Plan
Operating [Company Name] requires three central administration departments and management areas.
This section of the business plan for the restaurant, [COMPANY NAME], outlines these functional areas below:
Business Administration responsible for
- office management,
- legal compliance,
- financial management and bookkeeping,
- marketing, and website management.




Supplier and inventory management
- workforce management and payroll,
- maintenance of business insurance,
- building insurance, and employee benefits,
- new employee onboarding and training/




Kitchen Management Food preparation and production


- menu creation and development of seasonal specials,
- food safety and compliance with inspection standards Inventory management and sourcing ingredients,
- kitchen cleanliness, organization, and evaluation of tools and supplies.




Store Operations & Service


- customer service and experience, including dining service and order management,
- foodservice to instore customers and takeout customers,
- janitorial and maintenance of restaurant and customer dining area,
- scheduling staff and ensuring shifts are covered,
- answering phone and making reservations,
- efficiently seating tables and quickly turning them over for new customers

VIII.- Restaurant Management Team
[FOUNDER NAME] is the founder, owner, and operator of [COMPANY NAME]. [HE/SHE/THEM] is a 20-year veteran in the restaurant industry, having worked at the top restaurants in [STATE]. [FOUNDER NAME] graduated from [CULINARY SCHOOL NAME] in [YEAR] and since then has developed a reputation for excellence in the restaurant industry. [FOUNDER NAME] has been honored with several of the restaurant industry's most coveted awards. In 2013, [HE/SHE/THEY] was named a Rising Star under 40 by Food Inc. Magazine. Later in 2016, [HE/SHE/THEY] was awarded Restaurant Circle's Top Sous Chef Award for being one of the nation's most impressive sous chefs.
In 2018, [FOUNDER NAME] was featured on the Food Network competition show, Top Chef, making it to the final three. A strong advocate for healthy and sustainable eating, [FOUNDER] sits on the board of the Local Farmers Association. This organization brings together farmers and chefs to develop locally grown food supply chains. [HE/SHE/THEM] hopes to inspire restaurant owners to use more local ingredients and create communities that live more sustainably.
| | |
| --- | --- |
| Use this Restaurant Business Plan Sample As A Guideline | |
Hiring Plan
[FOUNDER NAME] runs the business administration of [COMPANY NAME]. The leadership team recognizes the need to hire six employees in the following roles:
Restaurant Servers (2 full-time employees)


Sous-Chef (1 full-time employee)


Assistant Restaurant Manager (1 full-time employee)


Restaurant Host (1 part-time employee)


IX.- Restaurant Financial Plan
[COMPANY NAME]'s primary revenue stream will come from its dining service, including lunch service, happy hour, and dinner service. Dinner service is likely to be the most profitable service, as the menu is more robust, and patrons are more likely to order wine and other alcoholic beverages.
In addition to dining services, [COMPANY NAME] will offer an entire takeout menu. Customers interested in having a fine dining experience within the comfort of their own home can place an order through Uber Eats and Cavier.
The leadership team is considering adding a revenue stream in the future by offering catering services. More market research is needed to analyze the demand and profitability of catering services.
This potential revenue stream would be provided once the restaurant builds a reputation of excellence within the community.
[COMPANY NAME] will incur similar costs to other fine dining restaurants in the market. The highest cost for the restaurant is menu ingredients and inventory. These costs are slightly higher than average because [COMPANY NAME] is committed to using all organic, locally sourced ingredients, which are more expensive than standard ingredients.
Staff salaries are another significant expense. To be competitive in the market and hire top talent, investing in employees is a critical function. These costs will continue to rise as the restaurant gains popularity and requires more kitchen and service staff to meet demand.
Finally, marketing is another significant expense. However, marketing spending will decrease over time. It will be highest in the initial two years, but as the restaurant gains popularity and brand reputation, marketing spending will be less significant.
| | |
| --- | --- |
| Use this Restaurant Financial Model Demo As An Example | |
Capital Requirements and Use of Funds
[COMPANY NAME] is seeking $250,000 of investor funding to scale its business and maximize future revenue. Investment dollars will go towards staffing costs and the implementation of a workforce management system. In addition, money will be invested into marketing activities to build brand awareness and customer loyalty.
A detailed breakdown of investment spending is illustrated below:
$150,000 to hire six more employees


$20,000 to implement a workforce management system


$80,000 for marketing expenses and advertising costs


Restaurant Financial Plan Sources And Uses Report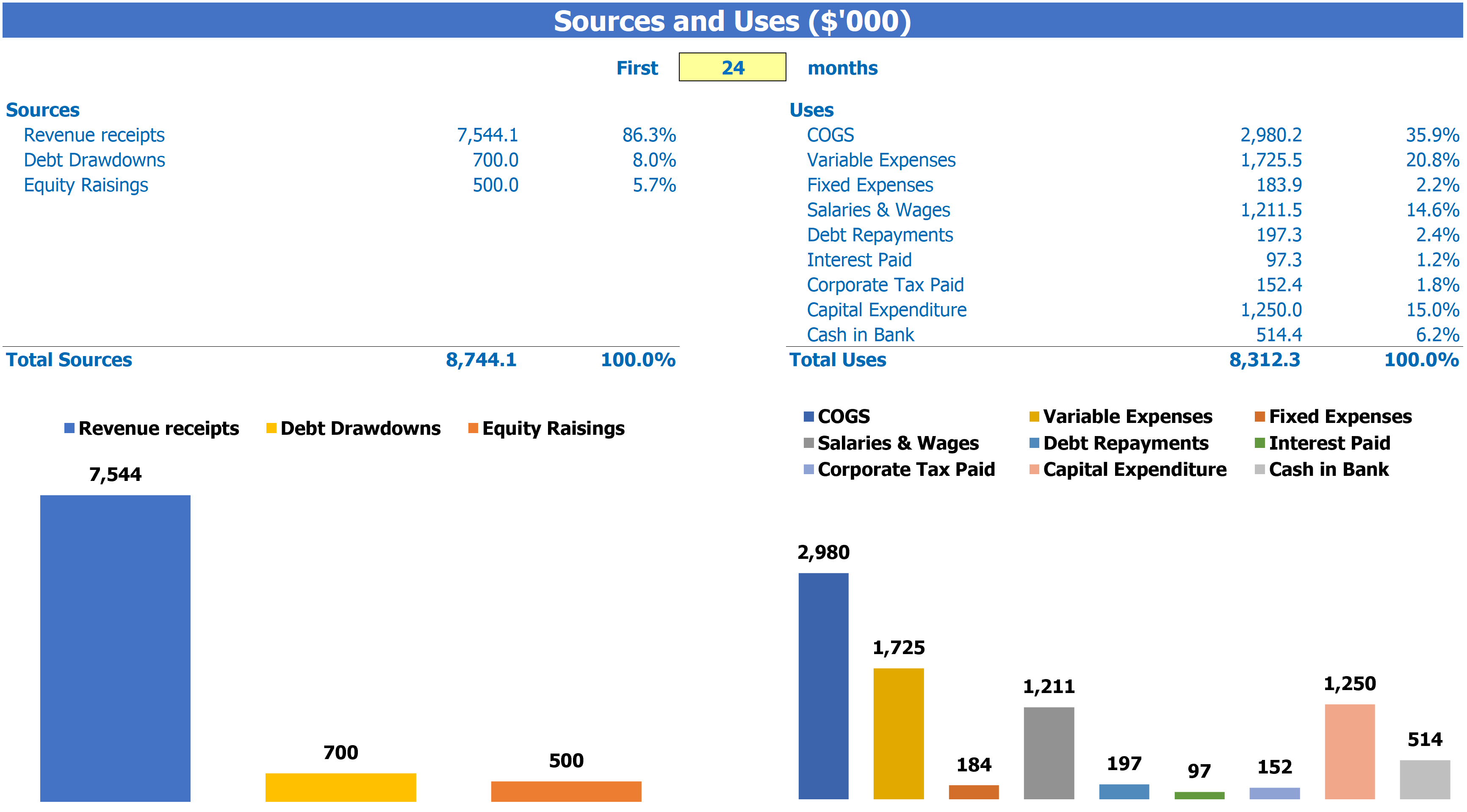 Key Assumptions
Below please find the key assumptions that went into the financial forecast and a summary of the financial projections over the next five years. Please see the Appendix for more detailed financial forecasting information.
Restaurant Financial Plan Core Inputs

Restaurant Financial Plan Top Revenues Report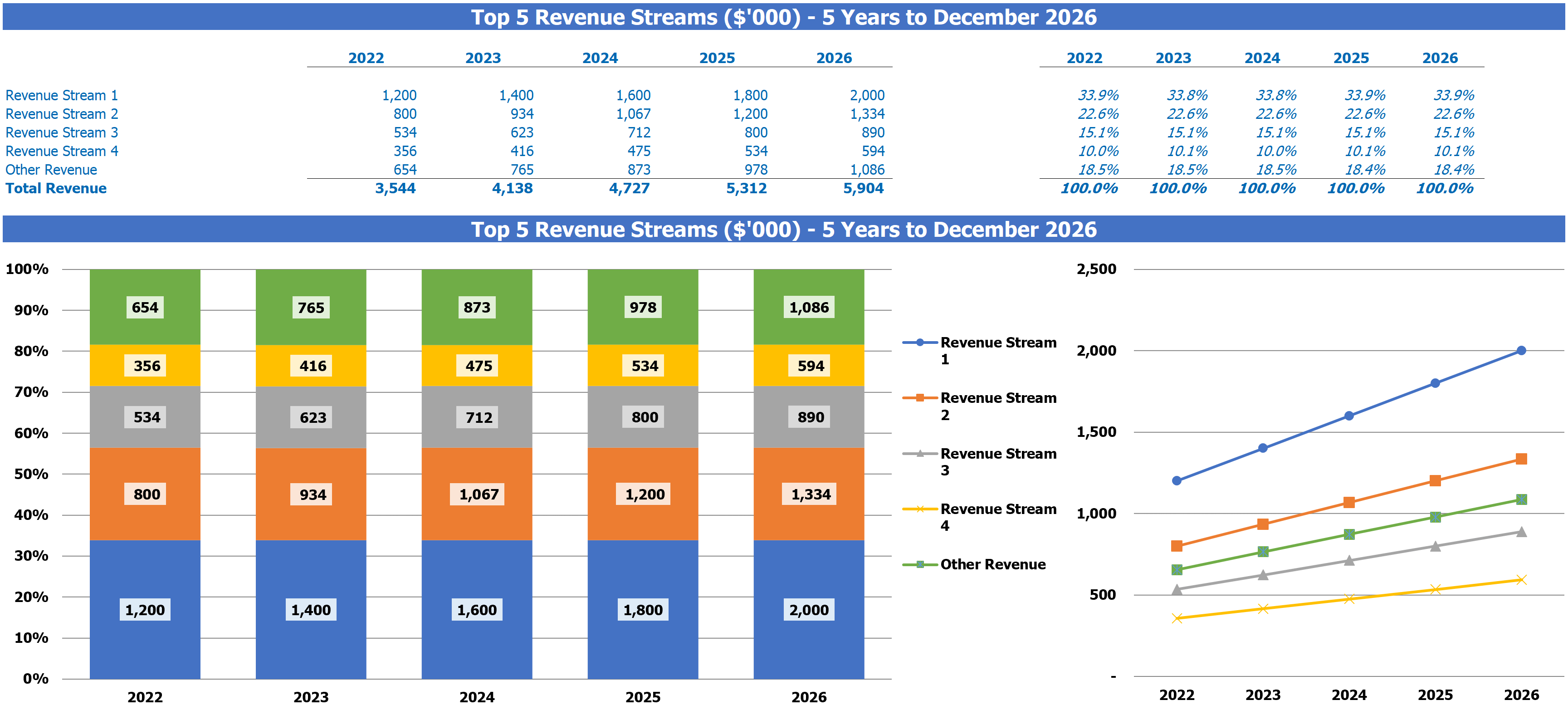 Restaurant Financial Plan Top Expenses Report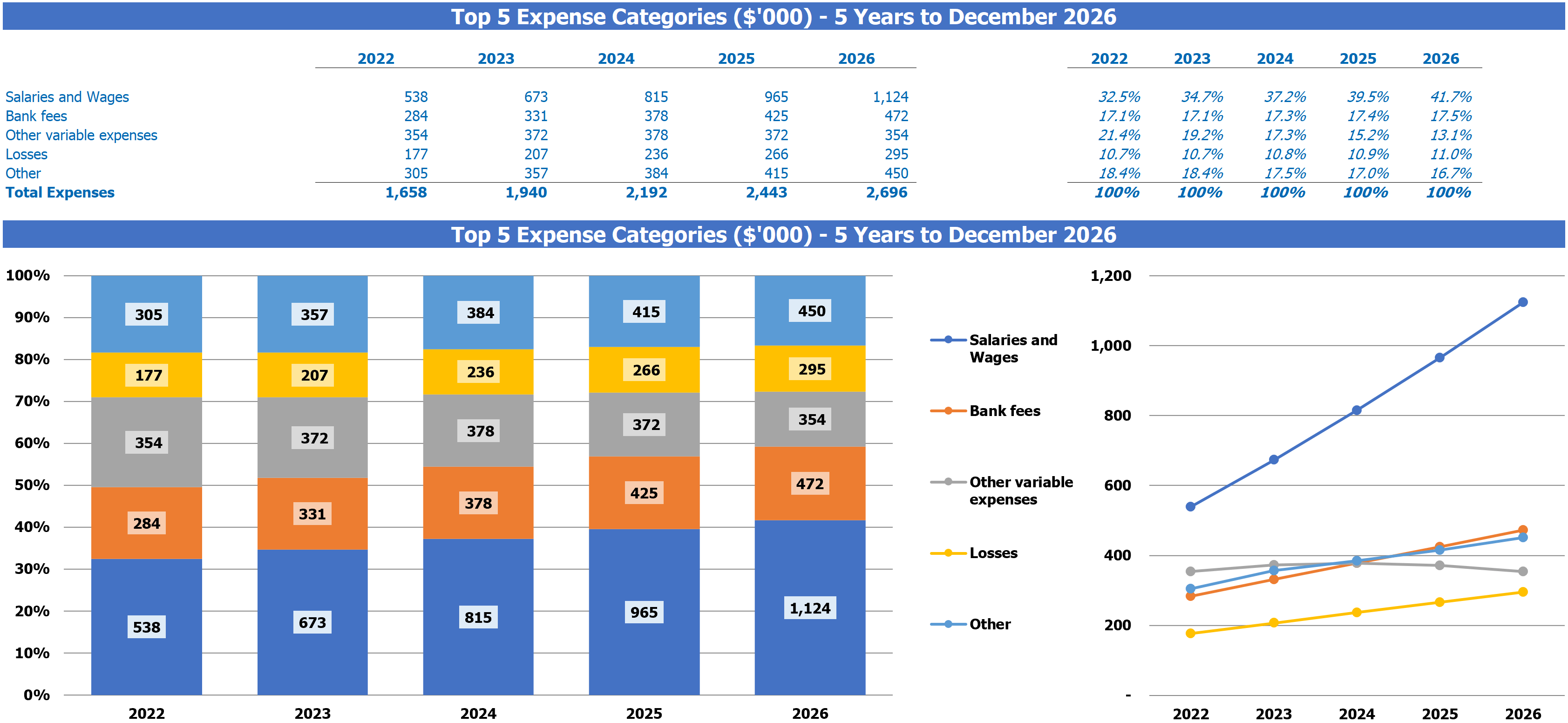 Restaurant Financial Plan Income Statement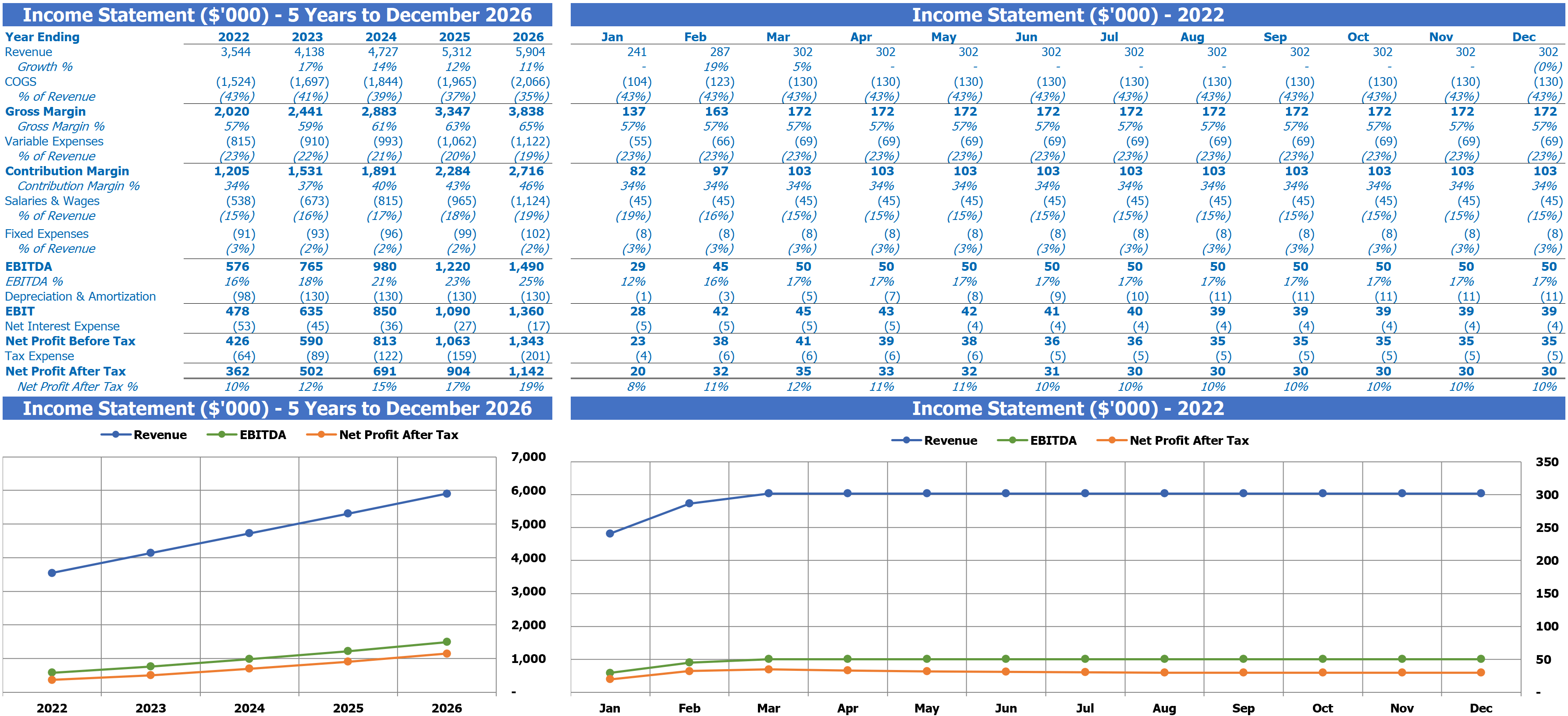 Restaurant Financial Plan Cash Flow Statement

Restaurant Financial Plan Balance Sheet Statement