Our Hair Salon MS Business Plan Template offers guidance in plain language, about how to fill in each section to help you navigate sometimes-daunting business jargon and create a complete and effective plan. Sample wording and examples are also included to help guide you through the process. To ensure your business is presented in an effective and concise manner, each section outline the essential points to be included. See the extract below for a short example.
What you Get in Your Hair Salon Business Plan Package
| | |
| --- | --- |
| Use this Hair Salon Financial Model Demo As An Example | |
Hair Salon Financial Model in Excel, Google Sheets and Numbers
Our Hair Salon financial model in excel template is flexible yet robust, allowing you to work with various revenue models and able to scale with your business. From creating multiple scenarios to measuring the KPIs most important to your business this financial planning model will guide you along the way. All inputs can be edited enabling you to tailor the Hair Salon financial plan for startup to your business needs and continue developing it as your business grows.
| | |
| --- | --- |
| Use this Hair Salon Financial Model Demo As An Example | |
I.- Hair Salon Executive Summary
Business Overview
There is a brand new, high-end hair salon in town, [Company Name], at [insert address here], that aims to provide the locals with comprehensive hair care that is of the highest standard. Customers in the middle-class suburbs in the surrounding region are looking for great hair care, but they don't want to pay a premium price for it – matching our service offering. More details are to be found in our hair salon business plan.
Services
Services for all ages and genders will be provided by [Company Name]'s relationship-oriented haircutting services. According to our business plan hair salon, a hairstylist's primary goal is to cultivate a long-term relationship with each of their clients by focusing on the unique needs of each one.
We'll have everything from perms and extensions to special occasion hairstyles available for you to choose from (weddings, proms, etc.)
Haircare items will also be sold by [Company name] in addition to these services. Products that aren't often seen in grocery shops can be found at [Company name].
Customer Focus
Demographics of our market are outlined in the hair salon startup checklist. In detail, residents within a 5-mile radius of our area will be our primary focus. These consumers fall under the following categories:
A total of 27,827 people live there.


A yearly salary of $74,700 is the average.


58.9 percent married, 49.6 percent in Mgt/Professional professions


The average person is 38 years old.


There are two big high schools and four middle schools in the region, making this a great demographic for an upmarket hair shop. These schools' students, especially female students, will be sure to use [Company Name] on important occasions.
Management Team
[Founder's Name] has been in the hair care industry for 20 years and is the driving force behind [Company Name]. [Founder] began cutting hair at the age of 15 and has worked as a stylist for much of his professional life in a number of high-profile haircut salons. As a result, [Founder] is well-versed in all aspects of operating a haircut salon, from day-to-day operations to business management.
Success Factors
Because of the following factors listed in our hair salon business plan template, we believe [Company Name] is suited to succeed:
In the rapidly expanding neighborhood into which we're moving, the Company will serve a distinct market need. In addition, we conducted a poll of the local populace and got overwhelmingly favorable responses, with many expressing they want to patronize our company once it opens.


In a high-volume neighborhood with easy access to several residential and commercial district zones, our location is ideal for our business.


[Company Name]'s management team has a proven track record of achievement.


The upmarket haircut salon company is a tried-and-true model that has been successful throughout the country.


When it comes to getting a haircut in your neighborhood, you have two options: a cheap place ($10-$20) and a pricey one ($120+). This leaves an underserved market in between, which [Company Name] can serve.


Financial Highlights
Currently, [Company Name] is looking for $260,000 to get off the ground in order to begin operations. As a specific example, these money will be spent on the following:
Cost of store design/build: $140,000


Working capital (covers operating expenses until break-even): $120,000


Overall hair salon start-up cost is then estimated to be around $260,000.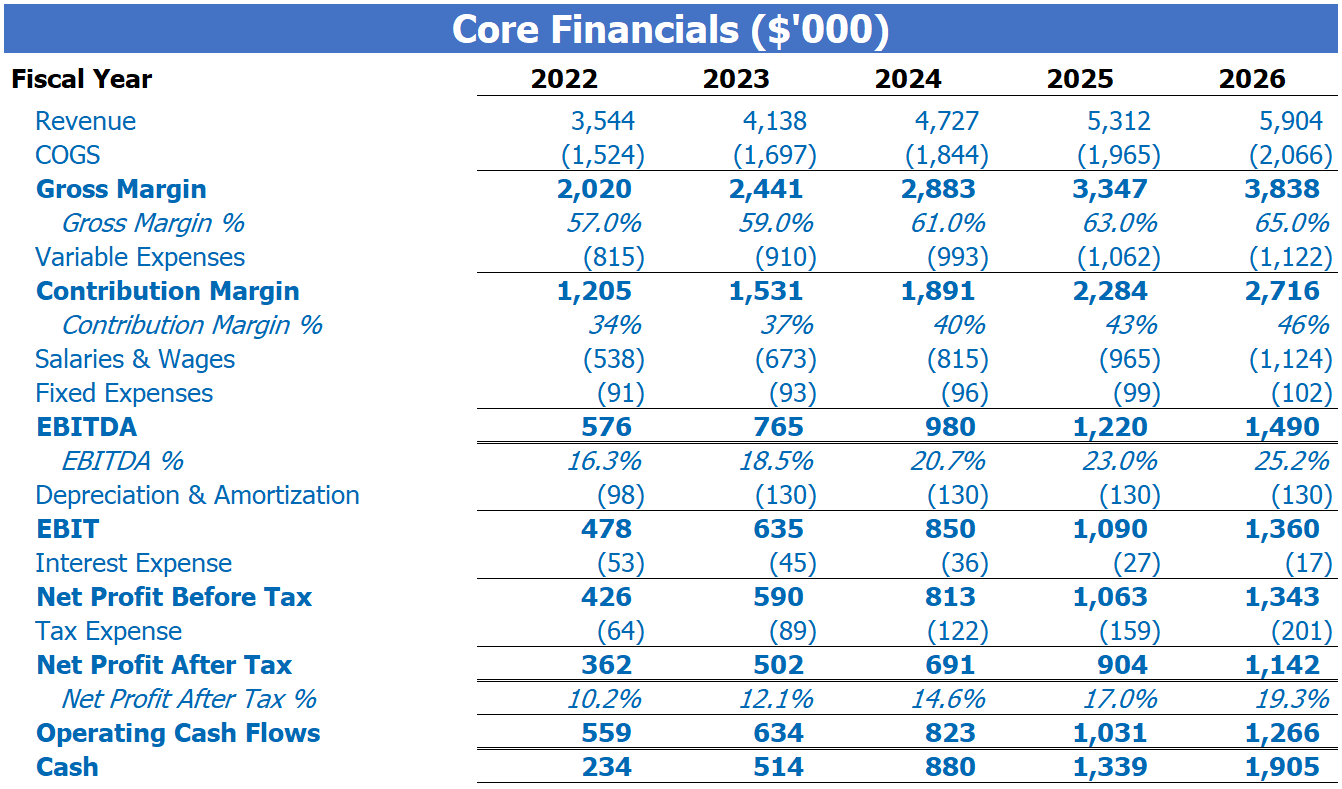 II.- Hair Salon Business Overview
Who is [Company Name]?
New, upmarket hair salon [Company Name], situated at [insert location here], is all about delivering professional hair cut styles and services in a fun atmosphere. In addition, it will contain a beautifully-designed interior, as well as a full-featured waiting room equipped with television screens and on-request refreshments. Customers will be able to peruse the company's extensive selection of quality hair styling and hair care items while they wait in the reception area.
[Founder's Name] is the person who started [Company]. While [Founder's Name] has been in the hair styling industry for some time, he chose to create [Company Name] in [month, year]. [Founder] visited Fort Lauderdale, Florida, around this period. As part of his journey, [Founder's Name] stopped by a hair salon that had been a huge hit. At long, he and the salon owner discussed how [Founder's Name] knew a business of this type would be hugely successful in his own town.
Because the demographics of the customers and the level of competition at the Fort Lauderdale site were so comparable to those in his hometown, he was confident the company would succeed. After conducting a study of the area's residents, [Founder's name] decided to start [business name]. More details can be found in the attached beauty salon business plan sample.
[Company Name]'s History
[Founder's Name] formed [Company Name] as an S-Corporation on [date of incorporation] after returning from Fort Lauderdale, assessing the local client base, and selecting a possible store site.
The company is now operated from [Founder's Name]'s home office, but once the lease for [Company Name]s retail site is completed, all operations will be moved there.
The following achievements have been made by the Company since its inception, as seen in our beauty salon startup business plan:
Identified office space and signed a letter of intent to lease it.


Created the company's name, logo, and website, which can be found at [website].


Hired an interior designer to help with the design and arrangement of the space.


Decided what equipment and fixtures were needed.


Started looking for essential personnel with prior hairstyling expertise.


| | |
| --- | --- |
| Use this Hair Salon Business Plan Sample As A Guideline | |
[Company Name]'s Products/Services
Below are [Company Name]'sinitial service offerings and in-store products sold.
Hairstylists will be asked to perform the following services for both men and women:
Hair washes


Hair cuts


Special event hair styling (such as for a wedding, prom etc.)


Hair coloring


Hair extensions


Each appointment will include an initial hair assessment and suggestion phase where the stylist will discuss the customer's hair and preferred hair style. There will then be a pre-cut hair wash with our in-store products, a haircut or coloring as appropriate, and finally a post-cut styling to our customer's preferences.
[Company Name] will feature premium hair products in-store from these well-established brands. It will continue to update its offering in order to provide the newest hair products to its customers.
Some of its featured brands will include:
GOLDWELL


Schwarzkopf


Sexy hair concepts


Paul Mitchell Systems


Furthermore, the waiting area will have television screens and popular publications to make the wait for service more pleasurable. Toys and board games will also be on hand for children, as well as at-request refreshments which we will provide for free during the waiting period.
Design
[Company Name] will develop a 2,500 square foot store whose key elements will include the following:
Stylist Booths
Reception Desk
Self-service coffee area
Sinks to wash hair
A waiting area with TV screens
Restrooms
Below please find a rough sketch of the floor plan:
The retail location has 10 dedicated parking spots which should suffice even in peak hours.
[Company Name] plans to be open 6 days a week, from 10AM to 6PM. As demand dictates, we may extend or reduce our hours.
III.- Hair Salon Industry Analysis
In the hair salon and barber shop industry, [Company Name] competes with small independent hair salons and barbershops as well as large regional or national chains. The United States has more than 450,000 licensed haircut salons, enough to meet the hair-cutting demands of more than 300 million individuals.
More than 35 billion dollars will be spent on hair salon services in three years, yet the 50 largest enterprises only represent 15% of the market. Given that there aren't any major players in the industry yet, a newcomer to [Company Name] should have an easier time breaking into the market than they would in many other sectors. To be successful in the industry, you need to be able to target a certain demographic or geographic area. When it comes to hair salons, size isn't always a factor. This bodes well for [Company name], which can compete and win against the industry's biggest players.
Regis Corporation, which has more than 8,000 hair salons in the United States, is the biggest rival in the hair salon sector. Franchises and corporate ownership are combined with many brand names in different markets to form their business strategy. When it comes to its higher-end salons, Regis prefers to keep everything centralized, while its lower-end outlets are distributed.
| | |
| --- | --- |
| Use this Hair Salon Business Plan Sample As A Guideline | |
What you Get in Your Hair Salon Business Plan Package
Industry Statistics & Trends
[Company Name]'s industry is undergoing a variety of changes, which may impact how much a hair salon owner can make.
Trends in the market:
Growth has been consistent, though slow. This industry's estimated yearly growth rate is roughly 2%.


The success or failure of a salon is largely determined by the level of customer pleasure it provides. Whether or not a client returns to a hair salon and refers others to the same salon depends on the quality of their experience.


Hair services. Spring and fall are the busiest seasons for the hair salon sector, while winter and summer are slower. [Company Name] plans to open its first barbershops in [Fall/Spring], when sales in the industry are at their highest. In the first quarter of business, [Company name] should be able to benefit from a seasonal boost in sales.


On a corporate level, there are certain trends to take note of:
Competition in the low-cost sector, which predominantly serves men and children, is frequently driven by cost. Consumers in this specific market are more concerned with getting a good deal on a haircut than they are with going to the same hairstylist every time.


Depth measurement. The bottom of the market tends to be more attractive to larger hair salon chains. There isn't a lot of devotion to a particular brand among the locals. In this industry, a large number of enterprises employ the franchise model.


With the help of well-trained support staff, larger salons are finding success. Hairdressers that work in larger salons can outsource many of the mundane chores that they are responsible for in smaller salons. Because of this, a good hair cutter may devote more of their time to actually cutting hair and earning money.


In the premium market, independent salons compete with one other. In order to cultivate a devoted following, these businesses focus on attracting and retaining their target demographics when deciding where to locate.


Salons specializing in a particular type of hair care are called specialty salons. There is already a market for salons that target to extremely particular demographics of customers, primarily adult males from better socioeconomic statuses. This demographic is drawn to high-end, male-only hair salons that provide luxuries like cigars, billiard tables, and drink bars.
Trends at the customer level:
A high level of client devotion. Salons often have a steady stream of clients who become regulars and contribute significantly to their bottom line. As a result, salons that have personnel who are able to build long-term connections with their clients will be more successful.


Gender roles are shifting. Historically, women have been the primary customers of hair salons, as they tend to use beauty treatments more frequently and spend more money at each visit. However, in the last several years, the attitude of male consumers has begun to evolve. About a quarter of the people who go to the salon these days are men.


For hair salons, women are the most lucrative consumers, as they visit more frequently and spend more money on more specialized treatments such as hair dye.


Perfect mix of age and gender. Hair salons make a lot of money from the baby boomer demographic. Coloring and other special treatments are becoming necessary for a huge sector of the market that has surpassed its maximum earning capacity.


IV.- Hair Salon Customer Analysis
Profile of Target Market
Both the people who live and work in [location of the firm] would benefit from the services provided by [Company Name]. This is explained thoroughly in the hair salon business plan sample.
Most of the people in the neighborhood are middle-class, so they can afford higher-quality services like ours, which fall somewhere in the middle between deep discounters and luxury brands.
| | |
| --- | --- |
| Use this Hair Salon Business Plan Sample As A Guideline | |
Demographics
The precise demographics of the town in which our retail location resides are as follows:
Customer Segmentation
The following three client groups will be the primary focus of the business and in line with opening a hair salon business plan:
Many stay-at-home mothers are involved in the school and society in the town, which has a big number of soccer players. These moms go to the hair salon on a daily basis for beauty procedures. It's common for a mother's allegiance to be linked to her children's and husband's business. As a result of their extensive professional networks, these women are a valuable source of new client referrals. Referrals are expected to be a major source of new clients for [Company name].


Business professionals. It's easy to go to [Company name]. Working men and women will flock to [Company name] because of its convenient location and excellent customer service.


A number of high schools and middle schools may be found in the immediate vicinity. These students, who are still dependent on their parents' income, can afford to pay for better services than discounters can offer. Based on the beauty demands of the local young culture, [Company name] may anticipate creating large seasonal revenue.


V.- Hair Salon Competitive Analysis
Direct & Indirect Competitors
Customers of [Company Name] face competition from the businesses listed below, all of which are within a five-mile radius of the company's location:
Joe's Hair Salon
Located in the heart of town, Joe's Hair Salon has been in operation for 32 years and is the area's most popular hair salon. As a beauty salon, Joe's provides a wide range of treatments.
Joe's also offers nail treatments including manicures and pedicures in addition to hair cuts. As a matter of fact, more than 60% of Joe's revenue comes from services geared toward women outside of hair services. To add insult to injury, Joe's does not provide its customers with top-quality salon goods.
There are just two kinds of ordinary hair gels and four kinds of shampoos available. These mainstream items placed Joe's in direct rivalry with the local pharmacy and supermarket shops. In contrast, [Company Name] provides a wide range of exclusive items that aren't yet accessible in [Town's Name].
LUX CUTS
For the past five years, LUX CUTS has been in business. For an introductory fee of $120 per haircut, LUX CUTSoffers an incredibly high-end service for hairdressers.
However, unlike [Company Name], LUX CUTS will be primarily targeting a distinct client category, focusing on the city's wealthiest families.
If you're looking for the same services and goods as Lux Cuts, but at an affordable price, look no further than [Company Name].
Styling advice and hair care consultations are available


Extensions and coloring


Premium hair products


Freddie's Fast Hair Salon
There are four businesses down the road from [Company Name] that are Freddie's Fast Hair Salon. As a result of its exceptional position, Freddy's has had remarkable success over the past three years.
With a concentration on quantity over quality, Freddy's salon provides low-cost haircuts. A big portion of its customers is between the ages of five and thirteen.
Freddy's Fast Hair Salon offers a few benefits over [Company Name], including:
A waiting room with TVs and board games to keep customers entertained while they wait for service. Excellent for families with young children.


In order to keep customers coming back, it's best to put quality above quantity when it comes to customer service. On average, [Company Name] spends 20 minutes longer with customers than Freddy's.


Freddy's Fast Hair Salon's location and relationships with clients should keep it thriving, but the high-quality service provided by [Company Name] should bring in additional consumers.
| | |
| --- | --- |
| Use this Hair Salon Business Plan Sample As A Guideline | |
What you Get in Your Hair Salon Business Plan Package
Competitive Pricing
Here is the pricing of our key competitors:
Competitive Advantage
[Company Name] has a number of advantages over its rivals. Included in these benefits are:
Location: [Company Name] is located near the city center, allowing us easy access to train passengers, local workers, and those strolling through town on their way to or from work. Additionally, we make it easy for consumers to come in and shop with us by providing enough parking.


Excellent service at a reasonable cost: [Company Namefull ]'s range of hair services closely matches the most premium competition, LUX CUTS. But [Company Name] will provide these services for much less money. In comparison to our competition, our management team has a wealth of business and marketing expertise, allowing us to better service and promote to our consumers.


Relationships: [Founder's Name] knows the community leadership, newspapers, and other influencers after living in the neighborhood for 25 years. As a result, it will be quite simple for [Company Name] to create brand recognition and a small client base.


VI.- Hair Salon Marketing Plan
[Company name] seeks to position itself as a respectable, upper-middle-market competitor in the hair salon market. Customers can expect to receive professional hair care from familiar haircutters for a price somewhere between discount chains and luxury establishments.
| | |
| --- | --- |
| Use this Hair Salon Business Plan Sample As A Guideline | |
The [Company Name] Brand
As a result, the [Company Name] brand will emphasize the company's distinct value proposition (more details within the salon business plan example):
Ideal setting and area


Hairstylists that you can trust


Personal attention of a significant degree


Cost-effectiveness


A welcoming, customer-focused atmosphere


Promotions Strategy
Within a five-mile radius of [Company Name], [Company Name] anticipates finding its ideal customers. Initial marketing will impact how much does it cost to open a salon. Promoting [the Company's] products and services to these people involves the following:
The Local Media
The opening of [Company name] will be advertised in many local newspapers and periodicals several weeks in advance. In order to stay visible in the right markets, we'll run regular ads. There will be a lot of advertising in local newspapers, school publications, youth sports programs, and other outlets.
Larger publications
Advertising in major periodicals will be used sparingly. There are xyz subscribers to [Publication or newspaper name] and we can hope to reach a larger geographic area on a limited basis. Advertising in well-known periodicals shall be utilized sparingly and only when it is economically feasible to do so. In order to gauge the effectiveness of the commercials, they will provide discount vouchers.
Communal Organizations/Events
Marketing materials will be sent and the company will participate in community activities, such as school fairs, local festivals, homeowner organizations, and athletic events to raise awareness of the company. It is likely that we will be able to reach not just the profitable market of adult women, but also the families of those women who are extensively involved in these activities.
Publicity for Commuters
[Company name] will be promoted by hiring personnel to put up signs on [route or highway]. We can reach a big number of working people with disposable cash by advertising on major commuting routes.
Programs to Retain Repeat Customers
The greatest customers of [Company name] will be rewarded with a customer loyalty program that will keep them coming back for more. Our pros and other personnel will call consumers on a frequent basis while they are not actively serving clients in the shop. To make sure customers are happy with their hair treatment and to remind them that they might desire a new haircut after a specific length of time has passed, we will make these phone calls. Referrals and long-term clients alike will benefit from the loyalty program, which will be open to all consumers.
Direct correspondence through mail
Direct mail pieces from [Company Name] will be sent to the areas surrounding its sites. People can learn about [Company Name] and get discounts or other incentives to visit the salon by reading these articles.
Constant Contact with the Client
Maintaining a website and sending out an email newsletter to inform clients of upcoming events, new items, and more will be the responsibility of [Company Name].
Opening-Day Activities
[Company Name] will host pre-opening activities for consumers, local businesses, and members of the media in the weeks leading up to the official opening. As a result of these activities, the community will learn more about [Company Name].
Pricing Strategy
The prices at [Company Name] will be modest so that clients feel they are getting a good deal when they visit the hair salon. Customers may expect to pay $35 for a regular hair treatment and receive customized attention both during and after their appointment. The consumer may anticipate professional hair treatment from a well-known hairdresser at a lower cost than they would spend at an expensive salon. This will eventually feed into [Company Name]'s beauty salon profit and loss statement.
[Company name]'s long-term goal is to become the dominant provider of hair care and related services and products in the [city] area. We seek to the standard by which other providers are judged.

The following are a series of steps that lead to our vision of long-term success. [Company Name] expects to achieve the following milestones in the following [xyz] months:
VIII.- Hair Salon Management Team
Hair salon business veteran [Founder's Name] is the CEO of [Company Name].
For the last 20 years, [Founder] has been cutting, treating, and styling hair in high-end salons around the country. He began his career in [19xx] after graduating from [Hair Cutting School] and working for [big chain] for X years. He obtained his first job offer in [19xx].
At ABC University, [Founder] studied Communications, graduating with a bachelor's degree.
The customer service manager will be [another person's name]. Experience in the hotel business is an asset to this person.
| | |
| --- | --- |
| Use this Hair Salon Business Plan Sample As A Guideline | |
Hiring Plan
The shop manager will be [Founder]. We need to bring in the following people to get our salon up and running:
[Number of Hair Stylists]
[Founder] will consider recruiting the following staff members based on demand and operational maturity:


[Number of Hair Treatment Specialists]
Receptionist


Store Manager (to take over [Founder] after the initial operating period)


IX.- Hair Salon Financial Plan
Services and hair care products will be the primary sources of [Company Name]'s revenues.
Hair salons, like most other service businesses, rely heavily on labor costs to keep their prices competitive. When it comes to compensation, hairstylists are paid a combination of wages and commissions, which rewards them for their work and encourages them to be an integral part of the business.
The following are the primary sources of hair salon expenses list for the business:
On a per-service basis, hairstylists are paid a commission.


Salaries paid


Lease on the store


In addition, [Company Name]'s continuing marketing expenditures and the cost of goods sold are significant cost drivers.
More details can be found in the profit and loss statement for a beauty salon.
| | |
| --- | --- |
| Use this Hair Salon Financial Model Demo As An Example | |
Capital Requirements and Use of Funds
In order to open its first store, [Company Name] is seeking a total of $260,000 in borrowed financing. Work on the business's infrastructure, recruiting new staff, and marketing expenditures will all be aided by this cash infusion.
As a specific example, these monies will be used as follows:
Design and construction of the store: $140,000


While [Company Name] is still working its way toward a positive cash flow, it needs $120,000 in working capital to cover marketing, payroll, and leasing expenses


Hair Salon Financial Plan Sources And Uses Report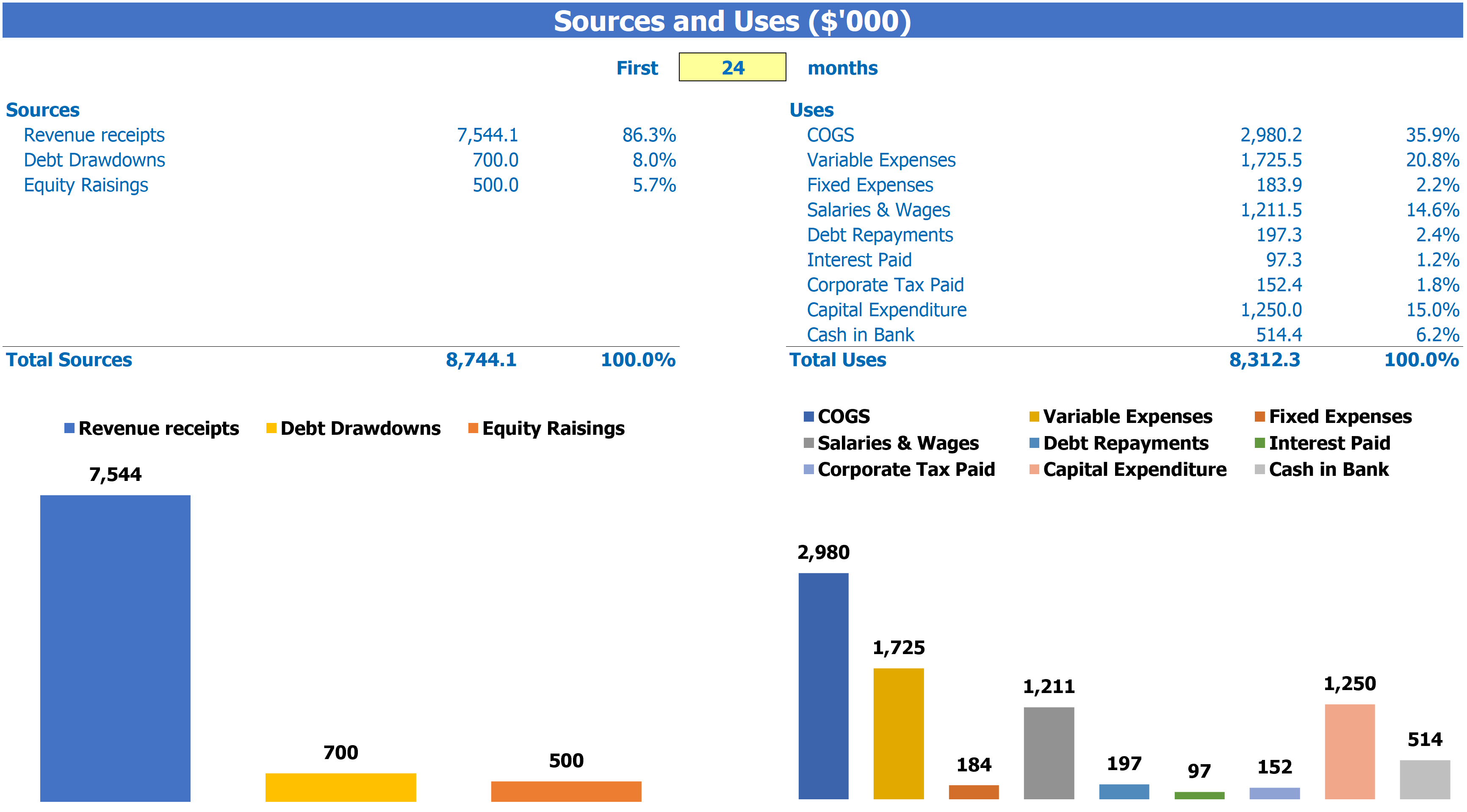 Key Assumptions
The following table reflects the key revenue and cost assumptions made in the hair salon financial model.
Hair Salon Financial Plan Core Inputs

Hair Salon Financial Plan Top Revenues Report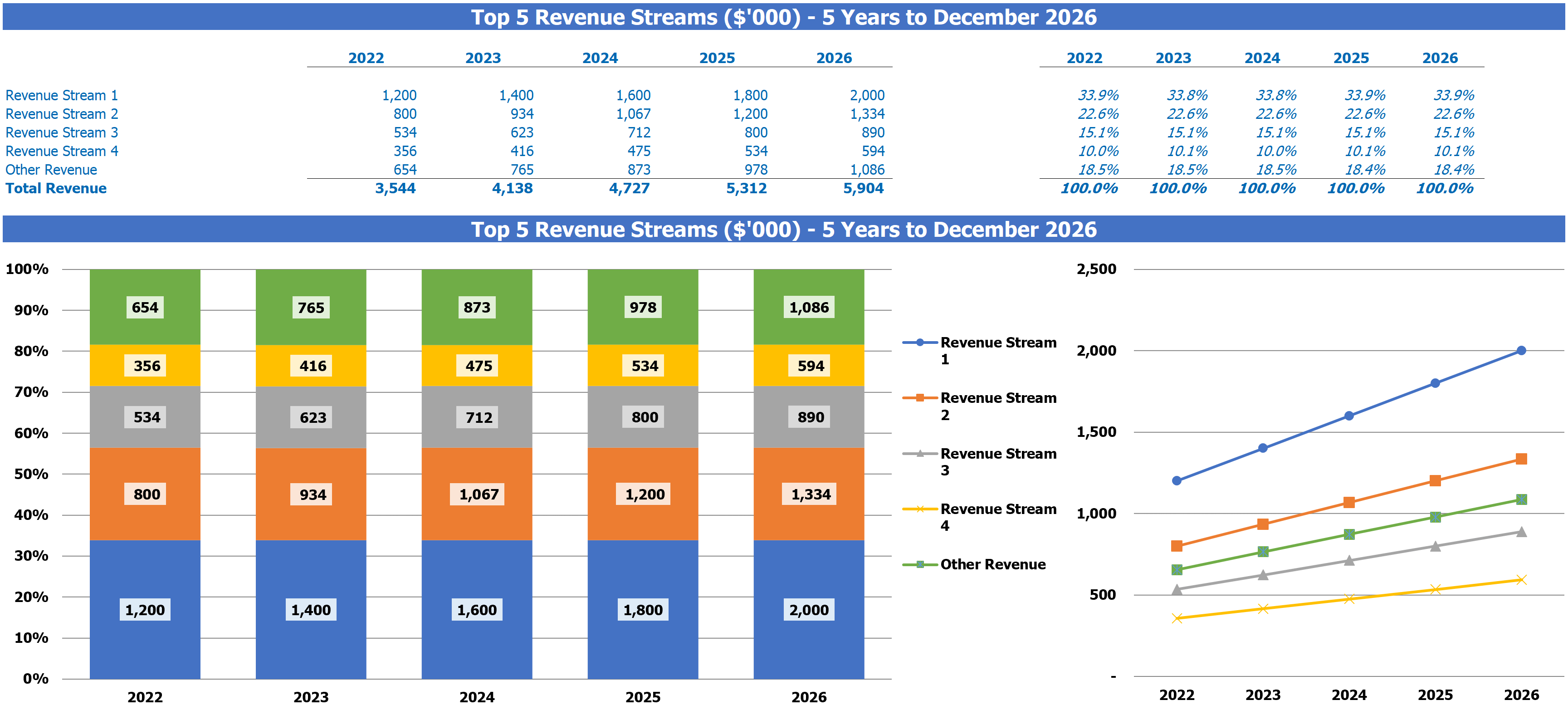 Hair Salon Financial Plan Top Expenses Report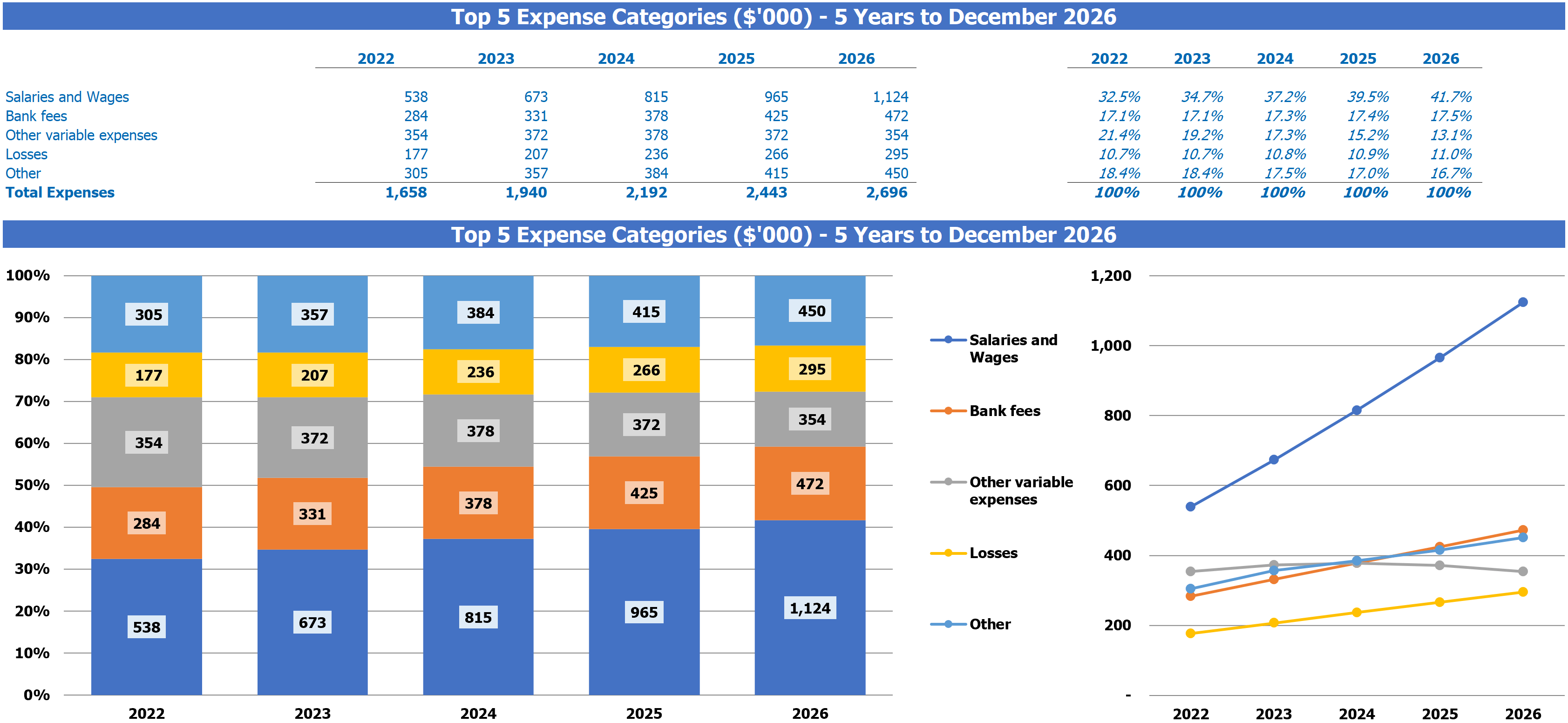 Hair Salon Financial Plan Income Statement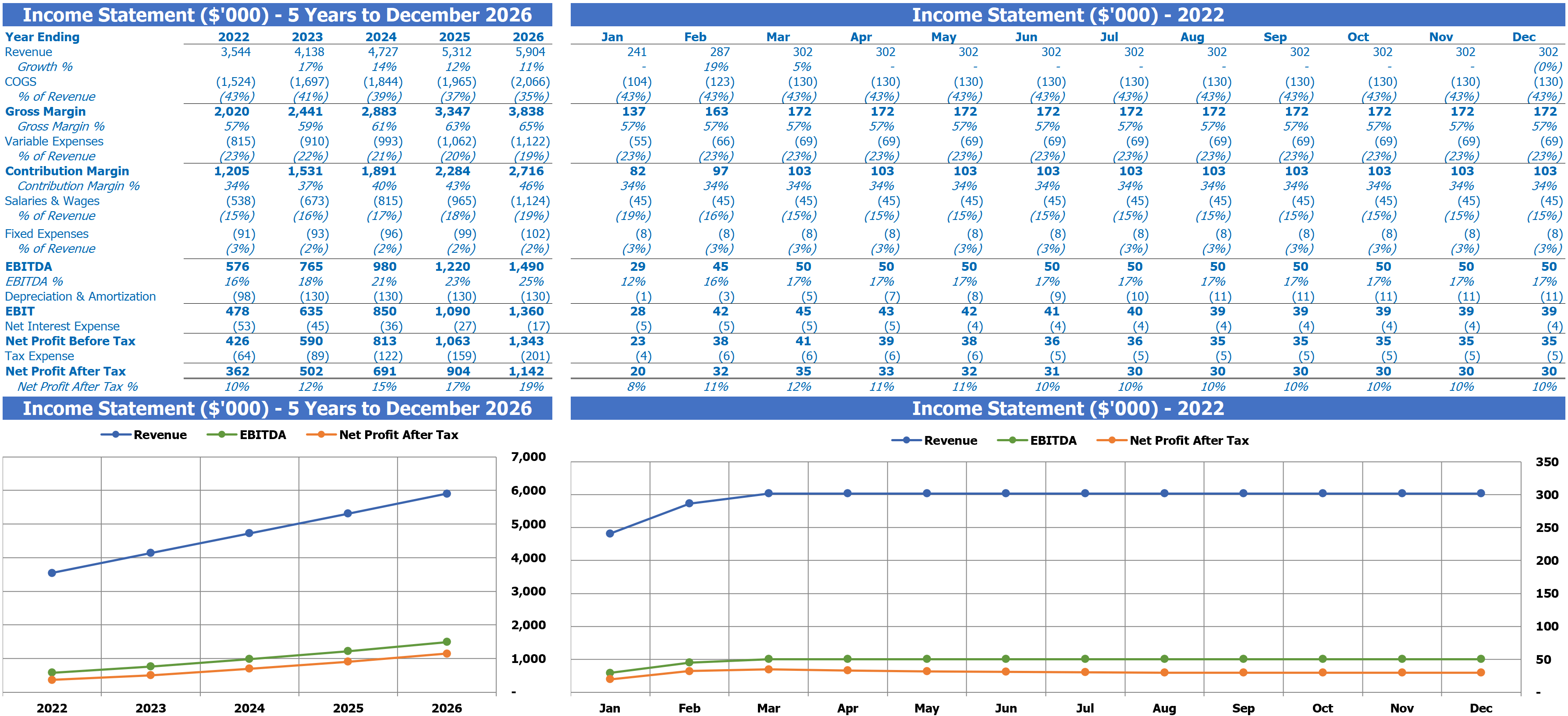 Hair Salon Financial Plan Cash Flow Statement

Hair Salon Financial Plan Balance Sheet Statement