Our comprehensive MS Word Business Plan Template is the perfect guide to ensure your Ecommerce project is clearly and effectively presented and communicated. The template is split into sections highlighting the most important elements, sample wording is also included making it easy to use and tailor to your specific needs. Provided below is a small portion of your pre-written business plan as an example.
What you Get in Your Ecommerce Business Plan Package
| | |
| --- | --- |
| Use this Ecommerce Financial Model Demo As An Example | |
Ecommerce Financial Model in Excel, Google Sheets and Numbers
Every business is unique, which is why we have develop a Ecommerce projected income statement template excel that is flexible to the complexities of any business model. Our Ecommerce pro forma template has been designed to be robust and dynamic, allowing you to adjust each element as required while still maintaining it's integrity. We have vigorously tested our model to ensure you can tailor it to your needs as well as perform in-depth scenario testing.
| | |
| --- | --- |
| Use this Ecommerce Financial Model Demo As An Example | |
I.- Ecommerce Executive Summary
Business Overview
With its corporate headquarters in [insert city here], [Company Name] has just launched an online store selling eco-friendly baby supplies in an effort to compete with the mass-market for baby care products. All-natural, eco-friendly baby and maternity goods will be showcased in this section of the shop, as outlined in [Company Name]'s ecommerce business plan.
Services
[Company Name] is committed to educating the public about infant care, pregnancy, and holistic lifestyles. As explained in its business plan for ecommerce, an eco-friendly and ecologically safe line of infant care products will be sold by [Company Name]. A wide range of feminine and maternity products are also available. [Company Name] strives to offer only the best items made with natural components and materials.
Customer Focus
This client demography is as follows within the ecommerce store business plan:
A total of 200 million Americans purchase online, with an average salary of $76,000 and an 82% marital status.


Age 34 is the average for all participants.


While green shoppers may be found in large numbers across all age groups, the 18 to 34-year-old population and those with higher incomes are the most pro-green.


Management Team
[Founder's Name] has been in the e-commerce sector for ten years and is the driving force behind [Company Name]. Prior to his current position, [Founder] served as director of strategic development for an e-commerce site. As a result, [Founder] has a thorough understanding of the e-commerce company as well as the demands of moms, encompassing both the operational and management aspects.
Success Factors
As explained in the business plan template for ecommerce, there are a few reasons why [Company Name] has a distinct advantage over the competition:
There is presently no e-commerce site dedicated to eco-friendly infant and sanitary items. In a market where websites aim to offer a wide choice of items, [Company Name]'s concentration on eco-friendly products sets it apart.


If you want to succeed in the online and consumer goods market, you need to have a proven track record of success.


The e-commerce industry is a tried-and-true business model that has seen success throughout the globe.


As e-commerce transactions expand and the "green" movement takes hold, one firm has a leg up on the competition.


Financial Highlights
As a start-up and based on the startup ecommerce business plan, Company Name is looking for a total investment of $430,000. The money will be put to good use in the form of investments, payroll, marketing, and working capital.
These monies will be used to the following purposes:
Costs of creating a website and starting a business: around $120,000


Until [Company Name] reaches break-even: about $310,000 in working capital to pay for marketing, payroll, and leasing charges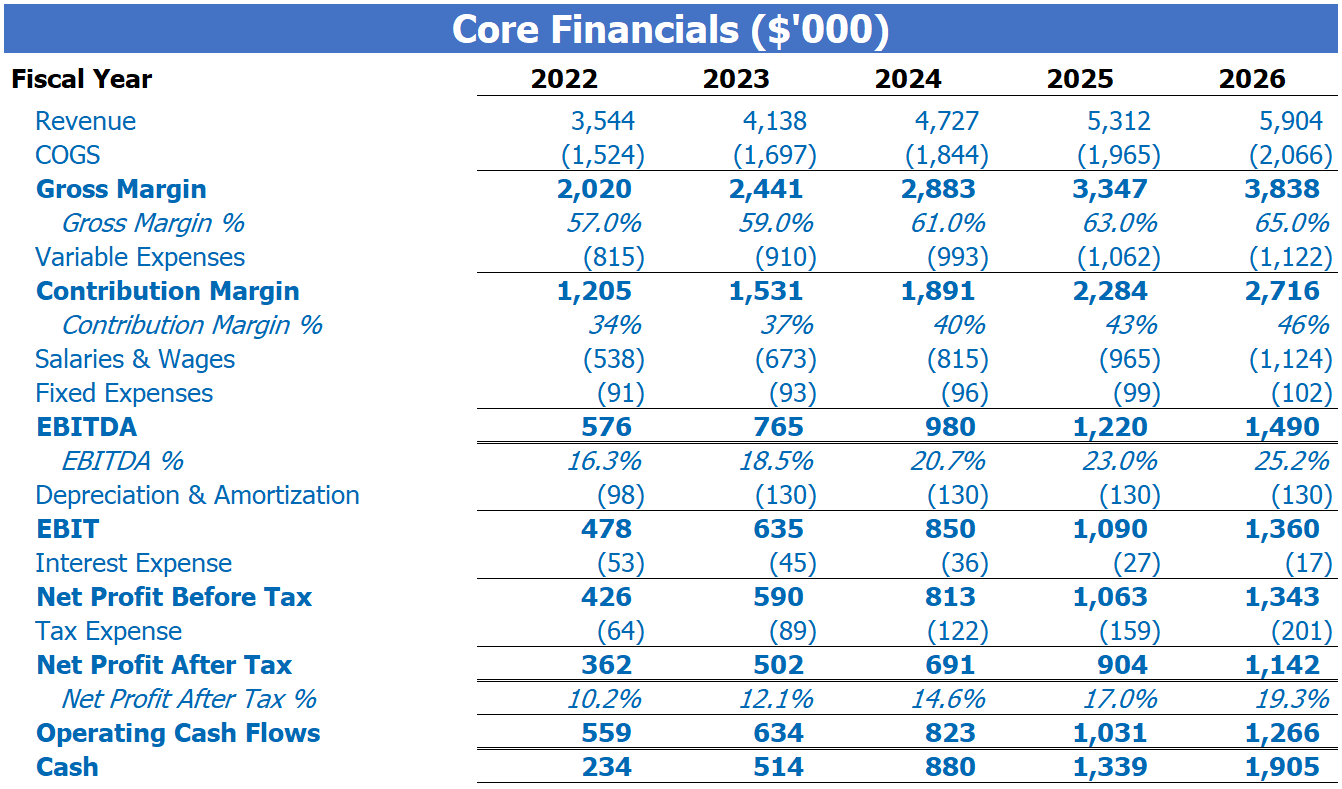 II.- Ecommerce Business Overview
Who is [Company Name]?
Eco-friendly baby supplies website [Company Name] is based in [insert area here] and aims to provide an alternative to the mass market of baby care products. By educating parents about environmentally friendly infant care products and practices, we want to change their attitudes toward the environment.
These natural, ecologically friendly baby, feminine, and maternity goods may now be found through an easy-to-navigate website that connects parents to a wide range of manufacturers and small companies. The website's mission is to not only sell items, but also to create a community of parents and eco-friendly enterprises in order to become the leading online service and product supplier in the green arena.
[Founder's Name] is the person who started [Company Name]. While [Founder's Name] has been in the e-commerce business for some time, he chose to create [Company Name] in [month, date]. The Real Diaper Industry Association, International Center for Traditional Childbearing, Doulas of North America, Real Diaper Association, Baby Carrier Industry Alliance, and the Baby Wearers Institute are just a few of the organizations that [Founder's Name] is a member of.
It was clear to [Founder's Name] that the product had an unmet demand in the market.
[Company Name]'s History
Following an investigation into the e-commerce market, [Founder's Name] formed [Company Name] as an S-Corporation on [incorporation date]. A business plan for ecommerce startup was also created.
[Name of Founder] has hired a technical director with a background in e-commerce website development project management.
These are some of the company's accomplishments since its incorporation:
Name, logo, and placeholder website for the firm were all created by me at www...


A product list was compiled and a web platform was determined.


Sought proposals from three web development businesses after identifying them.


| | |
| --- | --- |
| Use this Ecommerce Business Plan Sample As A Guideline | |
[Company Name]'s Products/Services
Below is [Company Name]'s initial product list. As you can see all items are classified under the following five main categories:
Diapering: Diapers, wipes, creams, cloth diapers, diaper bags


Feeding: Bottles, utensils, breastfeeding, formula, bibs


Toys & books: infant toys and board books


Safety: Baby monitors, gates, first aid, medicine and baby proofing items


Gear: Strollers, high chairs, car seats, swings, portable cribs


The website will feature a rotating display of featured and new products on its homepage as well as a searchable database. Products will be sent directly via manufacturer to client's home.
Design
Website Design
[Company Name] will develop a website whose key elements will include the following:
Homepage


Search Engine


Database of products


Cart System


Help and FAQ pages


The website will be built by an established development firm and designed by an accomplished web designer, with the process supervised by the company's technology director. Where appropriate, existing software applications will be purchased to fill standard needs to keep costs down without sacrificing functionality and to avoid the problems associated with newly-developed software.
[Company Name]'s website will be available at all times, but customer service representatives, answering email requests, will only work 7 days a week, from 9AM to 6 PM.
III.- Ecommerce Industry Analysis
The Latest Industry Data and Trends to incorporate in the ecommerce business plan template.
We may expect [Company Name] to do well with the following industry stats and data.
As more people shop online, the E-Commerce business will expand its consumer base. Revenue is predicted to grow at an annual rate of 13.4% to $526.6 billion during the next five years. A potential regulatory setback and increased competition are both expected to impede profit growth in the future years. However, sales may be hampered.


For the sector to flourish, there are a number of elements at play.


During the timeframe, per capita disposable income is expected to climb by an average of 2.4 percent per year, and employment is expected to rise as well. Boosts in consumer spending and a rise in income are good news for businesses..


Increased employment will also make it more difficult for people to take time off work, which will encourage them to purchase online.


In the next five years, the sector will reap the benefits of more shifts in customer preferences.


Consumers will increasingly shop online for items since the prices are more competitive than at brick-and-mortar retailers. Due to clients' shifting preferences, the sector is likely to develop steadily in the future.


In the next five years, internet traffic volume will continue to rise, bolstering the industry's growth. Because of the proliferation of smartphones and free public Wi-Fi, it is expected that Internet traffic would increase as more people acquire easy access to the internet. Increasing numbers of people will be able to shop online, and thus, more people will shop at online businesses. Because online merchants don't have to rent, staff, or run brick-and-mortar storefronts, they will continue to reap the benefits of cheap operational expenses. Competition and a wave of new entrants are projected to limit industry profits, notwithstanding improvements in productivity and efficiency. The reputation and dependability of service providers, as well as their rates, will be the primary determinants of industry competition.


In order to appeal to a broader audience, operators will want to extend the number of regions they serve. As a result, shipping and handling costs, as well as the capacity to provide fast product delivery and refunds, will be a point of distinction among companies.


The amount of repeat and loyal clients is also influenced by the operation of shopping websites and the convenience with which customers may place purchases.


Online merchants will continue to improve their online sales procedure in order to attract more customers. Improved product descriptions, cheaper shipping costs, and more competitive pricing are just a few of the goals we've set for ourselves.


Customer service is expected to become more important in the future as operators put more effort into meeting the expectations of online buyers. After-sales support will be a priority for operators, as will addressing customers' privacy and credit card payment concerns.


Retailers who achieve these criteria should expect increased sales and better brand reputation in the long run.


| | |
| --- | --- |
| Use this Ecommerce Business Plan Sample As A Guideline | |
What you Get in Your Ecommerce Business Plan Package
IV.- Ecommerce Customer Analysis
Profile of Target Market
A majority of [Company Name]'s consumers will be online shoppers.
| | |
| --- | --- |
| Use this Ecommerce Business Plan Sample As A Guideline | |
Demographics
The demographics of these customers are as follows:
According to Invesp, 79% of females and 77% of males who have internet access have purchased something online in the past 12 months. Those aged 50 to 64 are the most likely to make an online purchase, followed closely by those aged 30 to 49.


Unsurprisingly, more online purchases are made by those households with income above $75K per year, though 67% of households with income below $30K have made online purchases.


When it comes to e-commerce, men drive nearly as much spending online in the U.S. as women. Many men want to buy everything online: 40% of men aged 18-34 say they would ideally "buy everything online," compared to only 33% of women in the same age group.


Globally, Generation X (age 35-49) respondents comprise about 28% of those willing to make a purchase online and Baby Boomers (age 50-64) make up about 10%. The Silent Generation (age 65+) contributes roughly 2%. The youngest age group, Generation Z (under age 20), represents about 7% of those who intend to purchase online.


Customer Segmentation
We'll concentrate our efforts on the following demographics of online shoppers:
Those who spend the most time on the internet, both for business and play: those between the ages of 25 and 44.


In the age bracket of 18 to 30 years old, consumers have the least discretionary money for online purchases. Small technological items and apparel and footwear make up the bulk of this group's purchases.


People aged 31 to 44 are also internet-savvy and able to buy higher-priced goods, such as gadgets and other discretionary purchases. Time-strapped consumers are often drawn to internet shopping and online auctions because they are more convenient.


For industry items, consumers between the ages of 45 and 54 are more likely to have a larger discretionary income. The ease of internet purchases is typically more important to this group than the price.


V.- Ecommerce Competitive Analysis
Direct & Indirect Competitors
As a result of their present brand and resources, these e-commerce sites are likely to be major rivals for [Company Name]. This is incorporated in the online ecommerce business plan of the company.
Diapers.com
When Diapers.com was created in 2005, it was quickly recognized as the leading online supplier of baby items. 1800 DIAPERS, the company's original name, was created to provide parents with diapers, wipes, and formula delivered free of charge within 1-2 days, all while emphasizing excellent customer service. Expanding Diapers.com's range to include clothing, car seats, strollers and toys was completed in late 2008. In today's world, Diapers.com is the biggest online retailer of all things baby.
Soap.com was launched in July 2010; BeautyBar.com in October 2010; Wag.com in July 2011; and Yoyo.com in September 2011 were the company's other sister sites. On November 8, 2010, Amazon.com paid $550 million to purchase Diapers.com and Soap.com from Quidsi, Inc. It will, however, continue to function on its own.
Babycenter.com
Toys "R" Us is the parent company of Babies "R" Us. The firm was founded in 1948 as a toy and juvenile-products retailer, but in 1996, the first Babies "R" Us store opened. Since its first store opened, Babies"R"Us has expanded to 260 sites around the United States, specializing in baby supplies. A wide range of items for newborns and babies is available at the stores, including cribs and other furnishings, car seats and strollers, formula and diapers, as well as clothes and toys. The Babies"R"Us Registry has been used by more than 11 million mothers.
With Internet sales up 29.9% to $782 million last year from $602 million, Toys"R"Us, Inc. announced last year that it will construct an e-commerce fulfillment facility in McCarran, Nevada.
| | |
| --- | --- |
| Use this Ecommerce Business Plan Sample As A Guideline | |
What you Get in Your Ecommerce Business Plan Package
Competitive Advantage
[Company Name] has a number of advantages over its rivals, including:
In order to better meet the demands of eco-conscious clients, [Company Name] will be able to concentrate its efforts on supplying the niche market of eco-conscious products.


When it comes to building a website, [Founder's Name] and [Technology Director's Name] know a lot of the greatest programmers and web development businesses.


Community: [Company Name] will increase its brand loyalty by creating a community of parents and online consumers.


VI.- Ecommerce Marketing Plan
The Marketing Plan describes the type of brand [Company Name] seeks to create and the Company's planned promotions and pricing strategies.
| | |
| --- | --- |
| Use this Ecommerce Business Plan Sample As A Guideline | |
The [Company Name] Brand
As a result, the [Company Name] brand will emphasize the firm's distinct value proposition that should result in good ecommerce cash flow:
In addition to offering a wide range of environmentally friendly infant and feminine products,


Provide great customer care, with dedicated customer service reps, to make the online purchasing experience joyful and informative


Promotions Strategy
The Company's e-commerce client acquisition strategy contains the following elements:
Public Communication
A press statement outlining the company's unique value offer will be sent to family and baby publications as well as family and life sections of newspapers and television stations.
Meta-Optimization for Web Search
The Company intends to build its website in a way that attracts as much visitors as possible from search engines. With an understanding of search engine optimization, the original web designer will set up an exchange of links to help the website rise in the search engine results (particularly Google). An professional SEO agency will be hired on a monthly basis to perform ongoing search engine optimization of this type.
Paid Search Marketing
For additional traffic, [Company Name] will employ highly-targeted, specialized keywords via Google Adwords and banner advertisements on other relevant websites (brokered by Google or another ad placement company). It is our hope that our content-heavy website would be a valuable resource for potential clients, rather than an interruption or distraction.
Direct marketing via e-mail
[Company Name] will send out a monthly newsletter to clients informing them of the latest trends in maternity, infant care, and children's clothing and gear. Those who opt-in to get the site's email newsletters will be able to support the site's reputation as an expert in infant care. Customers who have opted-in to receive emails from the company about new deals and goods may get these emails up to once per week.
Affiliate Marketing
If you have a website and want to earn money by sending people to our website, you can join our affiliate program. You may link to our homepage or to specific goods, and we will pay you a fee for each sale.
Print Ads
Initially, [Company Name] will promote in family publications and mom-oriented websites and blogs in order to build awareness.
Pricing Strategy
Based on the ecommerce financial model template, pricing from [Company Name] will be in line with the digital medium. In other words, they are going to be more affordable than other big-box stores. There will be a wide choice of things available at the store, so even people on a tight budget may find something to suit their needs.
VII.- Ecommerce Operations Plan
According to [Company Name], the Company must carry out a number of tasks within the business plan ecommerce startup, including the following:
Legal, marketing, bookkeeping, and other administrative duties are all included in the term 'administrative functions.'
Supplying and managing content providers - Hiring employees and training them


Additions to the website's functionality


Upkeep and bug fixes for the website


fixing


Search engine optimization is an ongoing process.


Providers of goods and services to the public
Writing and creating newsletter and blog content for a monthly basis.


| | |
| --- | --- |
| Use this Ecommerce Business Plan Sample As A Guideline | |
What you Get in Your Ecommerce Business Plan Package
Milestones
[Company Name] expects to achieve the following milestones in the following [] months:
VIII.- Ecommerce Management Team
For the past ten years, [Founder's Name] has been running [Company Name]'s e-commerce division. Even though [Founder] has never been in charge of an e-commerce site, he previously worked as the director of strategic development for a baby items e-commerce site. When it comes to handling day-to-day operations, [Founder] is fully versed in all aspects of e-commerce and motherhood, including business management (e.g., staffing, marketing, etc). As such, the Founder is quite verse with online ecommerce business plans.
University of ABC alumnus [Founder] graduated with a business degree.
[Tech Director Name] has been in charge of web development for the past 15 years. Squidoo.com, where he worked on an e-commerce platform similar to [Company Name], was one of his previous web development ventures. He graduated from XYZ College with an MBA in Business Information Systems.
| | |
| --- | --- |
| Use this Ecommerce Business Plan Sample As A Guideline | |
Hiring Plan
Our e-store has to be launched, thus we'll need to recruit the following staff and incorporate within the ecommerce startup budget:
Finding and negotiating with suppliers and manufacturers of items is the responsibility of sourcing product assistants (2 people).


Email and phone inquiries from consumers concerning future, existing, and previous orders are handled by Customer Service Representatives (2–).


Accounts payable, statements, and other administrative tasks are all handled by this part-time bookkeeper.


The following employees will be added at a later date:
Programmer (1 – to be employed in the second year of operation) will work under the technology director to integrate new innovations and problem fixes in the website. A contract will be required for programming services prior to this date.)


IX.- Ecommerce Financial Plan
The majority of [Company Name]'s profits will come from the sale of infant and feminine hygiene goods.
Products, internet connection fees, and employee wages will account for most of the company's expenditures. Marketing costs are likely to be considerable in the early years of the company's existence. This will impact the ecommerce financial model for [Company Name].
| | |
| --- | --- |
| Use this Ecommerce Financial Model Demo As An Example | |
Capital Requirements and Use of Funds
[Company Name] is seeking a total of $430,000 in finance to get its firm up and running, as detailed in the ecommerce startup business plan. The money will be put to good use in the form of investments, payroll, marketing, and working capital.
From the ecommerce financial model template, these monies will be used to the following purposes:
Costs of creating a website and starting a business: around $120,000


Until [Company Name] reaches break-even: about $310,000 in working capital to pay for marketing, payroll, and lease charges


Ecommerce Financial Plan Sources And Uses Report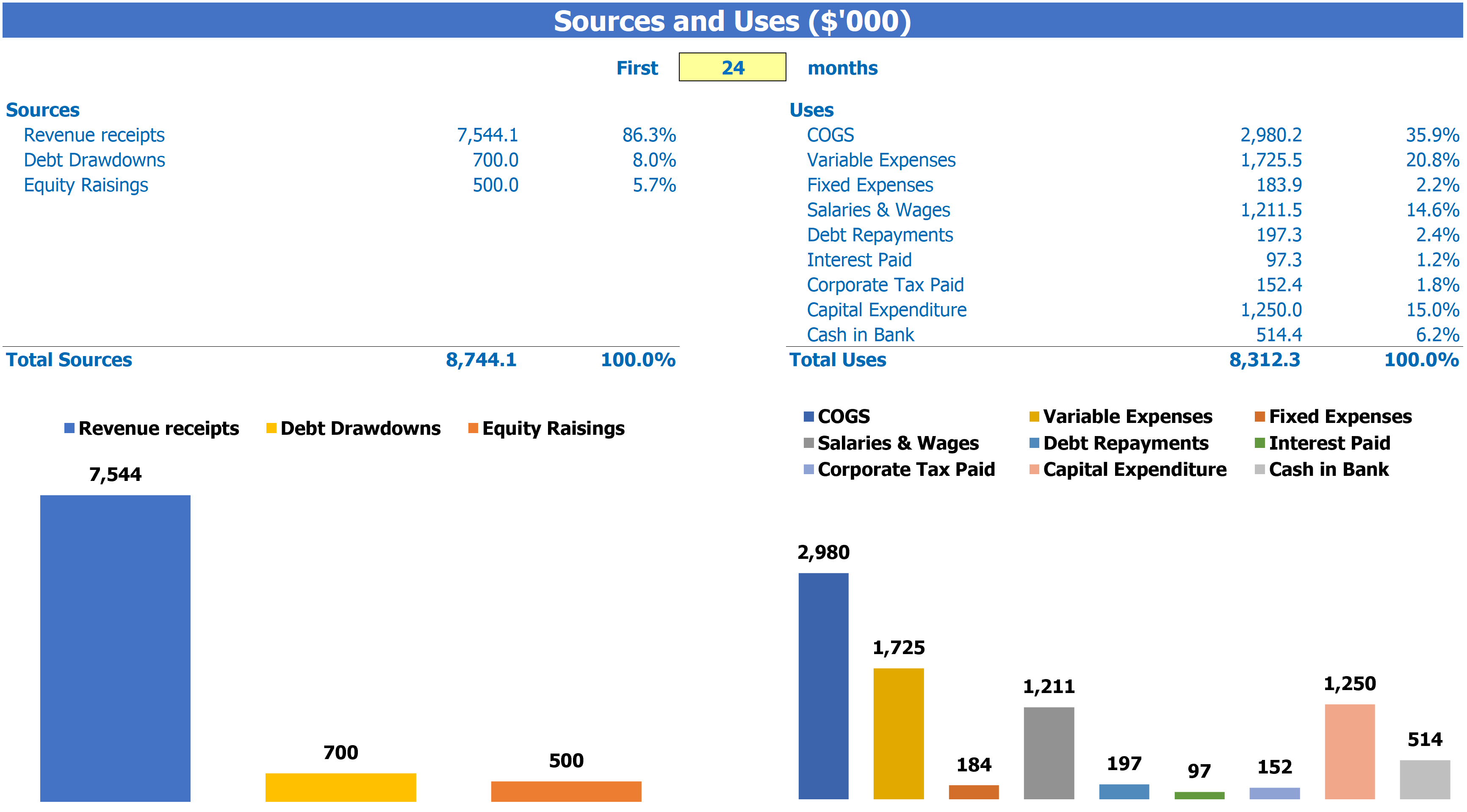 Key Assumptions
Below please find the key assumptions that went into the financial forecast and a summary of the financial projections over the next five years.
Ecommerce Financial Plan Core Inputs

Ecommerce Financial Plan Top Revenues Report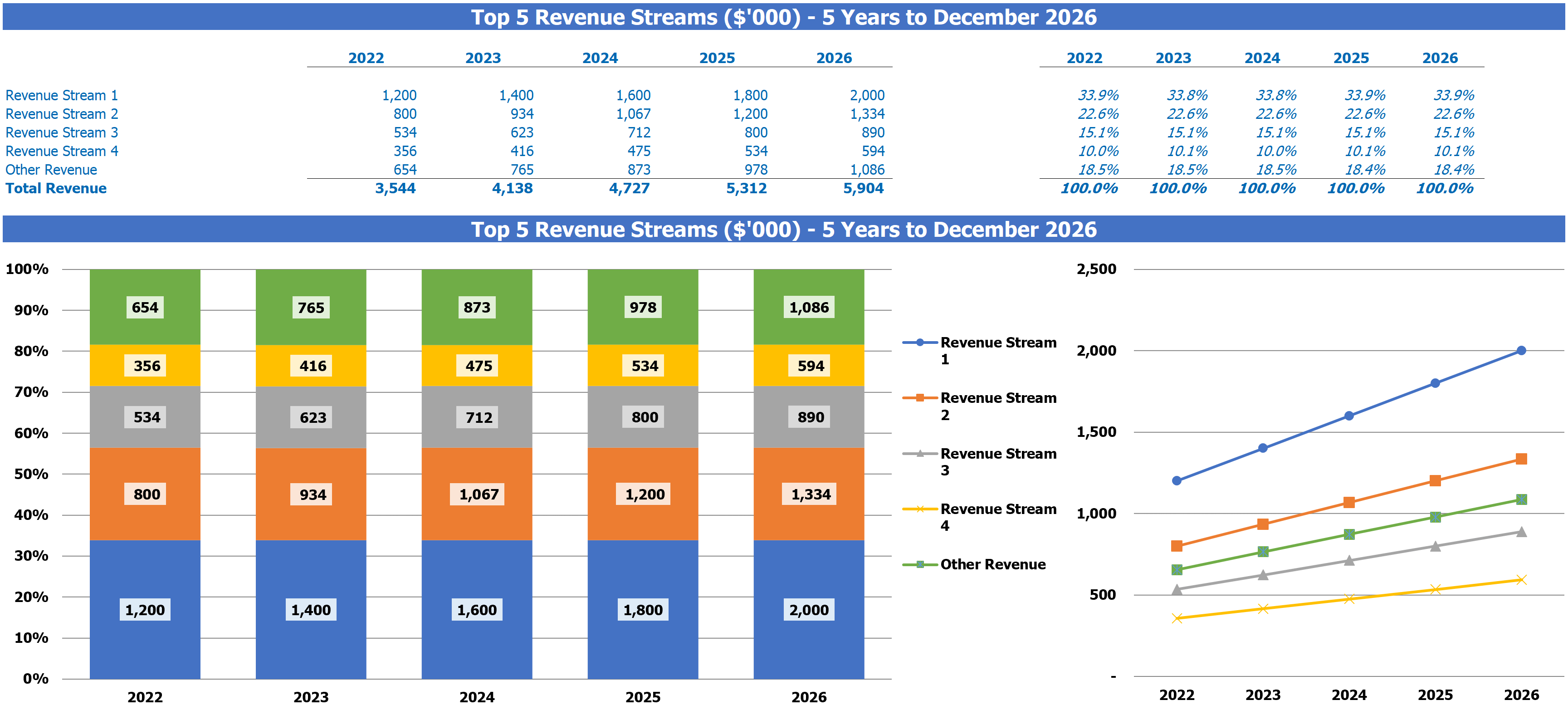 Ecommerce Financial Plan Top Expenses Report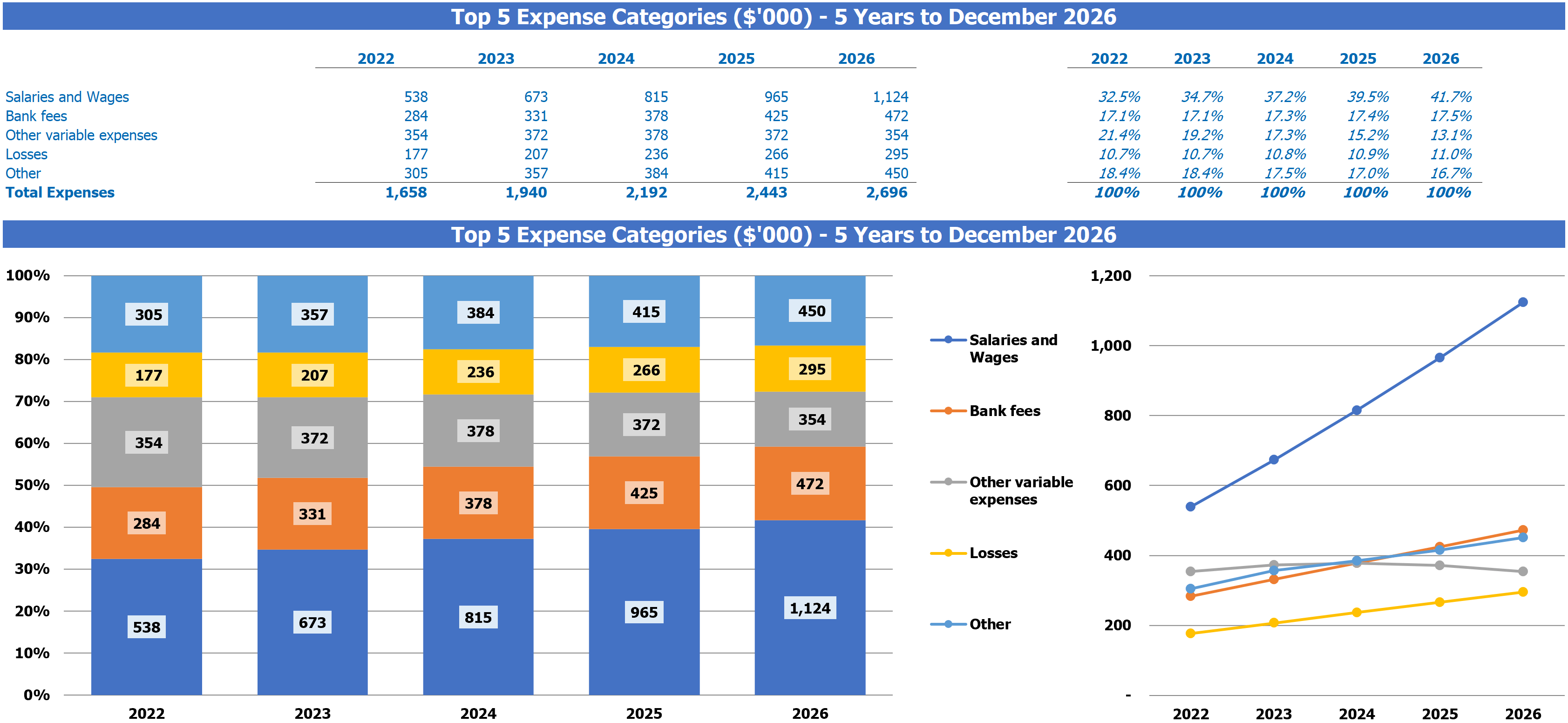 Ecommerce Financial Plan Income Statement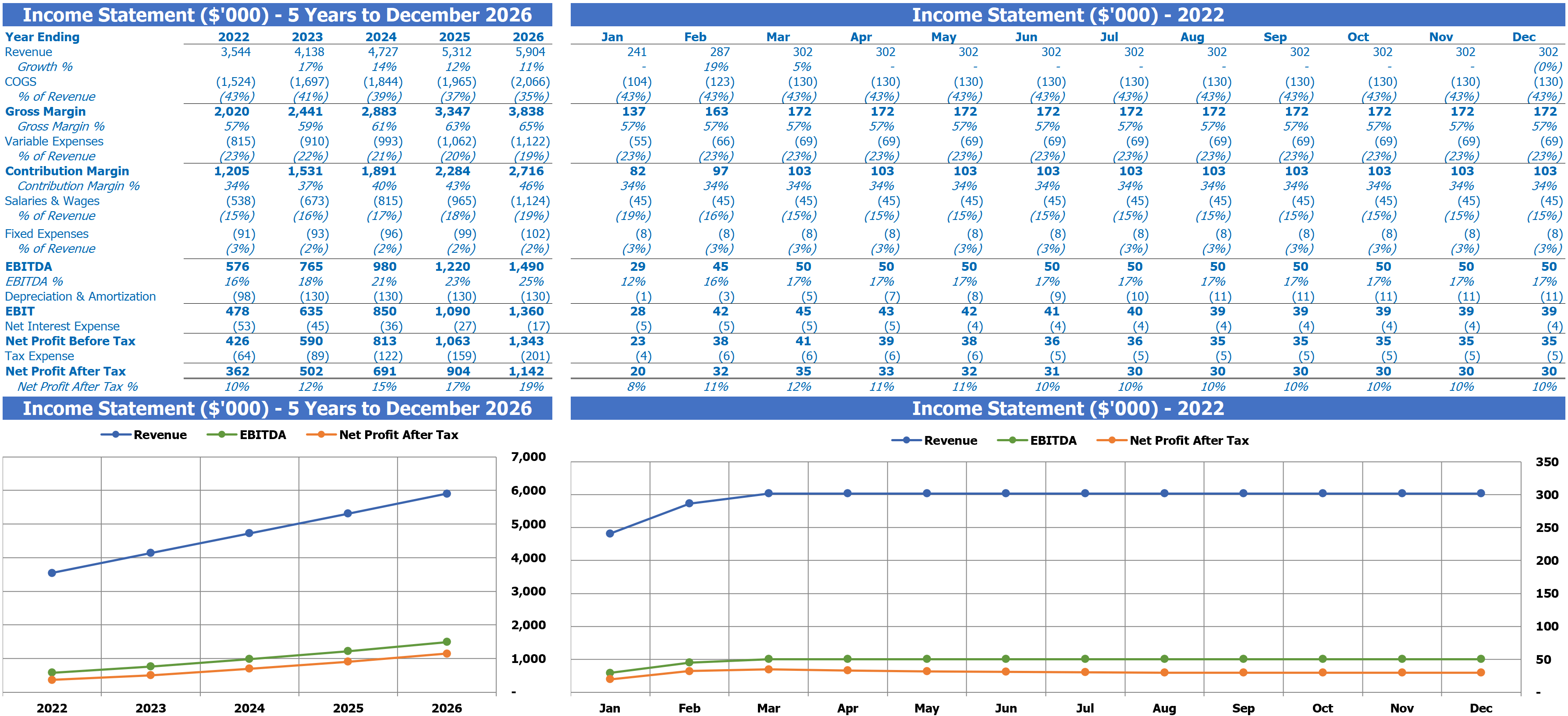 Ecommerce Financial Plan Cash Flow Statement

Ecommerce Financial Plan Balance Sheet Statement