Our Cookies business plan template is available in Word format and has 36 pages. There are several sections in the paper. Each component offers the critical information needed to market your Cookie Business Plan project properly. You may easily edit the example text in each area and sub-component to make your business plan unique. A brief excerpt from your pre-written Cookies business plan in Word is shown below.
What you Get in Your Cookie Business Plan Package
| | |
| --- | --- |
| Use this Cookies Financial Model Demo As An Example | |
Cookies Financial Model in Excel, Google Sheets and Numbers
To be an effective leader, you need to know what could happen. This Cookies business plan financial projections template excel gives you a look at what the future could hold, enabling you to assess the impact various strategic decisions could have on your business.
The three foundational financial statements, profit and loss, balance sheet and cash flow, will be automictically produced with all figures linked enabling the fundamental metrics to be calculated and clearly presented in a dashboard.
| | |
| --- | --- |
| Use this Cookies Financial Model Demo As An Example | |
I.- Cookies Executive Summary
Business Overview
[Company Name] has opened a new cookie shop in [insert location here] that specializes in organic, nutritious, and/or high-end food items. While people still crave cookies and baked products, they desire these to be healthier than traditional cookies. Our product line is in sync with this trend.
Services
A wide variety of cookies and cookie-related products will be offered by [Company Name]. Organic and natural components will be used in all goods. Low-fat versions of several goods will be available.
[Company Name] will also serve a variety of coffees and drinks, including tea.
Customer Focus
Customers within a 5-mile radius of the shop will be our primary focus. The following are the characteristics of these clients:
The population of this city is 27,827, with an average annual income of $74,700; 58.9% of residents are married, and 49.6% work in management or professional roles. In the area, the median age is also 38 years.
There are also five elementary schools, a middle school, and a high school in the area, making it an ideal location for an upscale cookie shop. [Company Name] will be frequented by students from these schools.
Management Team
[Founder's Name] has been in the cookie industry for over two decades and is the driving force behind [Company Name]. Even though [Founder] has never owned or operated a cookie shop of his own, he has taught baking classes at the local high school for the past two decades and has worked part-time at bakeries all around the region for the past ten of those years. Thus, [Founder] has a thorough understanding of the cookie business, including both the operational (e.g., day-to-day operations) and management (e.g., operating the firm) aspects (e.g., staffing, marketing, etc.). [Founder] is also responsible for [Company Name]'s cookies business plan.
Success Factors
Because of the following factors, [Company Name] has a distinct advantage in the marketplace:
The community we're entering does not have an elegant cookie shop. According to a study of the local population, our business will be welcomed with open arms by the community when we open our doors.


There are a lot of people passing by our location every day, but there isn't a lot of direct traffic, therefore it will be quite convenient for a lot of people.


There is a proven track record of success in the cookie sector with this management team.


The premium bakery business has established itself to be a successful one in many towns across the country.


Business opportunities in the health-conscious and organic-living sectors are supported by market trends.


Financial Highlights
Currently, [Company Name] is seeking $370,000 in order to begin operations, based on its cookies startup budget. These monies will be put to the following purposes:
Building a store from scratch: $250,000


[Company Name] needs $120,000 in working capital to cover marketing, payroll, and lease costs until it hits break-even.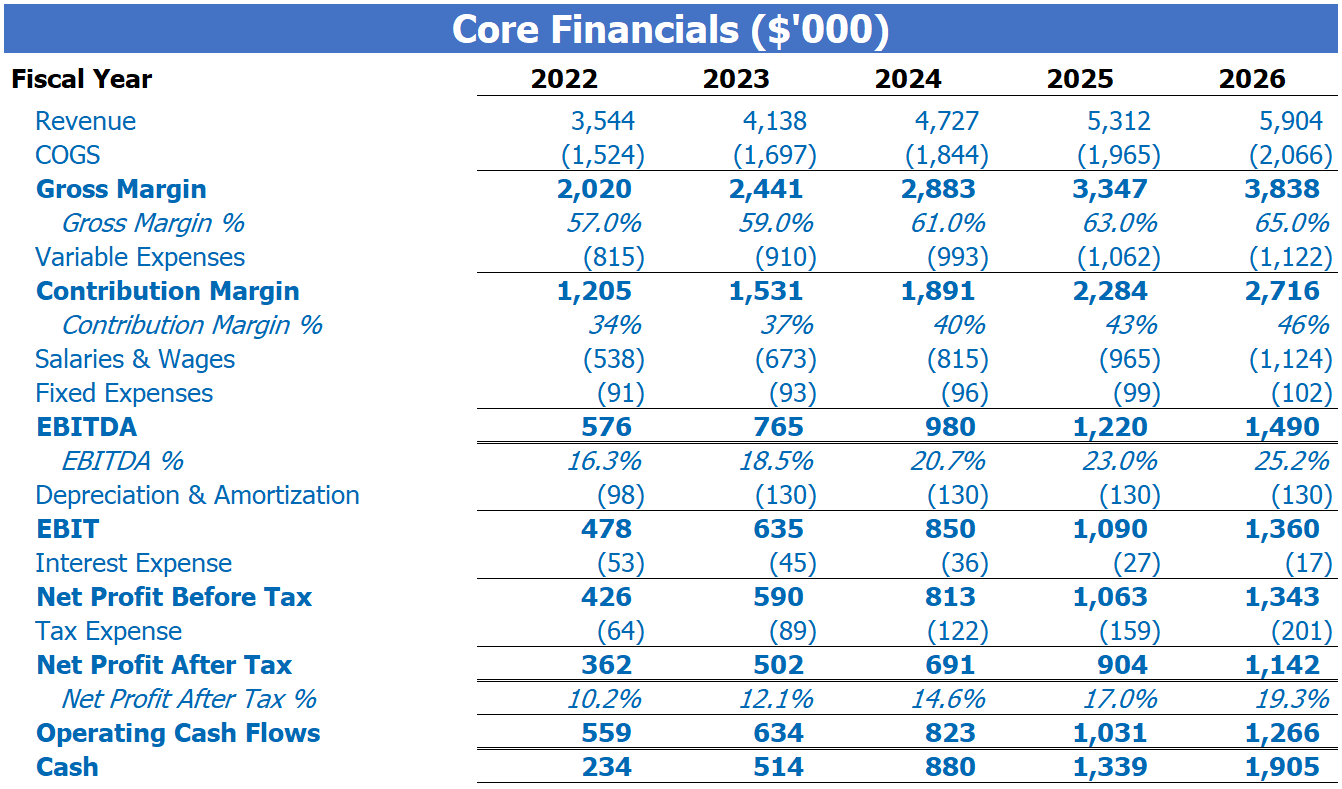 II.- Cookies Business Overview
Who is [Company Name]?
At [insert location here], a new, upmarket cookie store, [Company Name] provides organic, healthful and premium baked products in an affluent atmosphere. We also serve a selection of coffees and teas, as well as breakfast and lunch sandwiches, salads, and soups.
[Founder's Name] started [Company Name]. The founder of [Company Name] had been in the cookie business for a while when he decided to start [Founder's Name]. [Founder] traveled to Fort Lauderdale, FL, at this period. While on vacation, [Founder's Name] visited a well-known cookie shop. It was evident to [Founder's Name] that a cookie shop like the one in his hometown would be a huge hit. [Founder's Name].
As a result, he was certain that he could open a store in Fort Lauderdale because of the similar demographics and competition in his hometown. Furthermore, this hypothesis was validated through a survey of the local populace and documented in the cookies feasibility study.
[Company Name]'s History
On [date of incorporation], [Founder's Name] incorporated [Company Name] as an S-Corporation after returning from Fort Lauderdale and doing a market survey.
As of right now, the company is run out of [Founder's Name] home office, but that will change once the lease on [Company Name]'s retail location is finished.
The following achievements have been made by the company since its inception:
Created the company's name, logo, and website, which can be found at www...


The menu was developed, equipment and inventory requirements were identified, and key cookie industry professionals with prior experience were sought.


| | |
| --- | --- |
| Use this Cookie Business Plan Sample As A Guideline | |
[Company Name]'s Products/Services
Below is [Company Name]'s initial menu. All items will be 100% natural and organic.As you can see all items are classified under the following main categories:
Cookies


Coffee


Tea


Cookie Cakes


Cookie Sandwiches


Cookie Party Trays


Location
[Company Name]'s overall ambience will be inviting and trendy. The interior design will be relaxing with rustic charm and an overall calm, inviting air. Planning to serve the downtown Fort Lauderdale area, [Company Name] will be tapping into a prime market. The area is both a residential and commercial neighborhood in the central region of Fort Lauderdale. The area is known for its hip restaurants and clubs, and many notable people have made their homes there. The city is notably famous for its unique vibrant commercial corridors, dining, and eccentric nightlife focused on the downtown strip.
Design
[Company Name] will develop a 2,500 square foot store whose key elements will include the following:
Kitchen area


Ordering counter


Self-service coffee area


Tables to comfortably seat 15 customers


A play/informal eating area

-Restrooms

Below pleas find a rough sketch of the floor plan.
The retail location has 20 dedicated parking spots which should suffice even in peak hours.
[Company Name] plans to be open 7 days a week, from 7AM to 8PM. As demand dictates, we may extend or reduce our hours. Likewise, as demand dictates, we may offer delivery service.
III.- Cookies Industry Analysis
Directly or indirectly, [Company Name] competes with all the neighboring foodservice providers who sell similar products, primarily breakfast items such as breads, pastries, and muffins, as well as sandwiches and salads. Restaurants, coffee shops and bakeries will all be competing for your customers' business in the near future Indirect competition will come from companies like [Company Name] that offer 100% natural, organic items.
| | |
| --- | --- |
| Use this Cookie Business Plan Sample As A Guideline | |
What you Get in Your Cookie Business Plan Package
Industry Statistics & Trends
This is a good sign for [Company Name] because of the following size and industry statistics:
The cookie sector generated $3.6 billion in revenue last year, with an estimated gross profit margin of 25.52 percent, according to a recent article


It is estimated that retail cookie bakers make an average of $333,000 per year, with an average cookie sale of $12.51 per customer, according to Modern Baking.


"Health" is now the third most important consideration in food purchases, behind only "flavor" and "price," but ahead of "convenience," according to the IDDBA.
Even while frequent shoppers are less health-conscious than the general public, they are nevertheless concerned about their well-being.


Shoppers report that they are purchasing more low-fat milk (+30%), whole grains (+29%), and yogurt (+19%).


Saturated fat is a major concern for more than half of consumers. Trans fat is a bigger deal to frequent dairy, deli, and bakery buyers than it is to the ordinary consumer, although reduced-fat claims are less of a deal.


More than a third of customers indicate that when they shop in the dairy, deli, and bakery sections, the calorie count of foods is very important to them. About 40% of full-service and a similar percentage of self-service customers say they place a great deal of significance on calorie content.


Organic and natural food purchases are more likely to be made by customers who frequently use the self-service deli and fresh bakery.


Last year, seven out of ten consumers made an effort to improve their intake of whole grains.


Nutritional supplements, such vitamins or fiber, are crucial to about half of regular deli and bakery customers. Dairy and full-service deli areas are considered even higher in importance by regular customers.


There has been a rise in sales of in-store bakery items like cookies (e.g., bakeries in supermarkets) reaching $20 billion, according to Modern Baking.
A rise in whole grain consumption and a preference for crusty bread have helped drive up sales of bread goods. Sales of cookies have increased as well. Bagels, pies, and donuts also saw price decreases.
IV.- Cookies Customer Analysis
Profile of Target Market
| | |
| --- | --- |
| Use this Cookie Business Plan Sample As A Guideline | |
Demographics
[Company Name] will serve the those aged 18 to 35 in [company location] with above average income as well as those who work in [company location].
Customer Segmentation
Customers in the following four categories will be our primary focus:
The town has a high number of stay at home mothers, many of whom are involved in their children's education as well as their community. [Company name] will be the ideal location for these moms to get together for lunch or coffee.


To ensure that our children have healthy snacks and meals after school and on the weekends, we expect mothers to bring their children to [Company name].


A large number of locals drive to work in adjacent towns or take the train to get to their workplaces early in the morning. It's easy for these people to stop by [Company name] in the morning for a cup of coffee or a sandwich in the evening.


It is estimated that roughly 5,000 people work in workplaces less than a quarter mile away from us. During the morning and lunch hours, we expect a significant number of these people to visit us.


A middle school and a high school are both located in the town, with the latter being only a half-mile away. [Company Name] will specifically recruit students from these institutions.


V.- Cookies Competitive Analysis
Direct & Indirect Competitors
Within a two-mile radius of [Company Name], the following retail establishments offer direct or indirect rivalry for customers:
Joe's Supermarket
Joe's Supermarket has been a staple of the community for more than three decades. Everything you'd expect to find at a grocery shop can be found at Joe's.
Joe's also has a bakery right on the premises. In their bakery, organic ingredients are used in less than 10% of the baked goods. As a result, there isn't much to choose from at Joe's. There are just two kinds of soups, three kinds of cookies, and so on, in this restaurant. In contrast, [Company Name] provides a wide range of solutions for each product category.
Old Time Bakery
It's been 14 years since Old Time Bakery first opened its doors. Baked items are available in Old Time, including cookies and pastries.
Old Time Bakery, on the other hand, offers various benefits over [Company Name], such as:
Few products at Old Time Bakery are made with organic ingredients; they also don't serve sandwiches, soups, or salads; there is limited customer seating; there's no parking; and they're located more than a quarter of a mile away from our store, making it less convenient for the office workers who work nearby.

Freddy's Deli
Freddy's Deli is four storefronts east of us. As a result of its exceptional location, Freddy's has been in business for the last 21 years and has had remarkable success (which we will also have).
For breakfast and lunch, Freddy's largely focuses on sandwiches and soup, as well as a range of packaged foods.
Freddy's Deli has a number of disadvantages, including:
It is not possible to get organic foods at Freddy's Deli (including pastries, soups, and sandwiches), and there are just a few options in each of our product categories.
Even while we expect Freddy's Deli's location and relationships with customers to continue to be important factors in its success, we believe that the high-quality and organic ingredients we use and the variety of products we provide will attract more people to [Company Name].
There has been a Supermarket in town for 32 years, making it the area's most popular food shop. Every item you'd find at a grocery shop can be found at Joe's.


| | |
| --- | --- |
| Use this Cookie Business Plan Sample As A Guideline | |
What you Get in Your Cookie Business Plan Package
Competitive Advantage
Advantages that [Company Name] has over its rivals include the following. These are some of the benefits that we incorporated in our cookies pro forma:


With our location in the middle of town, [Company Name] has access to commuters, local office employees, and passersby who visit local stores. Additionally, we make it easy for consumers to come in and shop with us by providing enough parking.


The product is 100% natural, organic, and high-quality. Natural/Organic baked products, soups, sandwiches, and more are nearly hard to get in the local market due to a lack of availability of ingredients. Most of our items have no direct competition from other retailers.


It's a big advantage for us because our management team has years of expertise in the field of business and marketing, which enables us to better promote and service our consumers.


Since [Founder's Name] has lived in the neighborhood for 25 years, he knows all of the local politicians, journalists, and other influential people. Consequently, it will be rather simple for us to grow our cookie shop's brand and exposure.


VI.- Cookies Marketing Plan
| | |
| --- | --- |
| Use this Cookie Business Plan Sample As A Guideline | |
The [Company Name] Brand
Branding will focus on the [Company Name] value proposition: Organic, high-quality foods such as baked goods, sandwiches, soups, and salads are all available, as is a convenient location for both dine-in and takeout.
Promotions Strategy
People within a 5-mile radius of each of [Company Name]'s stores are the company's primary target audience. Promoting the Company's products and services to these people involves the following:
Direct Mail
Direct mail pieces from [Company Name] will be sent to the areas surrounding its sites. [Company Name] will be featured in these articles, which will include information about the company, as well as discounts and other incentives for customers to shop there.
Communications with the General Public
We will contact all local and regional media outlets to inform them about the opening of [Company Name] and its unique value offer.
Advertising
Initially, [Company Name] will advertise in local media and fund community activities.
Sampling
Free food samples will be given out by [Company Name] staff in the beginning so that people may have a taste of our products and learn more about us.
Constant Contact with the Client
Every month, [Company Name] will send out an email newsletter informing clients about upcoming events, new goods, and other noteworthy information.
Pre-Opening Activities
In order to attract new consumers, local businesses, and media, [Company Name] will hold a series of pre-opening activities. These events are a great way to get the word out about [Company Name].
Pricing Strategy
Prices at the [Company Name] stores will be kept low so customers feel like they're getting a good deal.
VII.- Cookies Operations Plan
In order to carry out the business model of [Company Name], the company must carry out a number of tasks, including the following:
Administrative
Supplying and maintaining track of raw materials;


Administrative and general tasks (i.e. legal, marketing, bookkeeping)


Involvement in the hiring and training of employees


Kitchen
Preparation of food


On-going menu development


Retail
The accepting and fulfilling of orders (for take-out and dine-in)


Service to clients


Staff must maintain cleanliness in the store


| | |
| --- | --- |
| Use this Cookie Business Plan Sample As A Guideline | |
What you Get in Your Cookie Business Plan Package
Milestones
[Company Name] expects to achieve the following milestones in the following [] months:
VIII.- Cookies Management Team
[Founder's Name] has been in the cookie industry for 20 years and leads [Company Name]. He/she is also overall responsible for our cookies budget template.
For the past 20 years, [Founder] has been teaching baking lessons at the local high school. He taught two courses, namely:
How to Make Wedding Cakes.
The goal of this course is to teach students the basics of making wedding cakes. For special events and weddings, students learned how to make and design classic and contemporary cakes.


Bread Baking Recipes.
Students in this course learned how to make a variety of breads, including brioche, croissants, and challah, as well as levain, baguettes, and pain bordelaise. They also made pizza, focaccia, and ciabatta.


Throughout the previous decade, [Founder] has also worked as a part-time baker in bakeries all over the region. He's worked at Giana's Bakery, specifically, where he made all the cookies. Many others have learned from him, as well, in the commercial cake and pastry making trades.
[Founder] earned his bachelor's degree in Communications from the University of ABC.
| | |
| --- | --- |
| Use this Cookie Business Plan Sample As A Guideline | |
Hiring Plan
The store's manager will be [Founder]. We'll need to fill the following positions before we can open our store:
Staff members (2 full-time equivalents to start)


Self-service chef (1 to start)


Cooks and chefs (1 to start)


Assistant Manager (accountable for the cash register and other administrative responsibilities)


IX.- Cookies Financial Plan
Customers of [Company Name] will be able to purchase natural and organic food items from [Company Name].
Dining-in, take-out, and delivery options will be available to the Company's wide-ranging client base in its target market.
Food production costs and employee wages will be the company's primary expenses. A significant portion of the company's marketing budget will be allocated to gaining traction in the industry.
More details are found in [Company Name]'s cookies financial projection.
| | |
| --- | --- |
| Use this Cookies Financial Model Demo As An Example | |
Capital Requirements and Use of Funds
There is a total of $370,000 needed to get [Company Name] off the ground with its new store, based on the cookies financial plan. Funding for construction expenditures, human resources, marketing costs, and working capital will all be provided by this money.
These monies will be used to the following purposes:
- Design and construction of the store: $250,000
- Marketing, payroll, and lease expenditures until [Company Name] reaches break-even: $120,000 in working capital.
Cookies Financial Plan Sources And Uses Report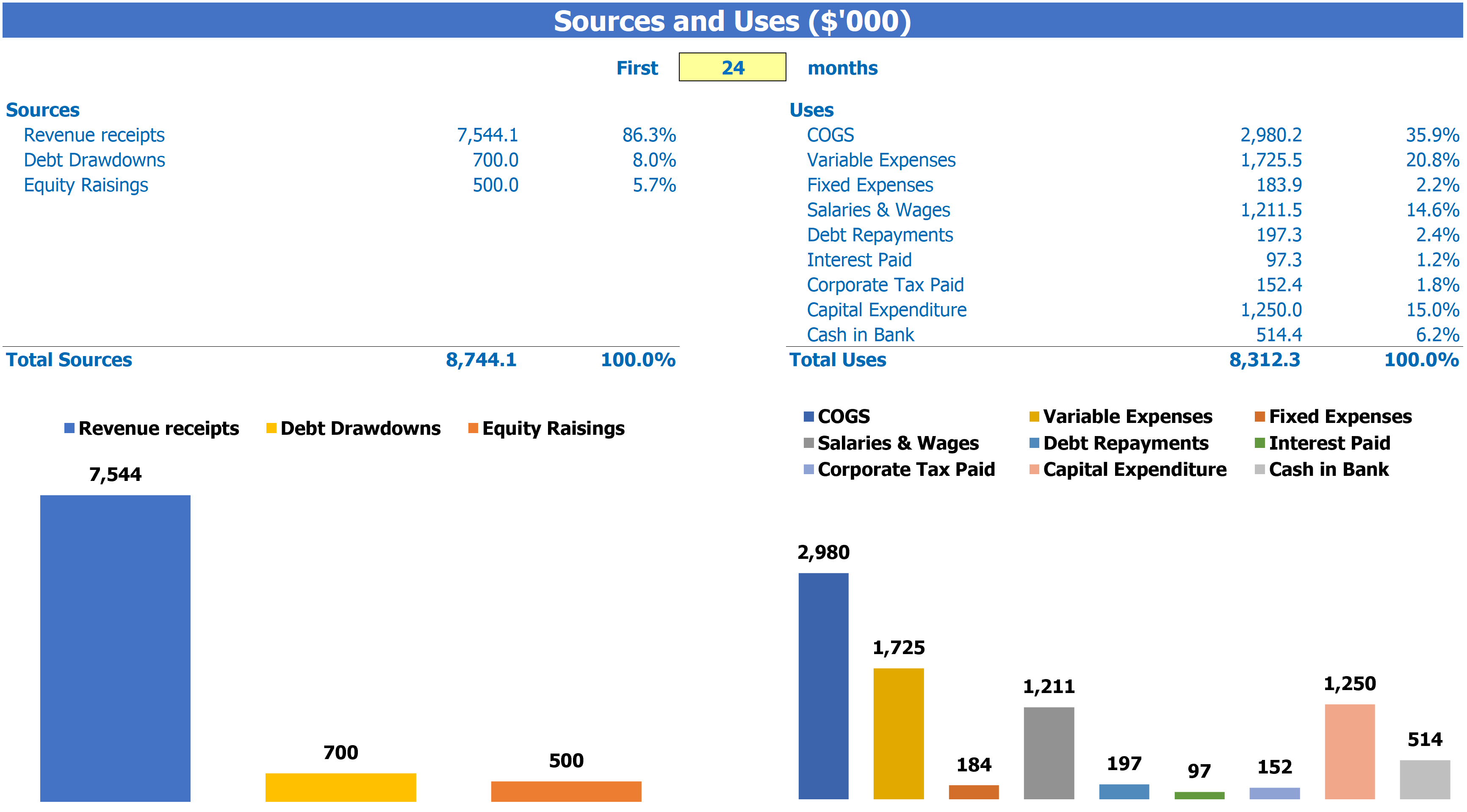 Key Assumptions
Key Assumptions
Cookies Financial Plan Core Inputs

Cookies Financial Plan Top Revenues Report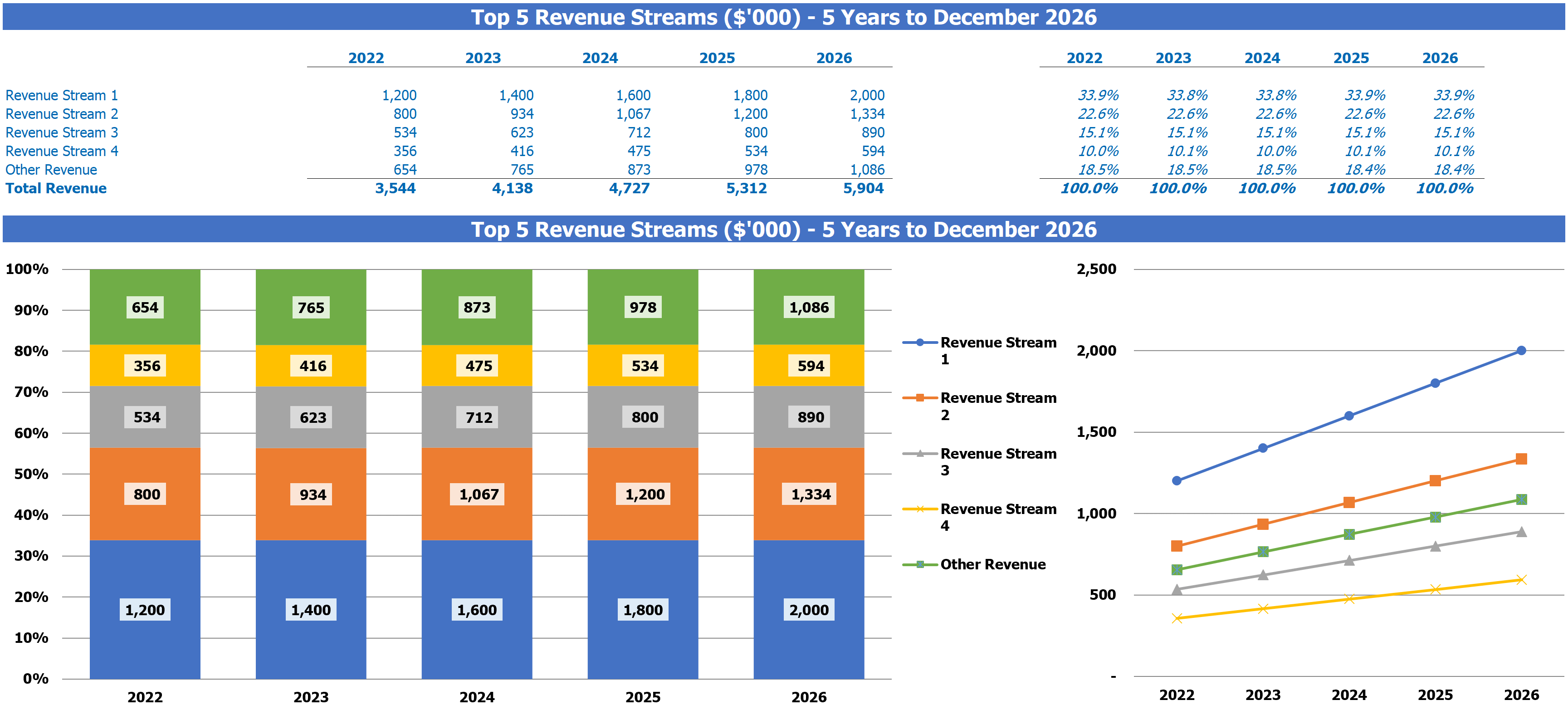 Cookies Financial Plan Top Expenses Report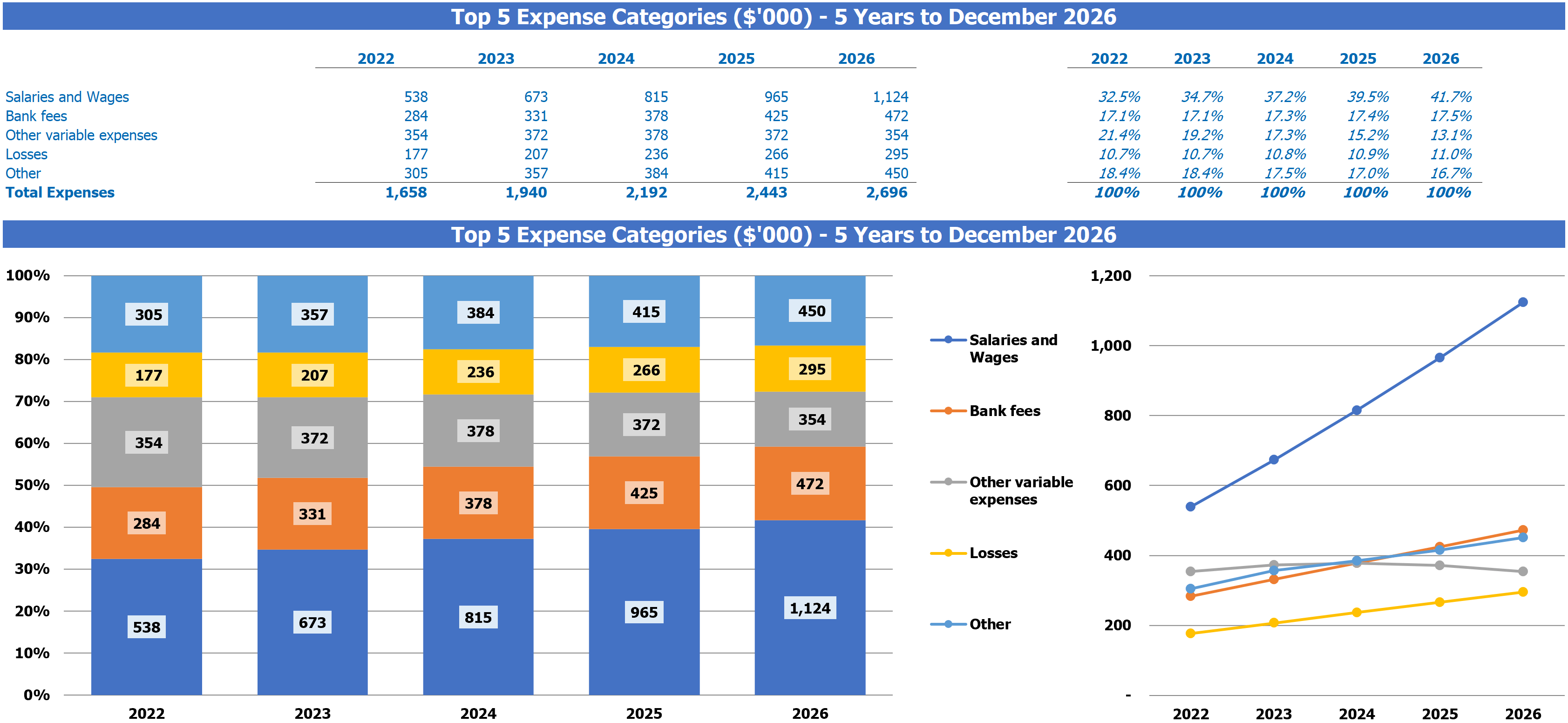 Cookies Financial Plan Income Statement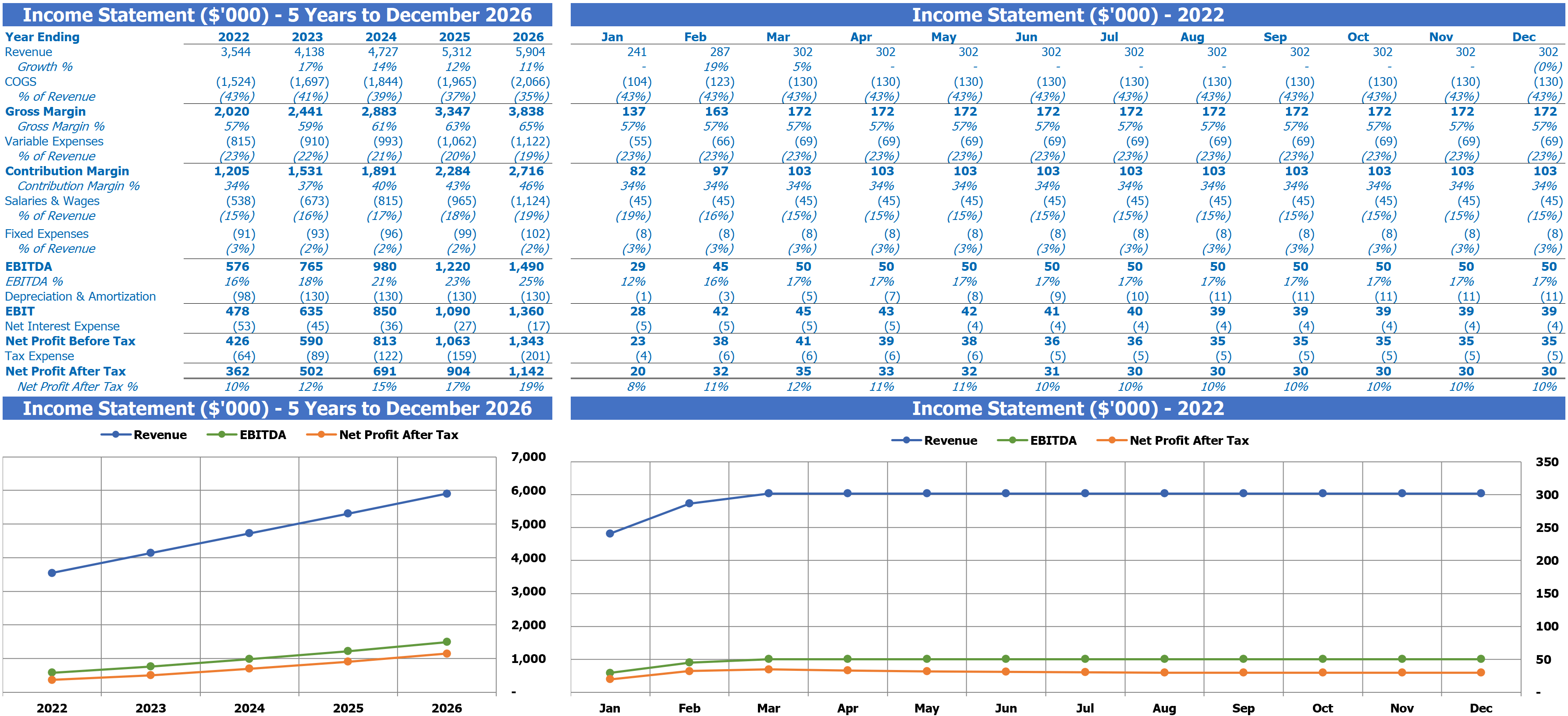 Cookies Financial Plan Cash Flow Statement

Cookies Financial Plan Balance Sheet Statement