Microsoft Word business plan template for Clothing Line with 36 pages. The Short Business Plan Outline includes all of the necessary subjects for a high-quality outline. To help the user fill out each part, there are instructions and examples provided. The pages can be simply rearranged; you can tailor the pages to your specific requirements. It's also possible to alter or replace images on the same pages, if necessary. The 36-page brief business plan outline is available in MS-Word and can be readily downloaded. However, you are not limited to five or 10 years in the use of the Clothing Line Business Plan. The template is easy to use, and you may customize it to suit your needs. All of the areas that you want to delete or copy can be done in a single click. Nothing is out of reach; you possess complete freedom to design your own color scheme.
What you Get in Your Clothing Line Business Plan Package
| | |
| --- | --- |
| Use this Clothing Line Financial Model Demo As An Example | |
Clothing Line Financial Model in Excel, Google Sheets and Numbers
Our Clothing Line business plan excel template is a 3-way financial model, built on an income statement, balance sheet, cash flow statement, it is fully integrated and dynamic, meaning it can be changed and progressed with your company. When you build a model, you consider your company's financial history and build projections for the future using specific assumptions. To accurately and consistently build a pro forma template, all three financial statements need to be considered. This will ensure any changes are reflected throughout your financial accounts giving you a clearer view on how different situations will impact the business.
| | |
| --- | --- |
| Use this Clothing Line Financial Model Demo As An Example | |
I.- Clothing Line Executive Summary
Business Overview
[COMPANY NAME] is a Bohemian-inspired fashion brand featuring chic, urban styles for the modern fashionista. [COMPANY NAME] is designed by [FOUNDER NAME], an up-and-coming artist from [LOCATION]. The fashion-forward pieces are on sale in select specialty boutiques on the East coast, where it has generated impressive sales. Offering an opportunity to enjoy beautiful designs handcrafted by female artisans in underserved countries, [COMPANY NAME] is more than just a clothing line. It is a future-forward company filling the market demand for sustainable, fair trade fashion. Each piece is made with care by hand, so each piece is 100% unique. Perfect for casual and upscale settings, women can feel empowered knowing they look stylish in timeless pieces that will last them years.
After experiencing success in boutique stores throughout the area, [COMPANY NAME] is ready to expand its reach and capture the hearts of fashionistas everywhere. The company is prepared to enter its next growth stage and is seeking investor funding to carry on its mission. In this next phase of the company's journey, funding will help accelerate eCommerce growth and secure wholesale opportunities. Dive deeper into [COMPANY NAME]'s future potential in the pages of this clothing line business plan and discover a new era of sustainable fashion.
Services
[COMPANY NAME] offers a modern take on women's clothing that is whimsical yet practical and comfortable for everyday wear. The brand provides a complete collection of women's apparel, from outerwear to intimates and everything in between. Classic and timeless, [COMPANY NAME]'s high-quality pieces will be wardrobe staples for years. Customers can shop how they like, either in-store at the beautiful brick and motor location in [LOCATION] or online from the comfort of their home. With fast shipping and free returns, fashionistas can feel comfortable trying new stunning pieces wherever they live.
For the style queens who want something more personal, [COMPANY NAME] offers one-on-one style consultations, both in stores and online. Stylists can help find the perfect piece to integrate into an existing wardrobe, and for customers wanting something special, they can help design custom, handmade pieces. Superior service, female empowerment, and sustainable fashion are at the heart of [COMPANY NAME] and will remain the driving force for years to come.
Customer Focus
[COMPANY NAME] target customer segment is women ages 25 to 44, with some disposable and are interested in high-quality fashion pieces.
Target Segment Demographics:
Average income of $54,700


40% married


51% Business Management Occupation


Management Team
[COMPANY NAME] is owned and operated by its founder, [FOUNDER NAME], a 15-year veteran in the fashion industry. After working as a senior assistant for the esteemed fashion designer Jack Jacobs, [FOUNDER NAME] felt inspired to pursue her dream of designing her fashion brand that combines chic runway styles with Bohemian elements. [COMPANY NAME] manifests [FOUNDER NAME]'s passion for stunning looks and business experience.
Success Factors
[COMPANY NAME] has several points of strength in its business that differentiate them from the competitive landscape, including:
High-quality, handmade fashion at an affordable price.


Multiple revenue streams, including eCommerce, retail stores, and wholesale.


A strong leadership team with a proven track record of success in the fashion industry


[COMPANY NAME] fulfills consumers' increasing demand for more ethical and sustainable clothing.


Financial Highlights
[Company Name] is currently seeking $330,000 to launch.Specifically, these funds will be used as follows:
Costs of Goods: $165,000


Working capital: $165,000 to pay for marketing and salaries, until [Company Name] reaches break-even.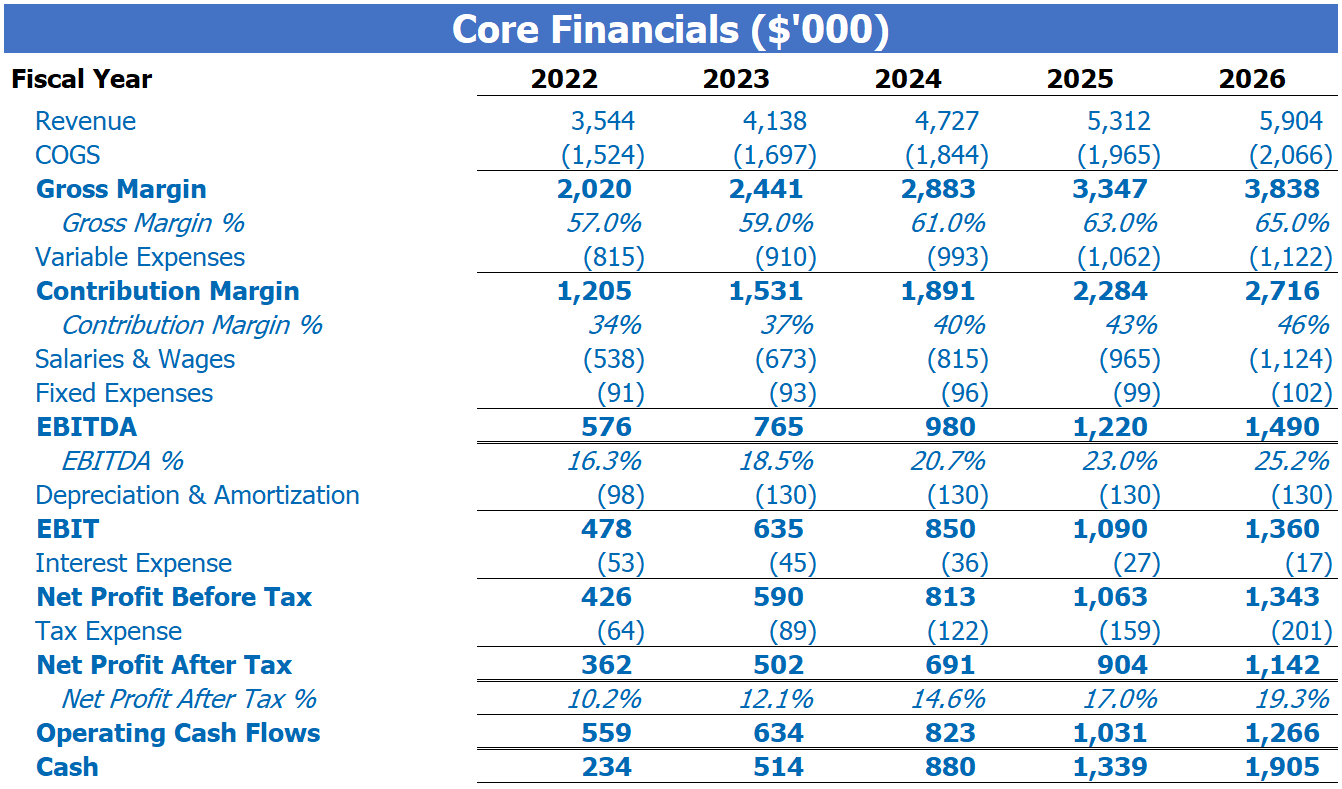 II.- Clothing Line Business Overview
Who is [Company Name]?
[COMPANY NAME], located at [LOCATION], is a high-quality fashion brand focused on delivering ethical pieces to women that are comfortable and provide confidence.
[COMPANY NAME] was founded by [FOUNDER NAME], who serves as head designer. A leader in the fashion industry for 15 years, [FOUNDER NAME] established [COMPANY NAME] in March 2021. [HE/SHE/THEY] was inspired to create the clothing line because of their passion for sustainable fashion and love of Bohemian style. On a quest to support ethical fashion, [FOUNDER NAME] began handmaking unique pieces and ethically sourced fabrics.
[Company Name]'s History
[COMPANY NAME] operates as a limited liability corporation in [location] and was founded on [date of incorporation].
[COMPANY NAME] conducts business out of its headquarters office located at [ADDRESS]. The company is exploring opportunities to open a larger production site where it can produce more inventory to sell to wholesalers.
This production location's target go-live date is set for [DATE], at which time the following milestones will be reached:
Secured 36-month lease at [LOCATION]


Activated building and business insurance


Successfully implemented workforce management software


Hired restaurant staff, including six full-time employees, and six part-time employees


Purchased and installed necessary equipment in a fully renovated production space optimized for efficiency.


| | |
| --- | --- |
| Use this Clothing Line Business Plan Sample As A Guideline | |
[Company Name]'s Products/Services
Below is [Company Name]'s initial list or product categories. Where appropriate, items are offered for Infant, Toddler, and Pre-School ages.
Tops (long sleeve and short sleeve)


Bottoms (pants, skirts, skorts, shorts)


Sleepwear


Swimwear


Accessories


Shoes


Sweaters


Jeans


Dresses


Outerwear


Skirts


III.- Clothing Line Industry Analysis
Direct competitors of [COMPANY NAME] include other boutique fashion brands, mass-market clothing sold at department stores, and fashion eCommerce sites. Indirect competitors include secondhand fashion sites and brick-and-motor locations.
| | |
| --- | --- |
| Use this Clothing Line Business Plan Sample As A Guideline | |
What you Get in Your Clothing Line Business Plan Package
Industry Statistics & Trends
[COMPANY NAME] operates in the US retail fashion industry. Over the next three years, the retail fashion industry is expected to grow 5%. As consumers demand more sustainable fashion options that are trendy and reasonably priced, there is an opportunity to enter the ethical fashion market. The handmade fashion market continues to grow, and retailers are looking to include new sustainable clothing lines in their stores.
Fashion design has the potential to deliver significant profits. Industry designers that create trendy, sustainable fashion have an opportunity to sell their pieces at higher prices. The value added by producing handmade, ethical pieces is significant to consumers, and these pieces can generate substantial revenue. As the market demands eco-conscious fashion, profit margins are expected to rise as more suppliers offer sustainable fabrics.
The global economy is recovering from recent turmoil, and consumers are interested in purchasing new types of fashion. The US fashion market continues to strengthen, and domestic designers can expect to capture the increasing demand for sustainable fashion pieces. With many fashion designers moving production offshore to countries that offer cheaper production and labor costs, [Company Name] has a distant advantage over competitors because products are created locally.
IV.- Clothing Line Customer Analysis
Profile of Target Market
[COMPANY NAME] primarily serves US women ages 25 to 44 interested in sustainable fashion and have disposable income.
| | |
| --- | --- |
| Use this Clothing Line Business Plan Sample As A Guideline | |
Demographics
The precise demographics of this market are as follows:
Customer Segmentation
[Company Name]'s clothing line business plan outlines three customer segments that the business will target:
Target Customer Segment 1: Professional Women who seek out comfortable and style clothes that are work appropriate


Target Customer Segment 2: Women Aged 25-35 who seek fun clothes for going out.


Target Customer Segment 3: Fashion-forwarded women – seeking trendy, high-quality pieces for their day-to-day wardrobe.


V.- Clothing Line Competitive Analysis
Direct & Indirect Competitors
The following independent clothing lines offer unique clothing for women with disposable incomes, thus providing either direct or indirect competition for [COMPANY NAME]:
Flower & Co.
Flower & Co. is a famous local independent women's clothing line, established in 2010 by San Francisco designer Rachel Jackson. The collection, launched in 2007, combines unexpected details with simple, sexy fabrics. The brand features a full range of women's clothes, apparel, and accessories with a soft, bohemian style and a casual feel. The brand has seen rapid success, attracting young women seeking an effortlessly cool, chic urban look.
Urban Lang
Urban Lang offers beautiful pieces handmade by female artisans in Vietnam. Created by Vietnamese fashion designer Min Thu Troung in 2008, the local brand is known for its simple, refined design. Each piece of clothing supports a fair living wage for women in Vietnam working to support their families. Urban Lang offers a similar sustainable, stylish option as [COMPANY NAME], but at a higher price point.
Hippie Vibes
With its brick and motor store located in the heart of San Francisco, Hippie Vibes is a one-of-a-kind store loved for its unique designs and affordable price. As an independent clothing line, Haute Vibes is profitable and stylish, offering fashion basics and loungewear for women. The brand embraces eclectic patterns and sustainable fabrics to provide customers with a new take on casual apparel.
| | |
| --- | --- |
| Use this Clothing Line Business Plan Sample As A Guideline | |
What you Get in Your Clothing Line Business Plan Package
Competitive Pricing
Here is the pricing of our key competitors:
Competitive Advantage
[Company Name] maintains three distinct averages over competitors, including:
Unique Handmade Designs: [Company Name] believes in creating one beautiful handmade garment at a time. By not using the fast fashion, mass-market approach, each piece is unique and produced sustainably.


Leadership Team: [Company Name] has a team of experienced fashion veterans at the helm. With impressive resumes and a combined 80 years of experience in the fashion industry, this elite team of leaders sets [Company Name] apart from competitors.


Professional Network: Founder [NAME] and [HIS/HER/THEIR] leadership team have a reputation of excellence in the local fashion industry. The team will leverage its professional network to spread brand awareness and build relationships with the community.


VI.- Clothing Line Marketing Plan
The Marketing Plan describes the type of brand [Company Name] seeks to create and the Company's planned promotions and pricing strategies.
| | |
| --- | --- |
| Use this Clothing Line Business Plan Sample As A Guideline | |
The [Company Name] Brand
This clothing line business plan presents [COMPANY NAME]'s unique value proposition:
handmade, sustainable fashion


unique, beautiful pieces for women of all sizes


a complete selection of fashion and accessories


Promotions Strategy
[COMPANY NAME]'s primary target market segment is women aged 25-44 committed to buying handmade, sustainable fashion. The company's campaign and promotion strategy include the following focus areas.
Public Relations
The PR team will coordinate media coverage with local and digital media agencies by submitting press releases about the latest store happenings and leveraging professional contacts.
Advertising Investment
[COMPANY NAME] will invest in local magazine ads and billboard ads at several central bus stop locations.
Digital Marketing
[COMPANY NAME] has a robust website where interested customers and fans can find information and subscribe to the store's monthly newsletter.
Store Events
On the scheduled store open date, [COMPANY NAME] will host an opening day party, where customers receive a free handmade gift for stopping by the store.
Email Marketing
[COMPANY NAME] will have ongoing direct email marketing campaigns to promote the clothing line and draw in new customers. The leadership team will leverage their professional network to start sending emails. Store customers will have the option to provide their email address at checkout and be signed up for email news, promotions, and updates.
Fashion Shows
The brand will showcase its design at local fashion shows and events throughout the country. Fashion shows present an opportunity for fashion retailers, critics, and influencers to see new designs and get interested to learn more about the brand. These events not only spread brand awareness but also provide opportunities for press attention and partnerships.
Pricing Strategy
[COMPANY NAME] offers high-quality pieces that are handmade with sustainable materials. The cost of investment to produce pieces at this level of quality is significant. Therefore, the price to the consumer is on the premium end.
VII.- Clothing Line Operations Plan
Operating [Company Name] requires the following administration departments and management areas:
Management & Administration
Bookkeeping, marketing, supplier, and inventory management,


Office management and legal compliance





Design & Production


Design creation, material sourcing.


VIII.- Clothing Line Management Team
[FOUNDER NAME] is [COMPANY NAME]'s founding designer, owner, and operator of [COMPANY NAME]. [HE/SHE/THEY] is a 15-year veteran in the fashion industry, having worked in New York City at some top fashion houses. After graduating from the prestigious [SCHOOL NAME] with a degree in fashion design, [FOUNDER NAME] started working as an assistant to the elite designer Marc Jacobs.
Through this experience, [FOUNDER NAME] learned the inner workings of how to build a successful brand. [HE/SHE/THEY] was born in Vietnam and felt called to support the development of sustainable fashion while advancing the rights of low-wage workers in other countries. [COMPANY NAME] represents a new way of providing women with fashion they can feel good about.
| | |
| --- | --- |
| Use this Clothing Line Business Plan Sample As A Guideline | |
Hiring Plan
[FOUNDER NAME] is the CEO of [COMPANY NAME]. The leadership team includes:
Assistant Designer (Full-Time Employee) [NAME]


Officer Manager (Full-Time Employee) [NAME]


Bookkeeper (Part-Time Employee) [NAME]


IX.- Clothing Line Financial Plan
[COMPANY NAME]'s primary revenue streams include:
Direct to Consumer sales in the store and eCommerce via the company's website


Sales to wholesalers


Major costs include:
Rent


Cost of Goods Sold (Supplier Costs)


Staff Salaries


Marketing Expense


| | |
| --- | --- |
| Use this Clothing Line Financial Model Demo As An Example | |
Capital Requirements and Use of Funds
[COMPANY NAME] is seeking $250,000 of investor funding to scale its business and maximize future revenue. Investment dollars will go towards staffing so the business can scale current operations and to support larger orders from suppliers.
A detailed breakdown of investment spending is illustrated below:
$125,000 to hire a second full-time assistant designer and two part-time store associates
$100,000 to source more supplies to create more clothing
$25,000 for marketing ad placements in local magazines
Clothing Line Financial Plan Sources And Uses Report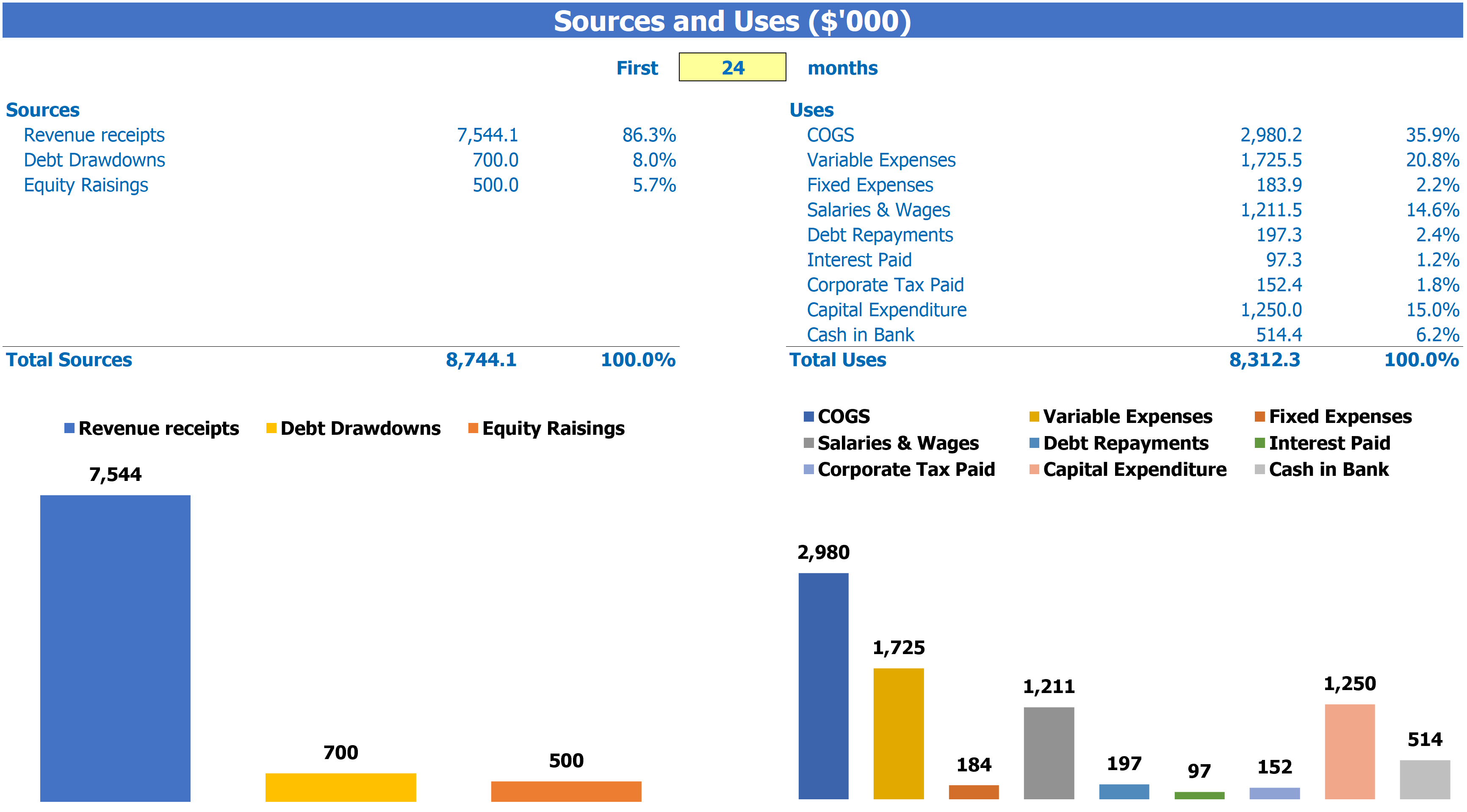 Key Assumptions
Below please find the key assumptions that went into the financial forecast and a summary of the financial projections over the next five years.
Clothing Line Financial Plan Core Inputs

Clothing Line Financial Plan Top Revenues Report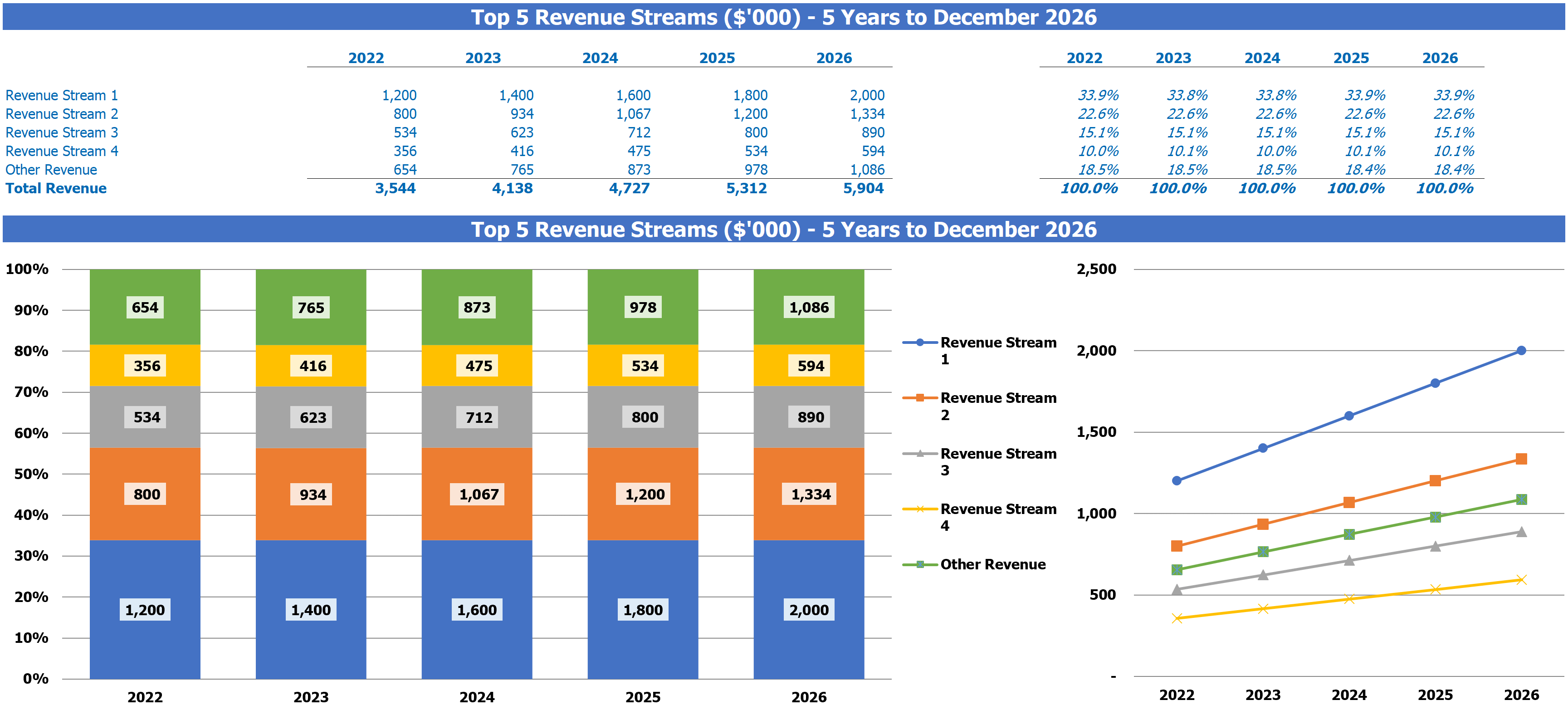 Clothing Line Financial Plan Top Expenses Report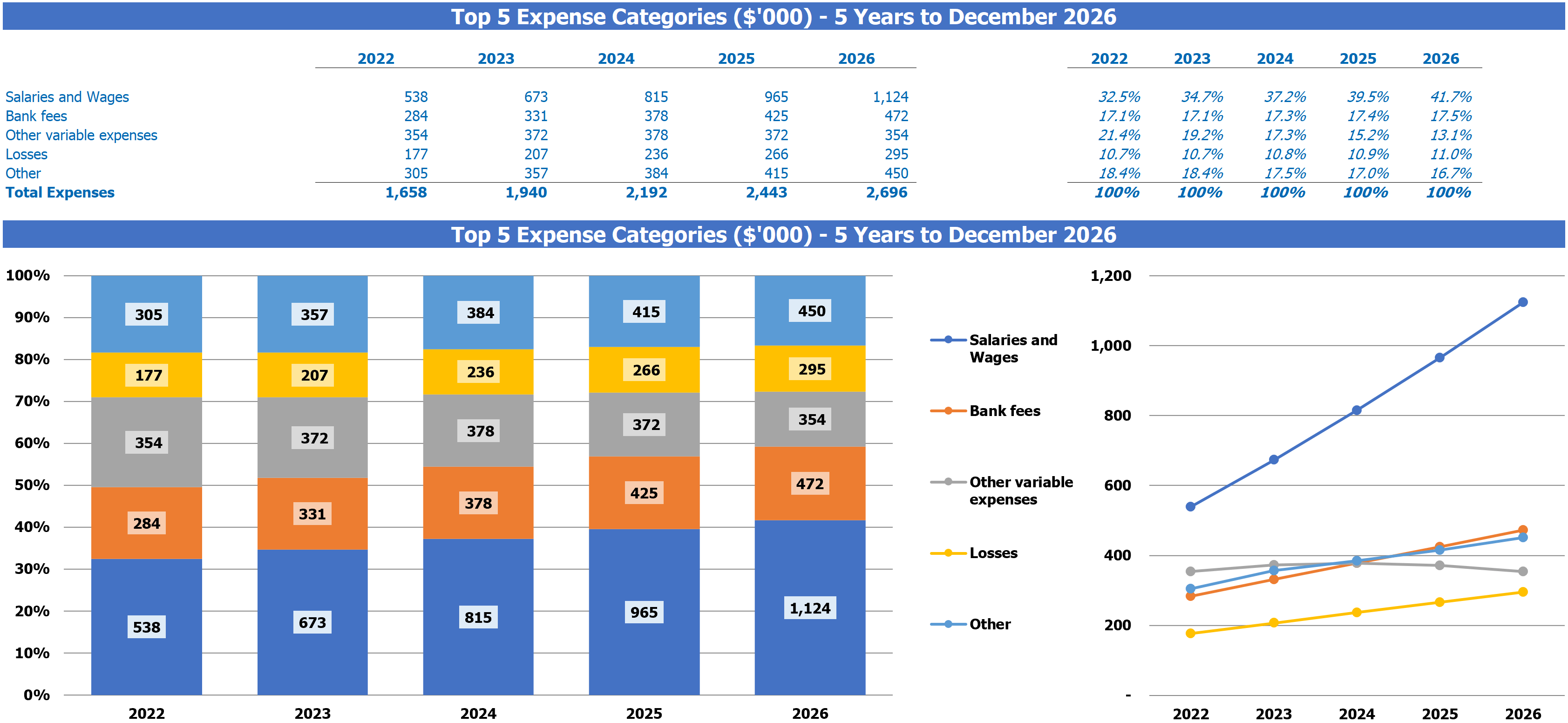 Clothing Line Financial Plan Income Statement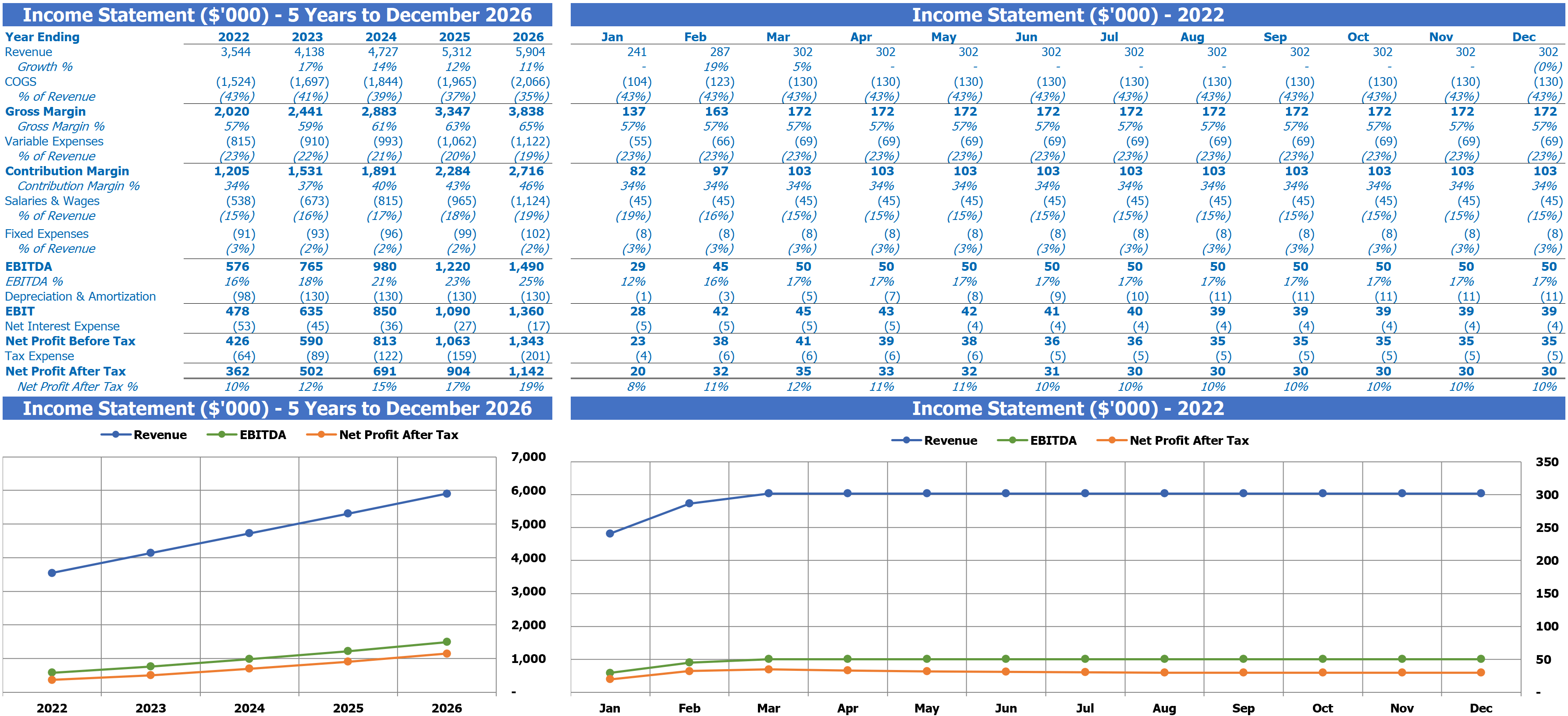 Clothing Line Financial Plan Cash Flow Statement

Clothing Line Financial Plan Balance Sheet Statement