Our detailed Business Plan Template ensures the key necessities are communicated to build confidence in your Barber Shop project. The template consists of multiple easy to navigate sections, with subsections for each topic. As you customize each section, you'll have sample wording to guide you through the process of correctly writing all the required details. The extract below will give you a sense of your pre-prepared Barber Shop business plan.
What you Get in Your Barber Shop Business Plan Package
| | |
| --- | --- |
| Use this Barber Shop Financial Model Demo As An Example | |
Barber Shop Financial Model in Excel, Google Sheets and Numbers
This Barber Shop financial plan template excel is easy to understand and user-friendly, with an organized assumptions sheet, linked worksheets and highlighted cells that are clearly marked for your input. Once your data has been entered into these highlighted cells your figures will automatically flow-through to all other relevant sheets, with our robust formulas automatically performing calculations.
| | |
| --- | --- |
| Use this Barber Shop Financial Model Demo As An Example | |
I.- Barber Shop Executive Summary
Business Overview
[Company Name] is a barbershop business committed to providing clients with affordable hair styling and grooming services. Our Barbershops services are unmatched and we customize our services to the client and their lifestyle. Our customers allow us to run a successful barber shop business therefore we ensure our customers are our top priority and we make it known how valuable each client and their individual needs are. Our unique atmosphere focuses on the client and ensures our barber shop business plan is successful.
Services
[Company Name]'s barbershop business plan focuses on delivering relationship-oriented haircutting services to men of all ages. With long-term relationships being our main focus and the core to our success, we seek to deliver personalized results for each individual to achieve this goal.
[Company Name] offers a variety of services including haircuts, shaving, coloring, and styling for special occasions. We are also a retailer of exclusive hair care products! Customers can purchase these exclusive products at [Company Name] and won't be able to find the same product in big box retail stores.
Customer Focus
[Company Name]'s target market includes the residents of [company location], those within immediate surrounding areas, and those working in [company location]. Our successful barbershop business plan further seeks to serve the middle-class residents of the area. Our target market has the means to pay for our high-quality services and they seek to purchase services somewhere between deep discounters and top-end luxury services.
Management Team
[Founder's Name] manages [Company Name] and has 20 years of barbershop business experience. Beginning his career in [19xx], [Founder's Name] has worked exclusively for major barbershops over the last 20 years and has received certifications from [Barber Shop School]. [Founder's Name] also worked at [major chain] for X years and has an in-depth understanding of barbershop startup expenses.
Success Factors
[Company Name] has a unique advantage and is set to succeed due to meeting the needs of a niche market in a growing community. [Founder's Name] has surveyed the local population and received feedback proving there will already be an established customer base once the business is launched. Additionally, [Company Name] will be located at [location], a high-volume area which is conveniently located near multiple residential locations and commercial district zones. The upscale barbershop business has continuously succeeded in communities throughout the United States, with a large portion of these businesses seeing positive barbershop cashflow soon after opening.
[Company Name] is also set to launch a successful barbershop business plan as [Founder's Name] and [His/Her] team has a track record of unmatched success in the barbershop business. We also anticipate seeing positive barbershop financial statements due to local competitors leaving a large gap in the haircut market. Currently, there are only low-cost providers priced between $10 and $20 or ultra-luxury salons that are priced starting at $120. Fortunately for [Company Name], there are no barbershops in between these markets to meet current customer demand.
Financial Highlights
[Founder's Name] is seeking an investment of $260,000 of debt capital to launch [Company Name]. The barbershop financial plan has analyzed barbershop startup expenses and has planned how the funds will be used. $140,000 will be used to design and build the shop while the remaining $120,000 will be used to pay for marketing, employee salaries, and lease costs until [Company Name] has a positive cash flow.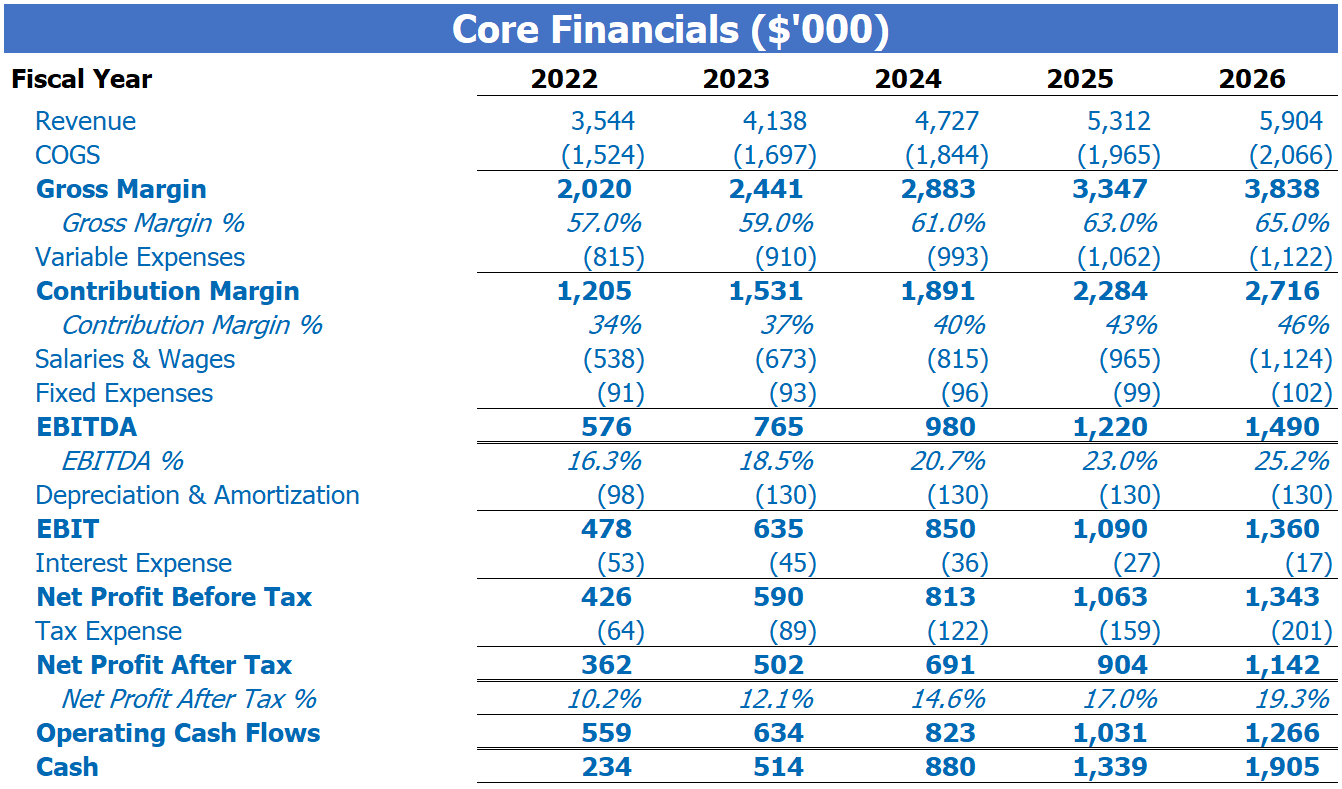 II.- Barber Shop Business Overview
Who is [Company Name]?
[Company Name] has created customer value by providing hair styling and grooming services that are specific to our clients and their lifestyles at an affordable price. Our business model further meets customer needs by providing an exclusive atmosphere where customer are our top priority, and every client and their needs are valued.
[Company Name] delivers style and a community experience where customers can relax and value a customized level of service. Our team seeks to pair cutting-edge grooming techniques with proven traditional services. Because of the value [Company Name] creates, our barbershop startup plan is guaranteed to succeed.
[Company Name]'s History
[X] years later, [Founders Name] has now opened [number] locations within [location/area name]. [Company Name] now services [number] customers per month! Our barbershop business has a fantastic track record of proving men enjoy the unique experience of a barbershop that offers both a traditional and modern service experience. We have further proof of this success through our barbershop financial plan which shows in-depth financial information thanks to our barbershop financial statements.
| | |
| --- | --- |
| Use this Barber Shop Business Plan Sample As A Guideline | |
[Company Name]'s Products/Services
[Company Name] provides a variety of services:
Cut and Wash


Scalp Treatment


Make-over


Shave


Beard Trim


Moustache Trim


Scalp Massage


Face Massage


Shoeshine Service


Along with the excellent service, [Company Name] offers the following products:
Pomade


Clay Wax


Shaving cream


Hair comb and brush


Gift Cards


III.- Barber Shop Industry Analysis
According to IBISworld.com, last year, barbershops were a $4.8billiion industry and employed 150,000 people in the United States. The industry is traditionally stable and rarely affected by macroeconomic events due to a lack of alternative services. Throughout the last five years, industry profit has remained relatively stable and over the next 5 years the industry is expected to continue to grow. Barbershop financial projections and revenue forecasts expect an annualized increase at a rate of 1.2%.
The barbershop industry experiences a low level of market share concentration where no individual business is expected to hold a market share greater than 5.0%. Further, non-employing businesses within the industry represent an estimated 95.7% of establishments and revenue within the industry.
Key drivers within the industry include age, household growth, disposable income, prime rate, and business sentiment index. Adults aged 20 to 64 make up the core consumer base while changes within this demographic affect the industry. Considering how vital the barbershop business is, revenue growth is directly correlated to increases in the number of households. Regarding per capita disposable income, as an individual's ability to purchase goods or services increases customers become more willing to purchase specialized services.
Prime rate refers to interest charged by banks to their most creditworthy customers. As interest rates increase, businesses may slow expansion plans and entrepreneurs generally wait to open new businesses. The business sentiment index measures overall health of the business environment within the United States. High or rising sentiment may entice barbershop owners to expand while entrepreneurs will seek to enter the industry.
Given key industry drivers of barbershops, it is vital barbershop owners and entrepreneurs seek appropriate barbershop financial models and understand the cost of starting or expanding barbershops.
| | |
| --- | --- |
| Use this Barber Shop Business Plan Sample As A Guideline | |
What you Get in Your Barber Shop Business Plan Package
IV.- Barber Shop Customer Analysis
Profile of Target Market
[Company Name]'s core consumer base will be residents of [location] and the surrounding areas, as well as those working in [company location]. The area being served is populated by middle-class consumers who are capable of paying for higher quality services. This middle-class population is seeking hair and beauty services between the deep discounters and top-end luxury brands. Our barbershop business plan seeks specifically to target this group and create value for this strong consumer base.
| | |
| --- | --- |
| Use this Barber Shop Business Plan Sample As A Guideline | |
Customer Segmentation
Target markets [Company Name] will pursue include families and parents, professionals, and students. [location/name of town] is largely populated by families seeking haircutting services for the fathers and sons in their families. By targeting parents of [town name], we can expect to gain the business from their children as well. Parents are also well connected therefore we anticipate positive word of mouth marketing will be a large driving factor in the success of our business. Professionals within the community and surrounding areas will also be a target market as [Company Name] is conveniently located along a popular working commute route.
By creating value through our location and exceptional customer service, [Company Name] will attract working men who need a professional look for work. Finally, students will also be a target market as there are multiple middle and high schools located within the surrounding area. Students living with their parents or utilizing their parent's income are more likely to afford and pay for higher-quality services rather than discounted services. [Company Name] can expect to generate seasonal business from this niche market. Our barbershop financial projection takes into consideration seasonal highs and lows but focuses more specifically on our year-round clientele.
V.- Barber Shop Competitive Analysis
Direct & Indirect Competitors
First Choice Hair, Sterling Silver Barber, and Hair Matrix are all located within a 2-mile radius of [Company name], and either present direct or indirect competition for [Company Name].
First Choice Hair started as a single salon in London, Ontario, and has rapidly grown to over 400 locations across North America. First Choice Haircutters is owned by Regis Corporation, the world's largest and most profitable hair care company. Currently operating more than 12,000 salons worldwide, First Choice Haircutters boasts system-wide sales of over $2.4 billion. Service hours are between 9 am and 9 pm, Monday through Friday; 9 am to 5 pm on Saturdays, and 11 am to 4 pm on Sundays.
Sterling Silver Barber was founded in 2012 and is a mobile salon and barbershop serving men and women. Sterling Silver Barber can service 3 individuals from their fully customized Airstream salon.
Hair Matrix Design Team & Day Spa offers several services ranging from colors and cuts to facials and manicures. Hair Matrix Design Team & Day Spa operates from 9 am to 5 pm on Mondays; 9 am to 7 pm Tuesday through Thursday; 9 am to 6 pm on Fridays, and 8:30 am to 3 pm on Saturdays.
Although these three salons pose a potential threat to [Company Name], we are confident our barbershop feasibility study and business plans for our barbershop will secure a successful portion of the local market.
| | |
| --- | --- |
| Use this Barber Shop Business Plan Sample As A Guideline | |
What you Get in Your Barber Shop Business Plan Package
Competitive Pricing
Here is the pricing of our key competitors:
Competitive Advantage
Several key advantages [Company Name] holds over competitors include its location, excellent and affordable service, key relationships, and its management team.
Location is key when planning how much it costs to start up a barbershop and considering the barbershop's financial plan as a large portion of funding goes into this area. Thanks to [Company Name] being located centrally in town, we have access to commuters leaving the train station, local office workers, and pedestrians visiting local shops. Parking is also offered to customers which is a guaranteed benefit as finding parking can be somewhat burdensome in other locations.
[Company Name] also offers services at an affordable price when compared to our competitors, and we offer nearly the same number of services as our extremely high-end competitor, Lux Cuts; however, our prices are significantly more affordable.
[Founder's Name] has lived in the community for 25 years and knows all local leaders, newspapers, and other influential groups and businesses therefore [Founder Name] will have already done a large portion of the relationship-building necessary for starting a barbershop.
Finally, our management team has invaluable experience in the barbershop industry that allows us to market and serve our target market in a much more sophisticated and appropriate manner than our competitors.
VI.- Barber Shop Marketing Plan
| | |
| --- | --- |
| Use this Barber Shop Business Plan Sample As A Guideline | |
The [Company Name] Brand
When initially considering how and what was needed to start a barbershop [Founder's Name] and [His/Her] team chose to focus on the company's unique value proposition. Value-creating benefits offered by [Company Name] include its convenient location, consistent and a familiar barbershop team, affordable pricing, and a comfortable, customer-focused atmosphere.
Promotions Strategy
Cost-effectiveness Because [Company Name] anticipates its target market to be those living or working within a 5-mile radius, our promotion strategy will focus on local publications, major publications, community events, commute advertising, customer loyalty programs, direct mail, ongoing customer communications, and pre-opening events.
[Company Name] will announce its opening several weeks in advance through local newspapers and publications. Following our opening, we will run regular advertisements to maintain exposure to our target market. We will also utilize community newspapers, school publications, youth sports programs, and similar channels to ensure we are gaining the necessary visibility within the community for our barbershop to maintain a positive financial model.
[Company Name] will also develop careful advertisements in select larger publications. [Publication or newspaper name] maintains a circulation of [XYZ] to allow for a wider geographic reach on a limited basis. Advertisements with major publications have been considered in our barbershop budget template to be used selectively, and based on cost effectiveness. Ads will include discount coupons which will ensure we can track the effectiveness of these advertisements.
Community events will be used to promote [Company Name] by team members having the ability to distribute marketing materials and participate in local community events such as school fairs, local festivals, homeowners associations, and sporting events.
To gain the attention of commuters, [Company Name] will hire workers to hold signs alongside [route or highway]. Advertising in this manner allows for significant company visibility to our target market.
[Company Name] will also create a winning customer loyalty program to guarantee repeat customer service from our top customers. Additionally, our team will seek to build relationships with these important customers by making periodic phone calls to customers. This call will allow for team members to make certain customers are satisfied with their services while also reminding customers they may want to schedule a haircut. This program will be a coveted membership available to our long-term customers while referrals will also be rewarded!
[Company Name] will target surrounding neighborhoods and blanket these areas with direct mail advertisements filled with general information, discounts, and other enticing information to pull in customers to the salon.
To keep continuous and ongoing customer communications, [Company Name] will maintain a website with a monthly email newsletter to keep customers informed of upcoming events, products, and more.
Finally, [Company Name] will place a heavy emphasis on pre-opening events which will focus on prospective customers, local merchants, and press contacts. Pre-opening events will create buzz and awareness of [Company Name].
Pricing Strategy
Based on initial findings using our barbershop budget template and barbershop budget template [Founder's Name] and [His/Her] management team has decided to focus on a moderate pricing brand that will create the most value for our target customer. The anticipated price point for a standard haircut is $25. At this price, customers can expect a personalized experience during and after their visit while also receiving quality hair care from a familiar technician. Customers can also expect to pay a more affordable price when compared to ultra-premium barbershop services.
VII.- Barber Shop Operations Plan
[Company Name] will focus on structuring its day-to-day operations for its barbershop business model with scheduled appointments as its priority. Walk-in customers will be served as soon as possible by technicians however customers with appointments will hold priority. Waiting customers will have a comfortable area in our lounge to relax with magazines and television. [Company Name] intends to employ [X] technicians and [A] assistants during peak hours. To ensure our barbershop has an appropriate cash flow we will employ [Y] technicians and [B] assistants during off-peak hours. [Company Name] expects to maintain [Z] customers throughout its regular week.
To successfully launch [Company Name]'s business model, several functions will need to be performed. [Company Name] anticipates using the services of X employees with service and administrative functions. Those with service functions will perform haircuts, shaves, massages, and/or product sales. Those with administrative functions will specialize in caring for general and administrative functions including marketing and bookkeeping, sourcing, and storing products, hiring and training staff, reception, customer service, and point of sale functions. Additionally, we have budgeted for maintenance personnel.
| | |
| --- | --- |
| Use this Barber Shop Business Plan Sample As A Guideline | |
What you Get in Your Barber Shop Business Plan Package
Milestones
[Company name]'s long-term goal is to become the dominant provider of hair care and related services and products in the [city] area. We seek the standard by which other providers are judged.
The following are a series of steps that lead to our vision of long-term success. [Company Name] expects to achieve the following milestones in the following [xyz] months:
VIII.- Barber Shop Management Team
[Founder's Name] manages [Company Name], and has been in the barbershop industry for 20 years. Although [Founder] has never run a barbershop himself, he has worked at well-known barber shops for the past 20 years. [Founder] began his career in [19xx] when he received a certification from [Barber Shop School] and began working at [major chain] where he was employed for X years.
Additionally, [Founder] graduated from the University of ABC where he majored in communication. [Founder] will work with [Other person's name] who will serve as the customer service manager. [Other Person's name] has a background in hospitality where they gained significant experience in the hospitality industry. Considering the work history between [Founder's Name] and [Other Person's name], [Company] name is guaranteed to see a successful start to their barbershop business plan.
| | |
| --- | --- |
| Use this Barber Shop Business Plan Sample As A Guideline | |
Hiring Plan
While [Founder] will serve as the store manager, additional staff will need to be hired. [Company Name] will require [Number] barbers to launch. Based on demand and operational maturity, [Founder] will consider hiring additional barbers, [Number] receptionists, and an additional store manager.
IX.- Barber Shop Financial Plan
Based on our barbershop financial plan and an extensive understanding of the barbershop industry [Founder's Name] understands [Company Name]'s primary source of revenue will come from services rendered while the sale of hair care products will be a secondary source of income. Major cost drivers for company operations include salaries and the lease while ongoing market expenditures and cost of goods sold expenses are also notable cost drivers for [company name].
| | |
| --- | --- |
| Use this Barber Shop Financial Model Demo As An Example | |
Capital Requirements and Use of Funds
[Company Name] is seeking investments of $260,000 of debt capital to launch its barbershop. Based on how much It costs to start a barbershop, we will use the capital to fund capital expenditures and location build-out, hiring of initial employees, marketing expenses, and working capital. Specifically, we have set our barbershop business plan up explicitly to allocate $140,000 to store design and building, and $120,000 for working capital. The working capital will fund marketing, salaries, and lease costs until [Company Name] has a positive cash flow.
Barber Shop Financial Plan Sources And Uses Report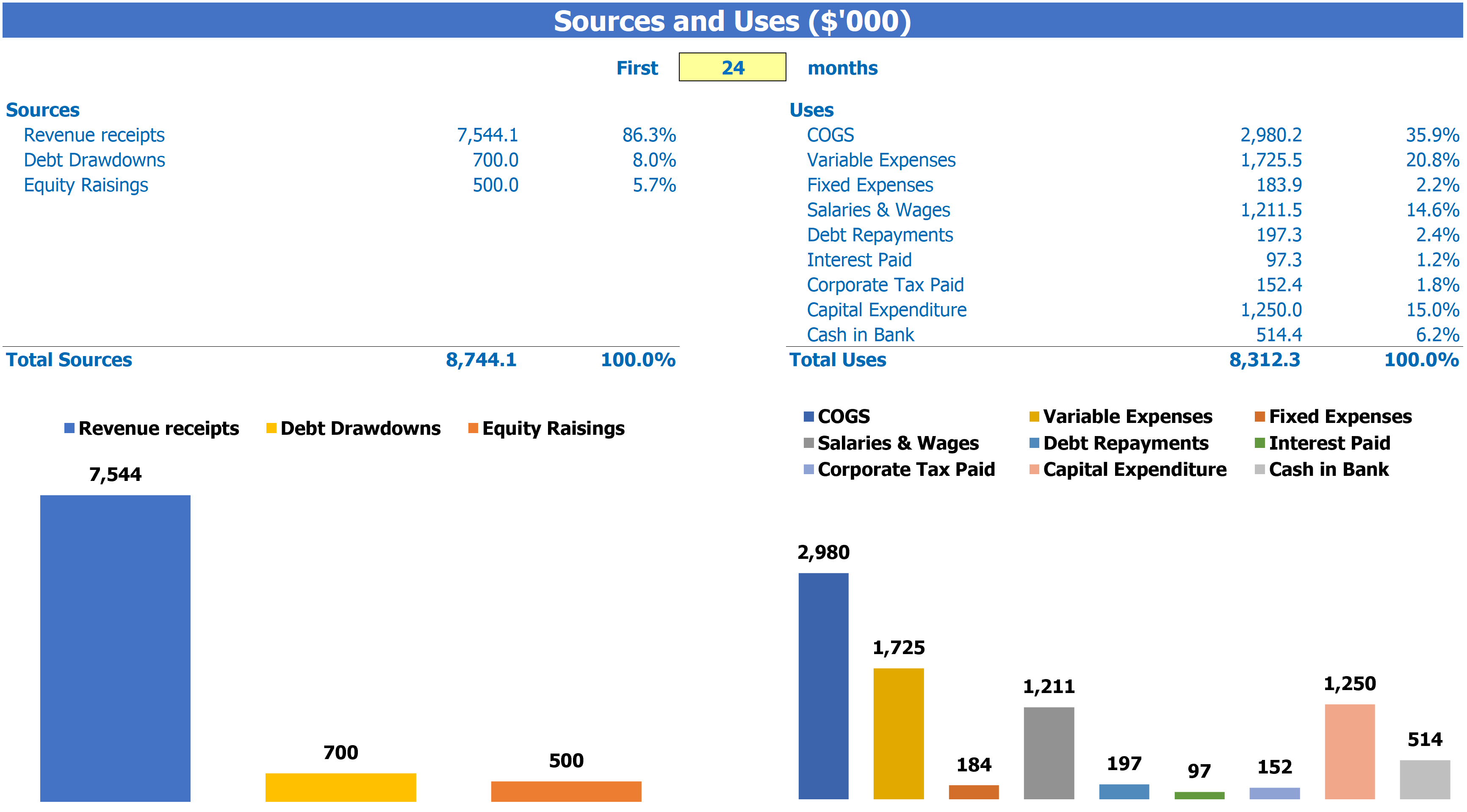 Key Assumptions
The following table reflects the key revenue and cost assumptions made in the financial model.
Barber Shop Financial Plan Core Inputs

Barber Shop Financial Plan Top Revenues Report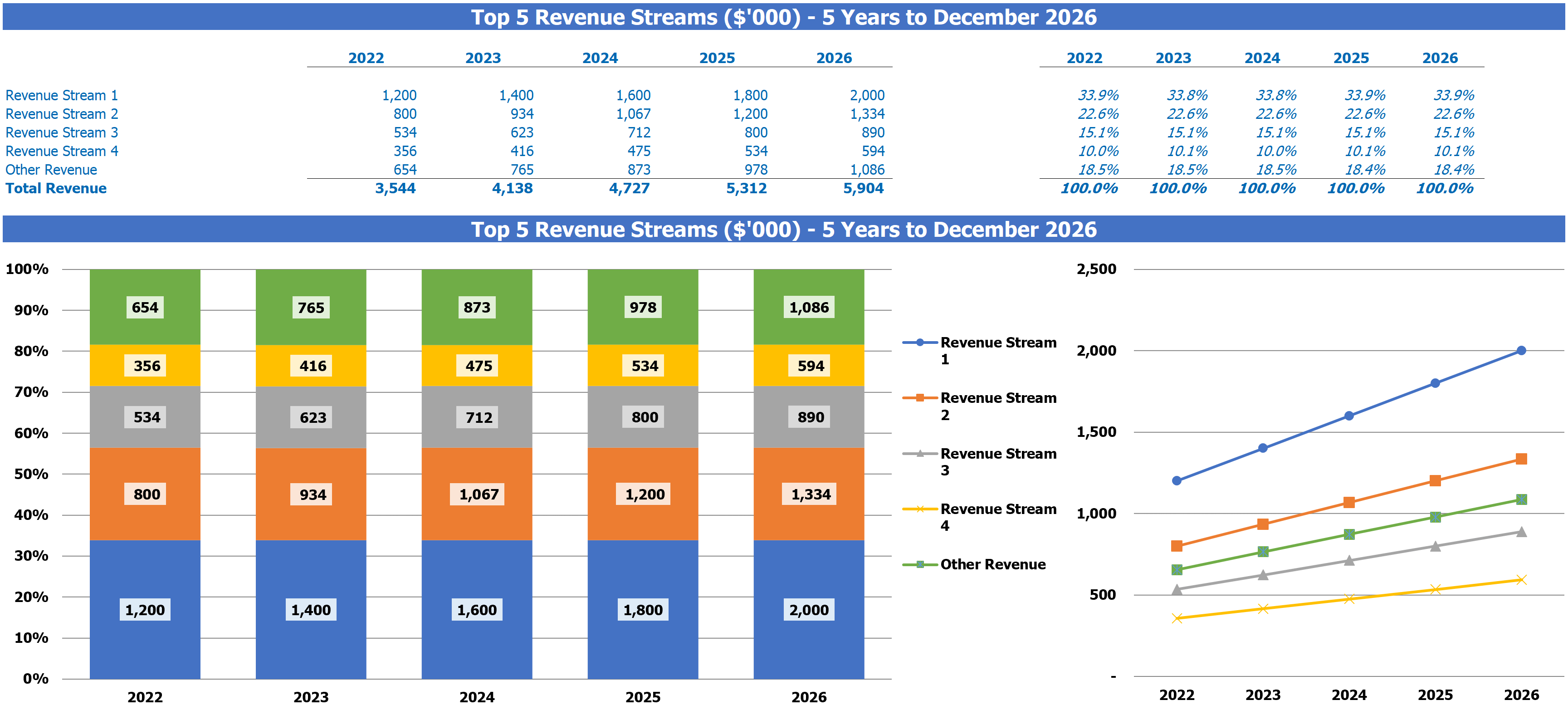 Barber Shop Financial Plan Top Expenses Report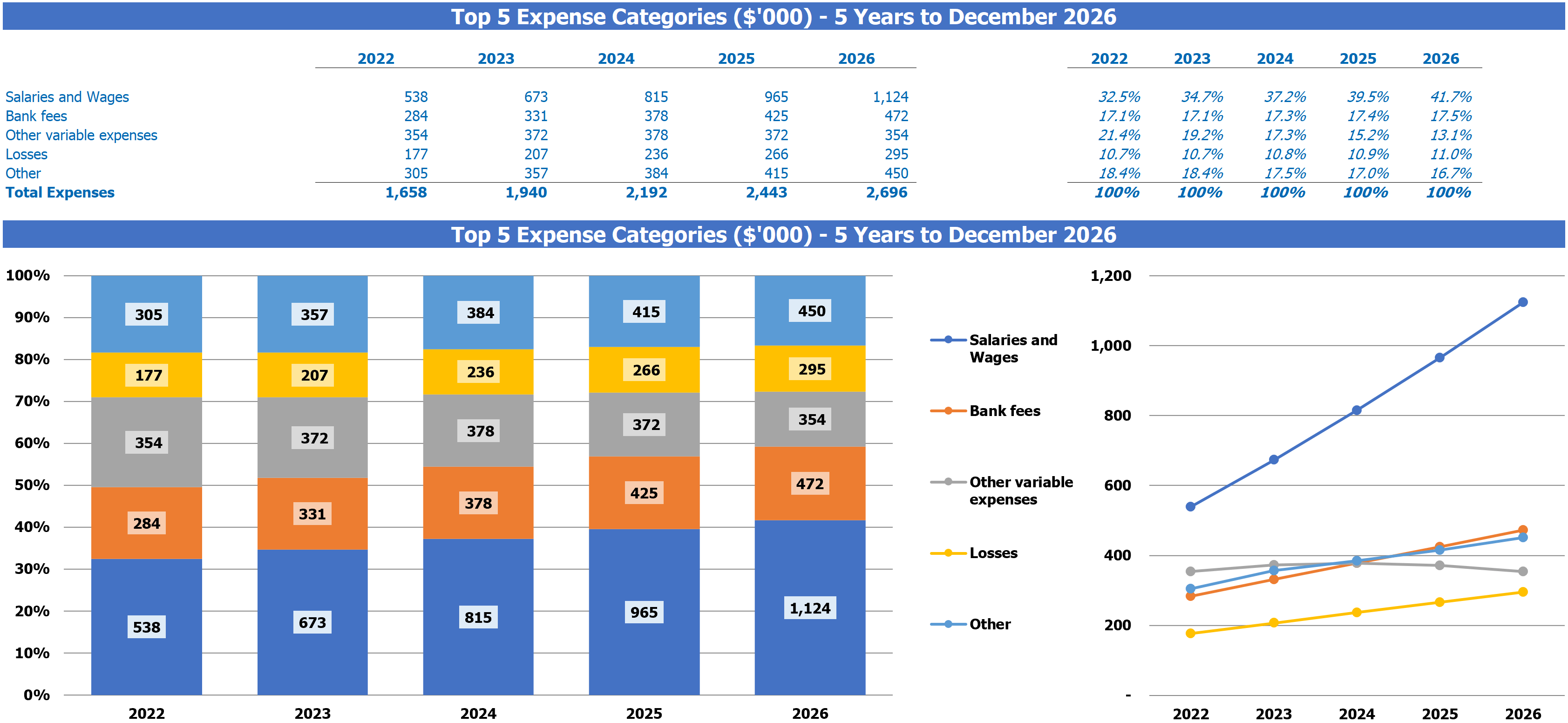 Barber Shop Financial Plan Income Statement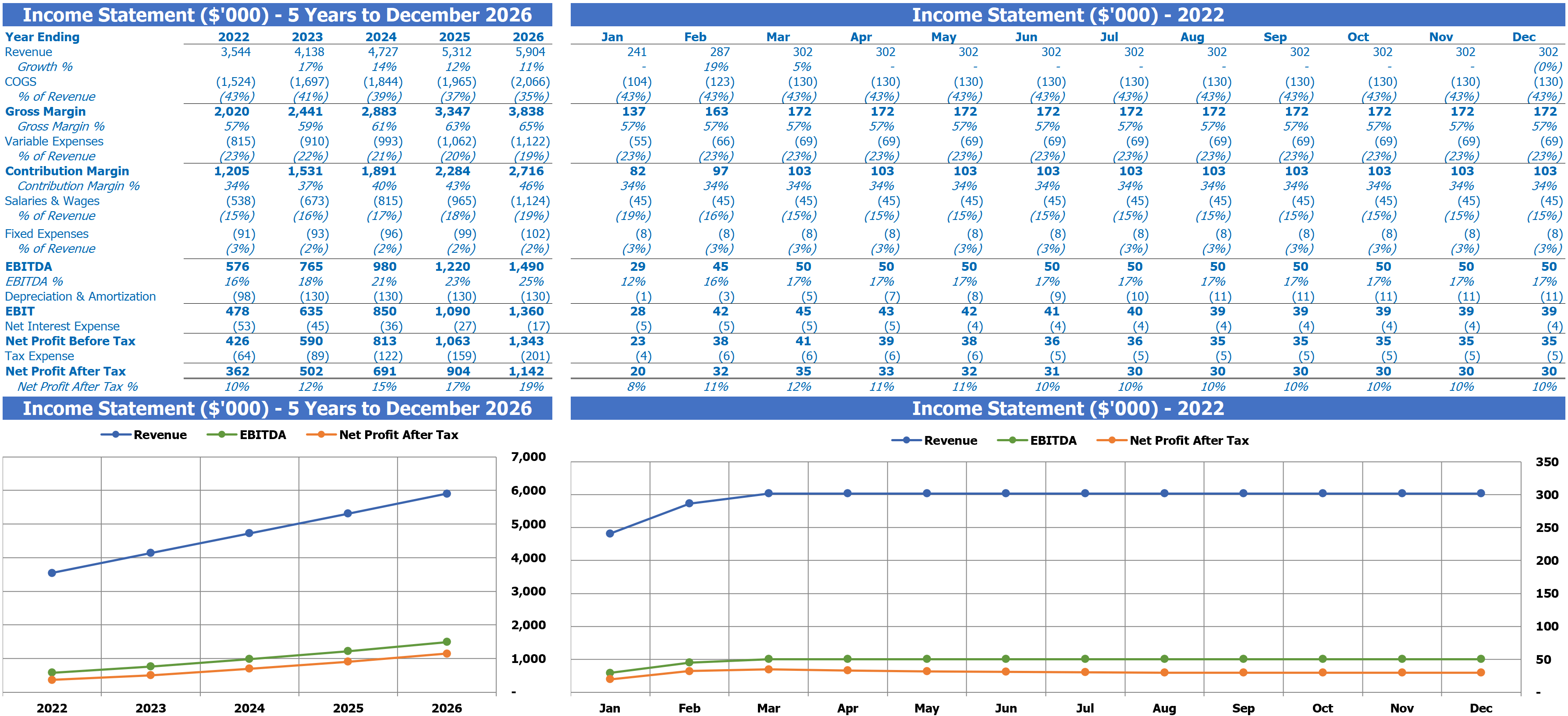 Barber Shop Financial Plan Cash Flow Statement

Barber Shop Financial Plan Balance Sheet Statement