Our easily downloadable, curated Business Plan Template in MS Word for Bakery! Allows you to create a comprehensive solution suited to your specific needs. The Bakery Business Plan template walks you through each section ensuring all essential components are included, and acts as a guide along the way with practical examples and easily understandable instructions. Each element is customizable meaning you can include your own branded details, such as images and color scheme. Not only are the aesthetic elements adjustable but you can also move, duplicate, delete or modify any of the pages or sections as desired, enabling the creation of a bespoke business plan for your needs. A business plan focuses on the future, and regardless of the timeframe you choose to focus on, our template can be easily adjusted to fit that timeline, whether it is 5 years, 10 years or even more.
What you Get in Your Bakery Business Plan Package
| | |
| --- | --- |
| Use this Bakery Financial Model Demo As An Example | |
Bakery Financial Model in Excel, Google Sheets and Numbers
The Bakery financial model excel includes a comprehensive set of component models, each component integrates to produce thorough financial information, growth forecasts and revenue projections, but it still separate enough that the user can select only the components relevant for their purposes. The components include, financial statements, operating costs, headcount plan, CapTable, Sources and Uses and reporting.
The Bakery business forecast template has flexibility to handle varying business types, having editable formulas and all cells able to be edited, as well as allowing additional information to be included to suit your business.
| | |
| --- | --- |
| Use this Bakery Financial Model Demo As An Example | |
I.- Bakery Executive Summary
Business Overview
[COMPANY NAME] is an upscale bakery located in [insert location here] on a mission to provide healthy, organic, and delicious pastries and baked goods. Our premium products deliver the best of both worlds - satisfying sweet treats that are tasty and healthy while operating a profitable bakery.
Services
[COMPANY NAME] produces baked goods, breakfast items, lunch options, and beverages made fresh in-house using 100% all-natural, organic ingredients. Offering regular and low-fat options, [COMPANY NAME] sells assorted bakery items, including fresh bagels, croissants, cookies, cakes, danish, muffins, scones, and strudel. In addition to sweet treats, customers can enjoy a menu of breakfast favorites and lunch items, such as sandwiches, salads, and soups, paired with organic, fair trade coffees and teas.
Customer Focus
As a small, local business, [COMPANY NAME] serves customers within the surrounding area. The average customer lives within a 5-mile radius of the store and shares the following demographic attributes:
Average income of $74,700


58.9% married


49.6% in professional occupations


Median age: 38 years


In the area surrounding [Company Name], there are five elementary schools, one middle school, and a high school - providing a secondary target audience of students that will make the bakery profitable.
Management Team
[COMPANY NAME] was founded by [FOUNDER NAME], a 20-year veteran in the bakery industry. [FOUNDER] owns and operates [COMPANY NAME], managing business operations, staff, and menu creation.
Success Factors
[COMPANY NAME] is uniquely qualified to succeed due to the following reasons:
[COMPANY NAME] fulfills an unmet need in the [COMMUNITY NAME] as the only upscale bakery within the area. According to a survey of the local population, [COMPANY NAME] received highly positive feedback, with most respondents reporting they would be "very likely" to regularly frequent the business


The business is located in a central area of the [LOCATION] in a high-traffic area, making it convenient for customers to make a quick stop


Each management team member has an impressive resume of robust experience of success in the bakery business


The upscale bakery concept is a business model proven to be successful in similar local communities throughout the US


Market research on consumer behavior indicates a strong demand for healthy, locally-produced, organic food products


Financial Highlights
[Company Name] is currently seeking $370,000 to launch. Specifically, these funds will be used as follows:
Store design/build: $250,000


Working capital: $120,000 to pay for Marketing, salaries, supplies and lease costs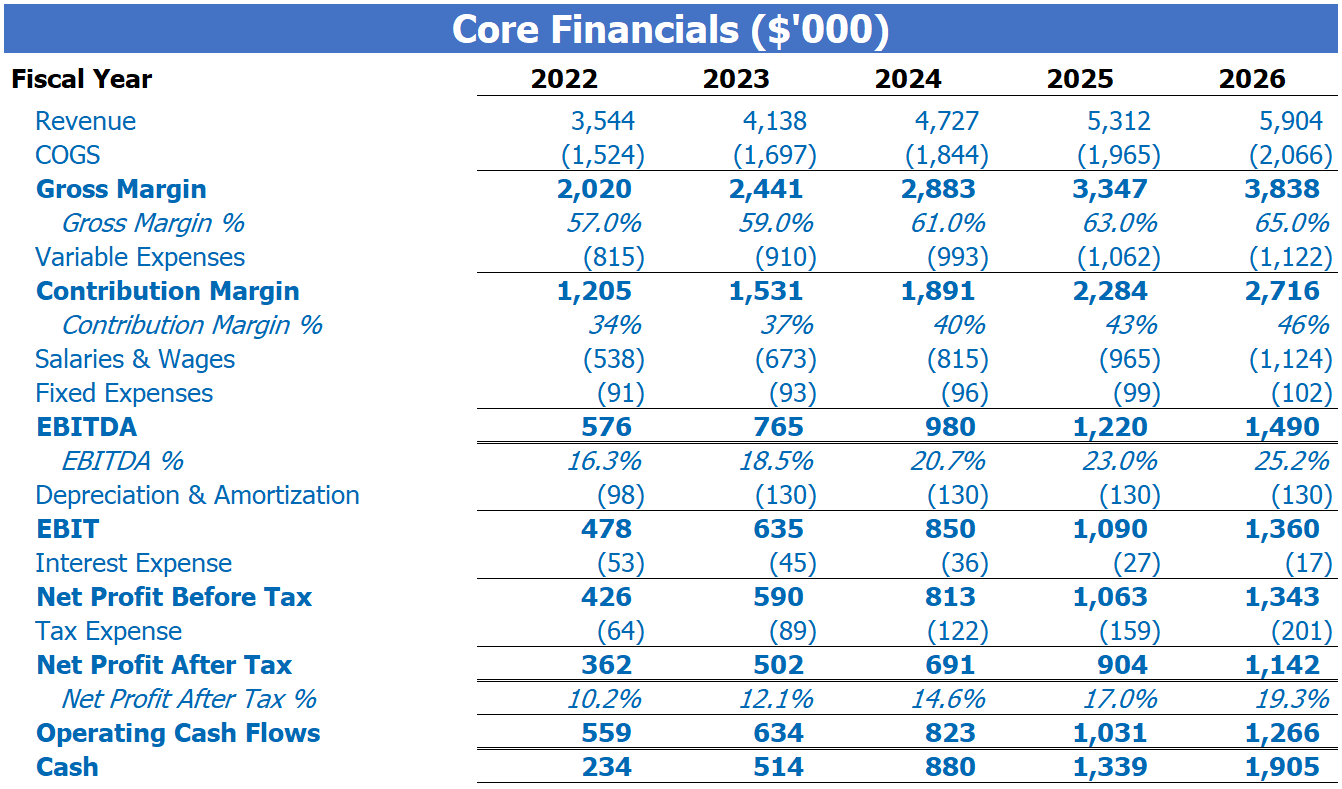 II.- Bakery Business Overview
Who is [Company Name]?
[COMPANY NAME], located at [LOCATION], is a new, upscale bakery focused on promoting health, wellness, and community. Using local, organic ingredients, [COMPANY NAME] provides low-fat and healthier alternatives to the traditional bakery and a warm, welcoming atmosphere where customers can enjoy breakfast, lunch, or a coffee break.
[COMPANY NAME] was founded by [FOUNDER NAME]. A leader in the baking industry for 20 years, [FOUNDER NAME] decided to launch [COMPANY NAME] in April 2020. [HE/SHE/THEY] was inspired to create a bakery featuring healthy baked goods with organic ingredients after their father was diagnosed with high blood pressure. In support of their father's transition to a more health-conscious lifestyle, [FOUNDER NAME] began exploring healthier ingredients and the benefits of eating organic. [HE/SHE/THEY] started experimenting with new recipes that offered healthier, low-fat alternatives to traditional bakery items and shared them with family and friends. After receiving excellent feedback, [FOUNDER NAME] decided to pursue their dream of opening an upscale bakery and cafe in their hometown, where [HE/SHE/THEY] could help better the community and promote healthy alternatives.
[Company Name]'s History
[COMPANY NAME] operated as a Limited Liability Corporation in [LOCATION] and was founded on May 26, 2021.
[COMPANY NAME] is headquartered at [ADDRESS], a commercial building leased by [FOUNDER NAME]. All operations run out of this location.
[COMPANY NAME] opened for business on [DATE] and has run successfully, achieving the following key milestones:
Secured 36-month lease at [LOCATION]


Activated building and business insurance


Successfully implemented workforce management software


Hired three part-time employees and three full-time employees


Purchased and installed necessary equipment in a renovated kitchen


| | |
| --- | --- |
| Use this Bakery Business Plan Sample As A Guideline | |
[Company Name]'s Products/Services
Below is [Company Name]'s initial menu. All items will be 100% natural and organic. As you can see all items are classified under the following eight main categories:
Soups


Breakfast Sandwiches


Croissants and Danish


Muffins and Scones


Sandwiches and Wraps


Salads


Bagels


Cookies and Desserts


Design
[Company Name] will develop a 2,500 square foot store whose key elements will include the following:
Kitchen area


Ordering counter


Self-service coffee area


Tables to comfortably seat 15 customers


A play/informal eating area


Restrooms


Below please find a rough sketch of the floor plan.


The retail location has 20 dedicated parking spots which should suffice even in peak hours.
[Company Name] plans to be open 7 days a week, from 7AM to 8PM. As demand dictates, we may extend or reduce our hours. Likewise, as demand dictates, we may offer delivery service.
III.- Bakery Industry Analysis
Direct competitors of [COMPANY NAME] include other local food service restaurants, including traditional bakeries, diners serving breakfast and lunch, and coffee shops. Another source of direct competition is grocery stores that provide both fresh baked goods and pre-packaged sweets.
Indirect competitors of [COMPANY NAME] include fast-food restaurants, coffee chains, and dessert shops such as ice cream stores.
| | |
| --- | --- |
| Use this Bakery Business Plan Sample As A Guideline | |
What you Get in Your Bakery Business Plan Package
Industry Statistics & Trends
[Company Name] operates in the retail bakery industry in the US. The market demand for retail bakeries is significant- the industry earns approximately $3.6 billion annually, according to the 2022 "Market Demand Report" published by McKinsey & Company. The same report revealed that the average gross profit margin for a retail bakery is 27.7%.
As of 2022, the median annual sales earned by retail bakeries is $300,000 per 2,000 sq. ft annually, as reported by the US Bureau of Labor Statistics.
When considering consumer behaviors and demand for baked goods, the following statistics published by the USDA in 2021 reveal:
Consumers feel the health benefits of a food product as the third most important factor when making a purchasing decision.


The second most important fact is taste, and price is the number one deciding factor fo consumers.


While shoppers who purchase bakery items two or more times a week tend to be less health-conscious than consumers who do not regularly purchase bakery items, these consumers are still moderately health-conscious.


Shopping trends indicate a national increase in the purchase of:

Reduced-fat milk (+15% comparing 2018 to 2021)
Whole grain bread (+20% comparing 2018 to 2021)
Sugar alternatives (+12% comparing 2018 to 2021)

More than half of shoppers reported they do not purchase food products with trans fats or saturated fats


73% of shoppers indicated that the calorie content of a food product is "very important" when making a purchasing decision.


46% of shoppers are willing to pay more for food products that are certified organic


In 2021, sales of grocery in-store bakery items increased from 2018 by 5% to $20 billion spent annually.


IV.- Bakery Customer Analysis
Profile of Target Market
[COMPANY NAME] primarily serves residents in the suburban area of [location] and the immediate surrounding areas where customers live and work. This area has an affluent population with above-average spending power, making them more likely to purchase higher-cost food items, including healthy and organic foods and beverages.
[COMPANY NAME] will target three customer segments, including:
Target Customer Segment: Soccer Moms - Moms who do not work outside the home and are active in their children's school and the local community. This demographic of women is about 35 years old and has at least two children in school for the entire day. While their children are at school, they are interested in meeting with other mothers in the community for lunch and coffee in between errands and before picking up their children.


Target Customer Segment: Morning Office Commuters - Working adults between the ages of 26 and 46 who may be single or married and may or may not have children. These individuals work in a corporate setting during typical office hours and commute to work. They typically drink at least one cup of coffee a day, usually in the morning, and prefer to take their coffee and breakfast on the go.


Target Customer Segment: Students - The [LOCATION] area has many schools, most significantly a middle and high school located within 1 mile of [COMPANY NAME]. These students are between the ages of 12 and 18 and receive an allowance from their parents or have part-time job income. After school and before after-school activities, they are interested in picking up snacks and beverages and taking a break to socialize with friends.


| | |
| --- | --- |
| Use this Bakery Business Plan Sample As A Guideline | |
V.- Bakery Competitive Analysis
Direct & Indirect Competitors
Several retailers located within 5 miles of [Company Name] are direct and indirect competitors. A direct competitor of note is
Lucy's Grocery Store
, the largest supermarket in the [location] area. In addition to traditional grocery items, Lucy's Grocery also includes an in-house bakery. While the store offers a variety of fresh baked goods, only about 10% of products contain organic ingredients. The store does not have hot breakfast and lunch to-go options, which is a crucial point of differentiation for [Company Name].
Another significant direct competitor is
Honey Buns Bakery
, a local bakery in the area that has been in business for ten years. Honey Buns Bakery offers a wide variety of baked goods, focusing on cupcakes and cakes. Located six miles from [Company Name], the bakery is a local staple frequented by many [location] residents. It is a successful business and is a direct competitor; however [Company Name] has several points of competitive differentiation.
Honey Buns Bakery is a traditional bakery and is not focused on cooking with healthy, organic ingredients
It does not offer breakfast and lunch options and indoor seating to enjoy a meal.
The business is located in a shopping complex, where it is not accessible to passing customers.
| | |
| --- | --- |
| Use this Bakery Business Plan Sample As A Guideline | |
What you Get in Your Bakery Business Plan Package
Competitive Pricing
Here is the pricing of our key competitors:
Competitive Advantage
[Company Name] enjoys several advantages over its competitors. These advantages prove that owning a bakery is profitable, including:
Location: [Company Name] is situated near the center of town, conveniently located within walking distance to local office buildings, the train station, schools, and other shops. Many students, commuters, and office workers pass by the location during their daily activities, making it a convenient place to stop;


Product Focus: [Company Name] is unique in its focus on providing baked goods and food options that include only 100% natural and organic ingredients. It is the only business that guarantees every item aligns with the dietary preferences of health-conscious consumers;


Leadership Team: [Company Name] has an experienced leadership team of culinary experts with experience in high-end food service, upscale baking and desserts, and menu creation;


Relationships: Having lived in the community for 25 years, [Founder's Name] knows all local leaders, newspapers, and other influencers. [His/Her/They] can leverage this network to create brand awareness and a strong reputation for the bakery.


VI.- Bakery Marketing Plan
| | |
| --- | --- |
| Use this Bakery Business Plan Sample As A Guideline | |
The [Company Name] Brand
The [Company Name] brand will focus on the Company's unique value proposition:
[Company Name] serves the [location] community with the highest quality of baked goods and meals made from 100% organic, natural, and locally grown ingredients


[Company Name] is conveniently located for take-out and offers a warm in-store dining and socializing atmosphere


At [Company Name], customers can expect the highest food quality and customer service every visit


Promotions Strategy
[Company Name] is a local business focused on serving customers within a 5-mile radius of the store. The business will attract customers by promoting itself via the following channels:
Direct Mail Campaign
[Company Name] plans to send direct mail flyers to residents in the surrounding area. This campaign aims to raise awareness about the new barkery and start to build brand recognition in the community.
Public Relations
The company's founder, [founder name], will leverage their influence in the community and restaurant industry to gain press coverage in local area newspapers, websites, and news stations.
Advertising Investment
[Company Name] will place advertisements in local magazines and sponsor community events to spread brand awareness and offer coupons.
In-House Promotion
The bakery will regularly offer free samples in the store to promote new types of products that customers have not yet enjoyed - the goal is to encourage repeat customers and provide excellent, warm customer service.
Digital Marketing
Customers can visit [Company Name] at [domain name] to place orders, view the menus, and subscribe to a monthly newsletter about promotions, events, and new products.
Pricing Strategy
[Company Name] uses high quality, local and organic ingredients in all products; as such, bakery items are slightly higher than competitors but remain competitive. See [Appendix - Note 1 - Menu & Prices]
VII.- Bakery Operations Plan
Operating [Company Name] requires the following administration departments and management areas.
Business Administration
Responsible for office management, legal compliance, financial management and bookkeeping, marketing, and website management,


Supplier and inventory management,


Workforce management and payroll.





Kitchen Management


Food preparation and production,


Menu creation and development of seasonal specials,


Food safety and compliance with inspection standards,





Store Operations & Service


Customer service and experience, including register and order management,


Foodservice to instore customers and takeout customers,


Janitorial and maintenance of bakery and customer dining area.


VIII.- Bakery Management Team
[Founder Name] is the founder, owner, and operator of [Company Name]. [He/She/Them] is a 20 year veteran in the baking industry, having worked at the top restaurants in [state]. [He/She/They] graduated from [Culinary School Name] in [year] and remained passionate about learning the culinary arts. [Found Name] now uses their experience to empower others through teaching baking classes open to the community.
A strong advocate for healthy eating and education, [Founder] sits on the board of Healthy Kids, an organization that provides children from low-income families with free school lunches. [He/She/They] hopes to inspire the community to support the fight to end food insecurity and make mindful food choices to support their health.
| | |
| --- | --- |
| Use this Bakery Business Plan Sample As A Guideline | |
Hiring Plan
[Founder] runs the business administration of [Company Name]. The leadership team will consider hiring an office manager to support business functions as the company grows. At the current time, the bakery has five employees in the following roles:
Store Manager (currently managed by store owner)


Store Associates (2 full-time staff)


Chef (1 full-time employee)


Bakers (1 full-time employee)


IX.- Bakery Financial Plan
[Company Name]'s primary revenue stream is product sales and in-store dining. The bakery collects revenue from in-store orders, takeout orders, and online orders.
The highest reoccurring cost for [Company Name] is ingredients and inventory management. Since the bakery uses high-quality, organic ingredients, the inventory cost is slightly higher than other traditional bakeries in the industry.
| | |
| --- | --- |
| Use this Bakery Financial Model Demo As An Example | |
Capital Requirements and Use of Funds
[Company Name] is seeking $200,00 of investor funding to scale its business and maximize future revenue. Investment dollars will go towards staffing so the bakery can grow its team. The money will also be invested in marketing activities to build brand awareness and customer loyalty.
A detailed breakdown of investment spending is illustrated below:
$125,000 to hire four more part-time employees and implement a more effective workforce management software platform.


$50,000 for ad placement in food magazines and on the train platform.


$25,000 for Google ad placement and location-specific digital marketing campaigns.


Bakery Financial Plan Sources And Uses Report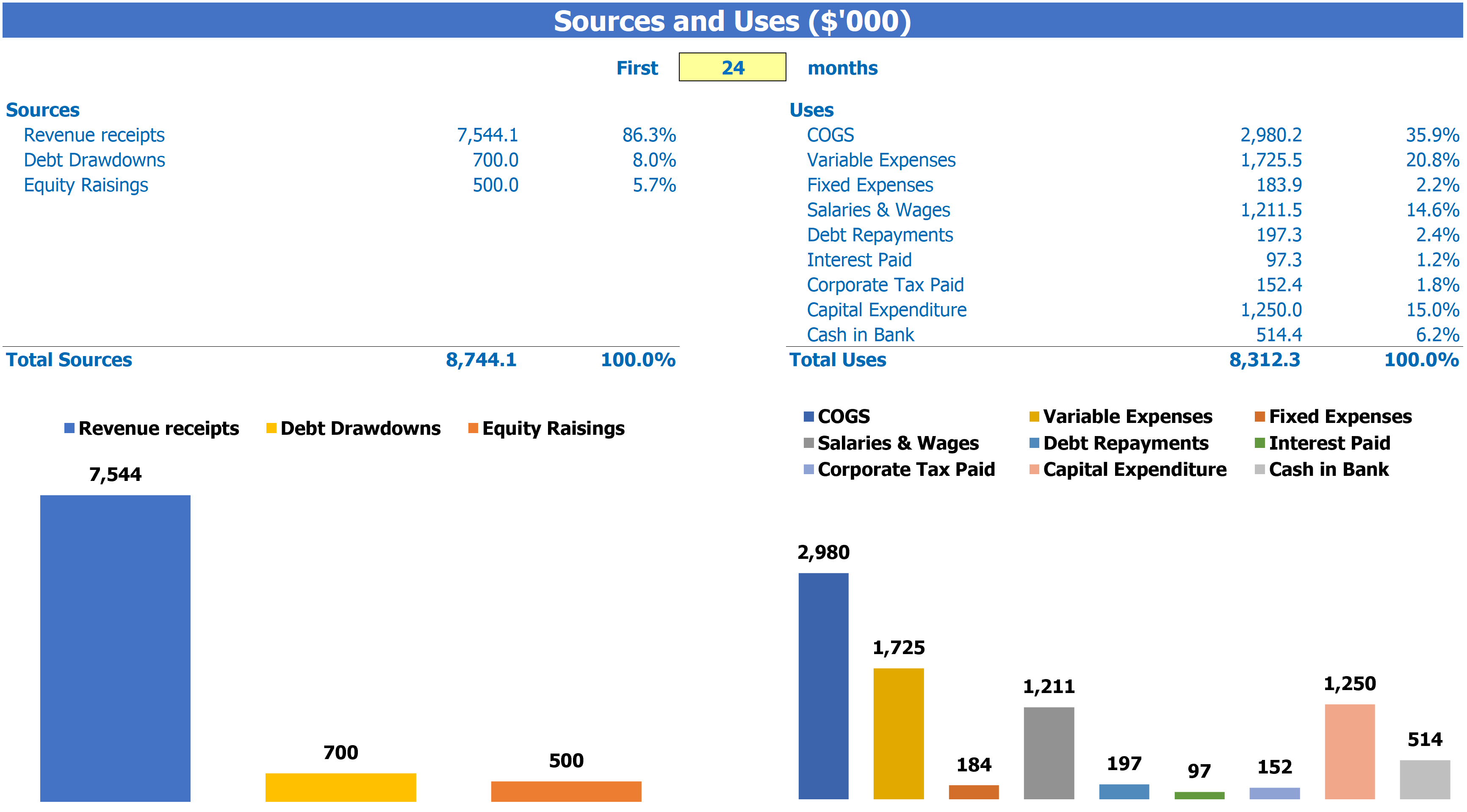 Key Assumptions
Below please find the key assumptions that went into the financial forecast and a summary of the financial projections over the next five years. Please see the Appendix for more detailed financial forecasting information.
Bakery Financial Plan Core Inputs

Bakery Financial Plan Top Revenues Report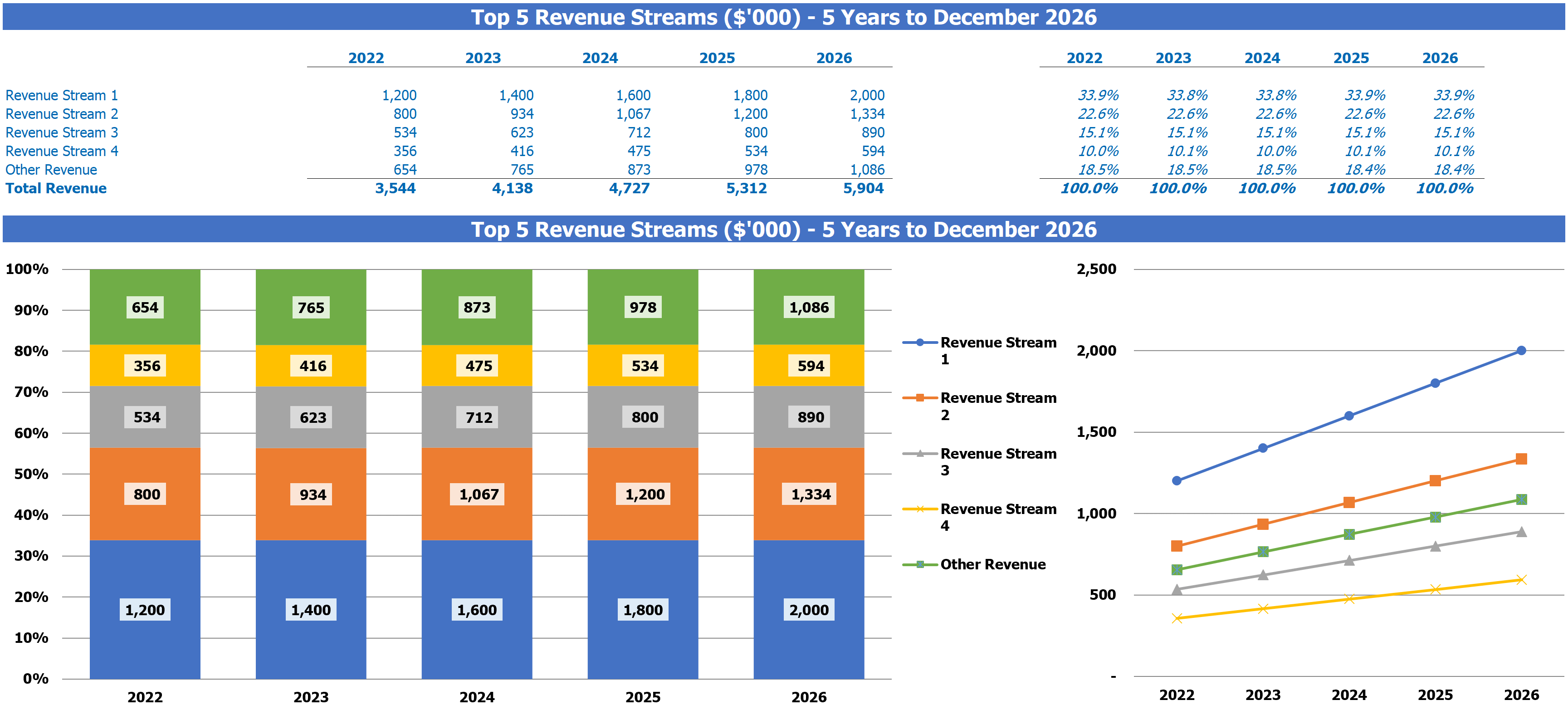 Bakery Financial Plan Top Expenses Report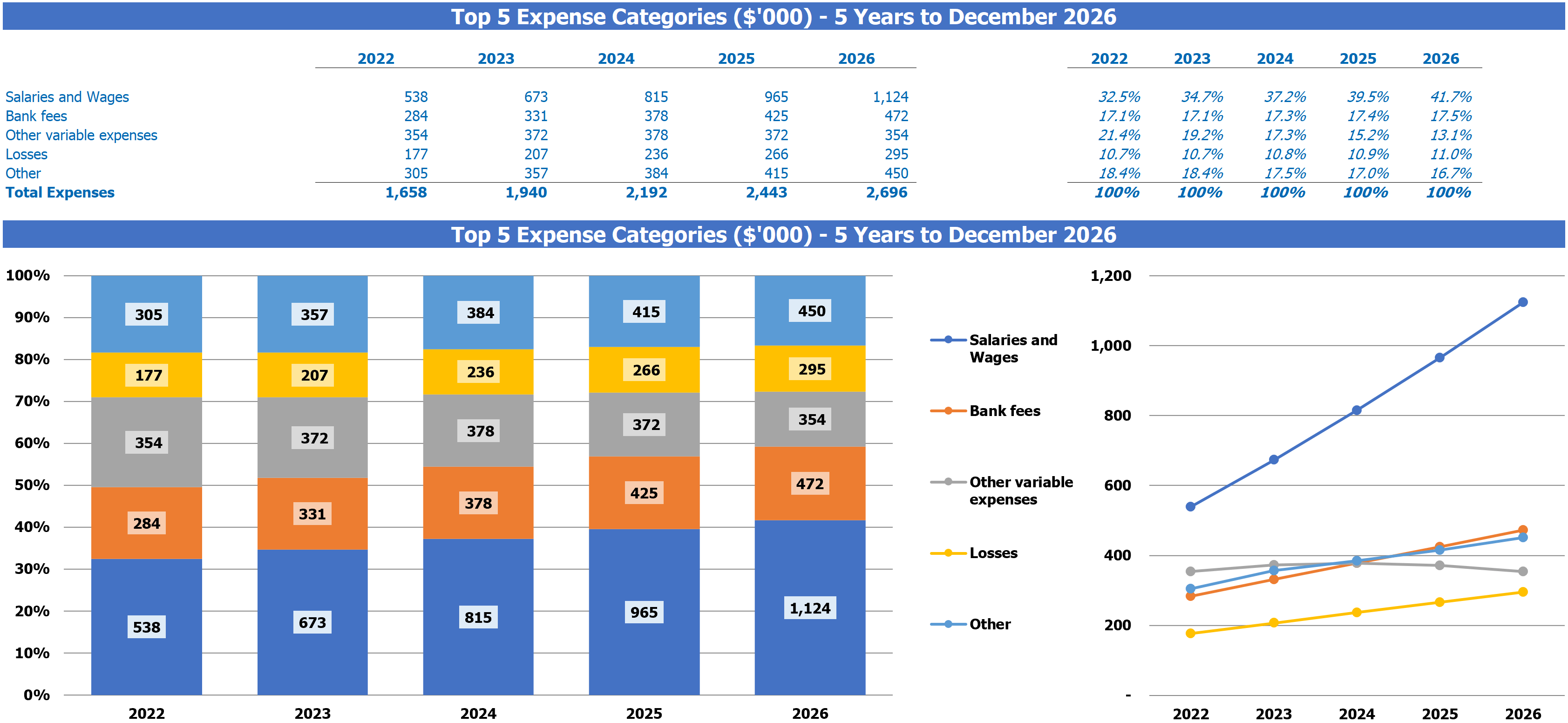 Bakery Financial Plan Income Statement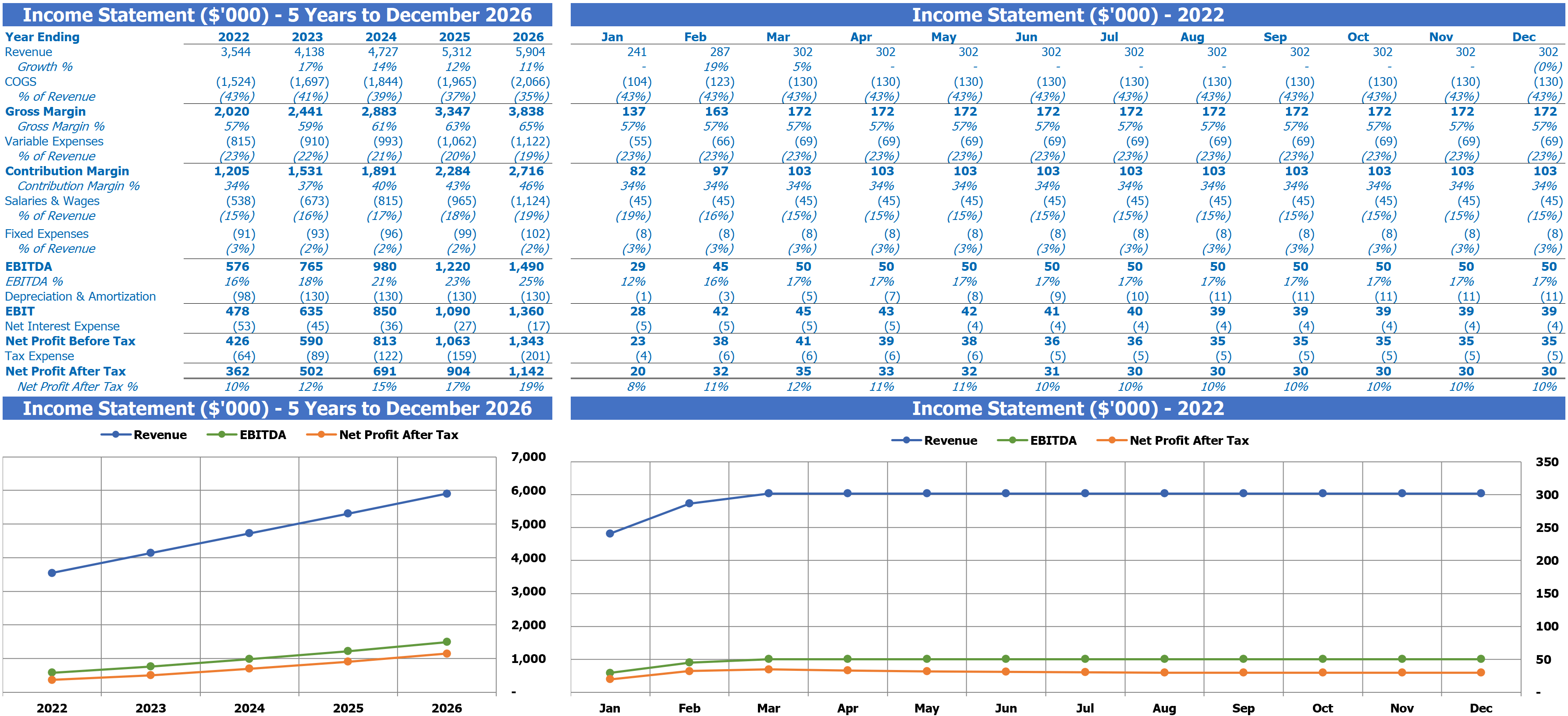 Bakery Financial Plan Cash Flow Statement

Bakery Financial Plan Balance Sheet Statement