A professionally designed 36-page Ms Word Business Plan Template For Nail Salon. Consists of all the topics that a high-quality Short Business Plan Outline requires. The instructions and examples are available, guiding the user on how to fill each section. The pages are easily adjustable; you can edit the pages according to your needs. You can also change or replace the available pictures on the same pages according to your requirements. You can easily download the customized and professionally designed 36-pages short business plan outline available in MS-word. The Nail Salon Business Plan is not restricted to five or ten years, but you can expand it to as many years as possible. The template is user friendly, and you can adjust it according to your requirements without any hassle. Even if you intend to delete or duplicate one or many sections, it is just in one click. Nothing is impossible; you can freely create a palette of your color.
What you Get in Your Nail Salon Business Plan Package
| | |
| --- | --- |
| Use this Nail Salon Financial Model Demo As An Example | |
Nail Salon Financial Model in Excel, Google Sheets and Numbers
If you'd want to determine if your business idea has the potential to succeed or if you require finance, you can quickly and easily develop a high-level Nail Salon pro forma template excel. It's not a problem at all! With our simple-to-use forecasting capability, you can quickly construct people, sales, expenditures, expenses, investments, and funding estimates, all on a monthly basis. Do you want to be able to change the data in a spreadsheet in the same way? Neither am I! Play around with your numbers like you would in Excel by using our customizable tables. Your Nail Salon financial model startup will be complete once you add assumptions to your estimates.
| | |
| --- | --- |
| Use this Nail Salon Financial Model Demo As An Example | |
I.- Nail Salon Executive Summary
Business Overview
An upmarket nail salon, [Company Name] has opened its doors in [insert location here] and is dedicated to offering the local community high-quality, full-service nails. With our product and service lines, we are able to cater to the needs of middle-class suburbanites who are looking for high-quality nail care at a reasonable price.
Services
If you're looking for relationship-oriented nail care, go no further than [Company Name]. In order to create long-term relationships with their customers, our staff will focus on delivering customized beauty outcomes for each individual.
Specific treatments, such as perms, extensions, coloring, and style for special events, will be offered (weddings, proms, etc.)
As a result of these services, [Company name] will also be a retail outlet for nail care supplies. Products that aren't often seen in grocery shops can be found at [Company name].
Customer Focus
Within a 5-mile radius of our location, [Company Name] will focus largely on serving our neighbors. Based on our business plan for a nail salon, these clients have the following demographics:
27,827 people call this city home.


A yearly salary of $74,700 is the average.


58.9 percent married, 49.6 percent in Mgt/Professional jobs


a 38-year-old female
High school and middle school students populate the region, making it ideal for a high-end manicure salon. [Company Name] will be a regular stop for students from these schools on special occasions.
Management Team
[Founder's Name] has been in the nail care industry for over two decades and is the driving force behind [Company Name]. When it comes to nails, [Founder] has been working on nails since the age of 15 and has worked in a number of prominent salons for much of his adult life. As a result, [Founder] is well-versed in all aspects of running a salon, from day-to-day operations to business management (e.g., staffing, marketing, etc.). [Founder name] is also familiar with how to start a nail salon at home.
Success Factors
Because of the following factors, [Company Name] has a distinct advantage in the marketplace:
Our business will serve a specific need in the rapidly expanding neighborhood into which we're moving.


Aside from the fact that we've polled the local populace and got overwhelmingly excellent responses, we've also taken into consideration the fact that our location is in an area that is easily accessible by residents and businesses of all kinds, and that our business will be open when it does.


The salon's management team has a proven track record of achievement.


The upmarket salon industry has established itself to be a successful one in cities around the United States.


In the manicure business, there is a huge disparity between the low-cost suppliers (about $10-$20) and the ultra-luxury salons (around $50+).


Financial Highlights
Currently, [Company Name] is looking for $260,000 to get off the ground in order to begin operations and part of its nail salon start up cost. As a specific example, these monies will be used as follows:
Store design and construction: $140,000


To cover marketing, wages and lease costs until [Company Name] achieves break-even point, estimated working capital: $120,000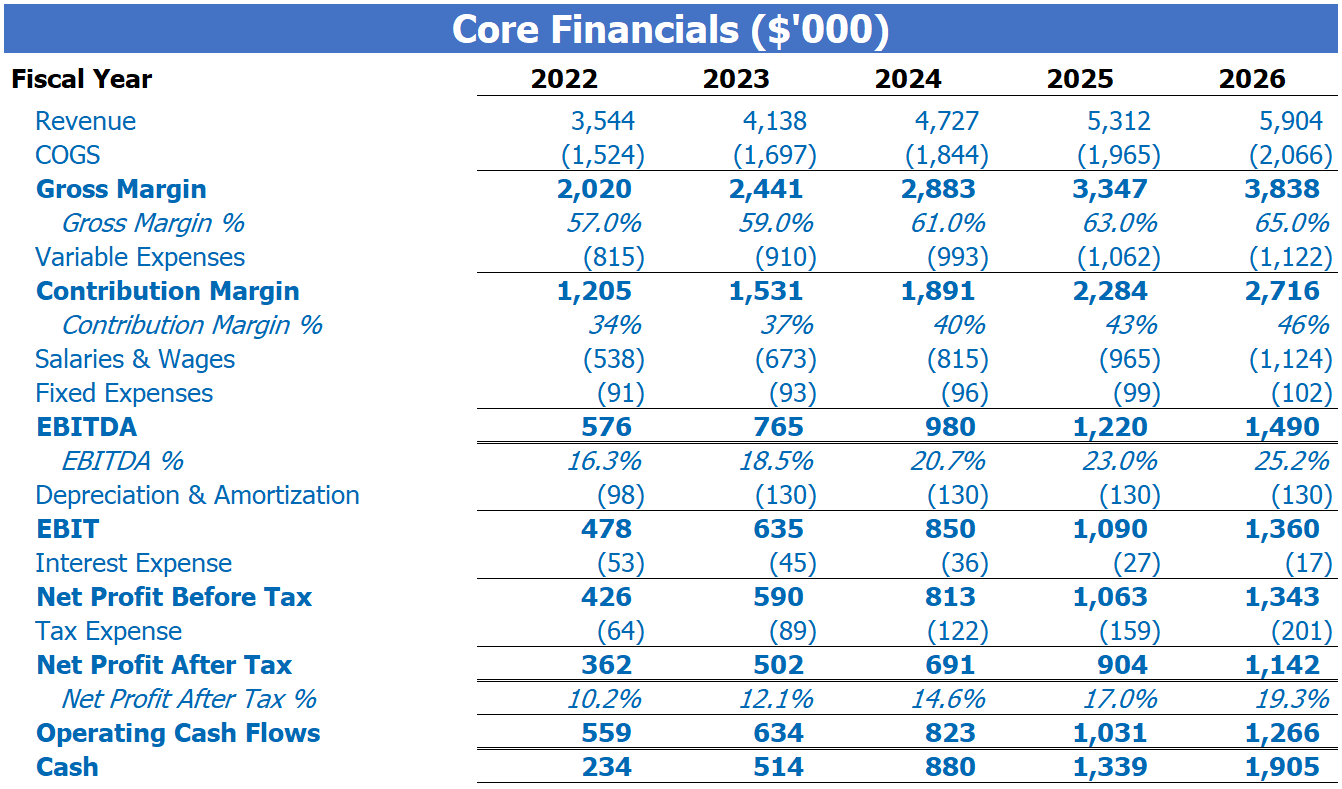 II.- Nail Salon Business Overview
Who is [Company Name]?
New, upmarket nail salon [Company Name] is located at [insert address here] and specializes in offering high-quality nail treatments in a relaxing atmosphere. It will contain a beautifully-designed interior, as well as a full-featured waiting room with television screens and drinks available on demand. Nail care items from [the Company] will also be on display in the waiting room.
[Founder's Name] was the driving force behind the creation of [Company Name]. After years of working in the nail industry, [Founder's Name] decided to start [Company Name] in [month, year]. [Founder] traveled to Fort Lauderdale, FL, at this period. He went to a nail shop that had a lot of success throughout his vacation. After talking to the proprietor of the salon for a long time, [Founder's Name] realized that a comparable business would do well in his hometown.
Specifically, he was confident that the firm would succeed because of the same demographics and competitive landscapes in his hometown and the new site. As soon as [Founder's name] completed a market survey, he started [business name].
[Company Name]'s History
Following a trip to Fort Lauderdale, [Founder's Name] formed [Company Name] on [date of incorporation] as an S-Corporation after assessing the local client base.
Currently, the business is managed from [Founder's Name] home office, but once the lease on [Company Name]'s retail space is finalized, all operations will be run from there (see more info in nail salon business plan pdf).
Achieved these accomplishments since incorporation:
This is where you may find the company's name, logo, and website at [website];


Appointed an interior designer to assist with the design and arrangement of the space;


Recruitment of key individuals with previous nail-care experience began.


| | |
| --- | --- |
| Use this Nail Salon Business Plan Sample As A Guideline | |
[Company Name]'s Products/Services
Below are [Company Name]'s initial service offerings and in-store products sold.
Nail Technicians will be asked to perform the following services:
Pedicures
Manicures
Acrylic Nails
Gel Nails
Hand & Foot Massages
[Company Name] will feature premium nail products in-store from these well-established brands. It will continue to update its offering in order to provide the newest nail products to its customers.
Some of its featured brands will include:
Furthermore, the waiting area will have television screens and popular publications to make the wait for service more pleasurable. Toys and board games will also be on hand for children, as well as at-request refreshments which we will provide for free during the waiting period.
Design
[Company Name] will develop a 2,500 square foot store whose key elements will include the following:
Stylist Booths
Reception Desk
Self-service coffee area
Pedicure Chairs
A waiting area with TV screens
Restrooms
Below please find a rough sketch of the floor plan:
The retail location has 10 dedicated parking spots which should suffice even during peak hours.
[Company Name] plans to be open 6 days a week, from 10AM to 6PM. As demand dictates, we may extend or reduce our hours.
III.- Nail Salon Industry Analysis
Competition for [Company Name] ranges from small, locally owned nail salon and spas to large chains. An estimated 200 million individuals in the United States rely on the services of 269,000 licensed nail salons.
Businesses in the business are scattered throughout a wide area in order to be close to the most important consumer markets and high-traffic areas. In light of this tendency, it is more difficult for one firm to serve a sizable section of the market. 99.998% of nail salons were single-location businesses, according to the Economic Census.
In the next five years, the Nail Salons sector is predicted to increase at an annualized pace of 0.8 percent to reach $12.0 billion in sales. Consumers will be able to indulge in discretionary services rather than depending on home-use items as a result of a rise in per capita disposable income. Salons in the business are likely to grow into full-service salons over the next five years, giving owners the opportunity to broaden their client base and smooth out income volatility.
| | |
| --- | --- |
| Use this Nail Salon Business Plan Sample As A Guideline | |
What you Get in Your Nail Salon Business Plan Package
Industry Statistics & Trends
Trends in the industry
Trends are shifting in the industry where [Company Name] will compete.
Trends in the market
:
Growth has been consistent, though slow. This industry's estimated yearly growth rate is roughly 2%.


Driven by success. In the end, it's the level of customer happiness that determines whether one salon succeeds or not. Whether or not a customer returns to a salon and whether or not they recommend the same salon to others is directly tied to their experience there.


A shift in the seasons.


Summer and spring are peak seasons for the nail salon sector. At a time when industry sales are expected to be at their highest, [Company Name] plans to commence its operations. In the first quarter of business, [Company name] should be able to benefit from a seasonal boost in sales.
Trends at the firm level
:
Price sensitivity is at its lowest point here. Competition in the low-cost market, which predominantly serves men and children, is frequently driven by the cost of goods and services. Consumers in this specific demographic are less concerned with having their nails done by the same technician on a regular basis than they are with getting a lower-cost service.


Depth measurement. Nail salon chains with more than a few locations tend to focus on the lower end of the market. There isn't much of a following for certain brands in this region. Franchises are a popular business concept in this industry.


Economies of scale are a factor. With the help of well-trained support staff, larger salons are finding success. In bigger organizations, the receptionists and assistants will be able to handle many of the mundane jobs. Because of this, a trained technicians may devote more of their time to providing nail services and earning money.


Premium independent salons that provide high-quality hair care services. In addition, independent salons compete in the high-end market. These companies build strong client bases and choose their locations based on the demographics of the area.


"Specialty" salons. Today, salons that cater to certain consumer groups, such as men in higher-income categories, are carving out their own niche.
Trends that affect customers at the individual level
:
Extremely devoted customers. Many salons have a loyal customer base that contributes significantly to their bottom line. As a result, salons that have personnel who are able to build long-term connections with their clients will be more successful.


Gender roles are shifting. The majority of nail salon revenue comes from women, who use aesthetic treatments more frequently and spend more each visit. Male consumers, on the other hand, have begun to change their views in recent years. The number of male clients at hair salons has risen from 5% to 25% in the last few years.


Preferences based on gender. The most lucrative consumers for nail salons are women, who visit more frequently and spend more money on specific treatments such as nail color, than their male counterparts.


It's a perfect match. Nail salon income is dominated by the baby boom generation. Those in this vast market sector have achieved the pinnacle of their earning potential and are now in need of more specialized services like coloring.
IV.- Nail Salon Customer Analysis
Profile of Target Market
Residents of [business location] and the surrounding areas, as well as employees of [company location], will be served by [Company Name].
Most of the people in the neighborhood are middle-class, so they can afford higher-quality services and are searching for manicure and beauty services that fall halfway between deep discounters and high-end luxury brands. We cater to this market segment which is laid out in our nail salon business plan checklist.
| | |
| --- | --- |
| Use this Nail Salon Business Plan Sample As A Guideline | |
Demographics
The precise demographics of the town in which our retail location resides are as follows:
Customer Segmentation
As a result, the company intends to focus on three primary consumer groups:
Stay-at-home parents: Many stay-at-home mothers are involved in the school and society in the town, which has a large number of soccer players. These moms are regulars at the salon. A mother's allegiance is typically linked to her children's and her husband's as well.


Professionals: As a result of their extensive professional networks, these women are a valuable source of new client referrals. '[Company name]' intends to get a steady stream of new business from existing customers who will recommend them to others. It's easy to get to [Company name] because it's located on a major commuter route. Working men and women will flock to [Company name] because of its convenient location and excellent customer service.


Students: Many high schools and middle schools may be found in the surrounding region for students. Students who are still dependent on their parents' income can afford to pay for better services than discounters can. [Company name] may anticipate creating large seasonal revenue based on the attractiveness requirements of the local youth culture.


V.- Nail Salon Competitive Analysis
Direct & Indirect Competitors
Within a 5-mile radius of [Company Name], there are a number of stores that compete directly or indirectly for customers in our nail salon business:
Joe's Beauty Salon
Joe's Beauty Salon has been in operation for 32 years and is one of the most well-known in town. In terms of what you'd anticipate from a beauty salon, Joe's has a wide range of options.
Joe's also provides hair care treatments in addition to nail services. Over 60% of Joe's business is generated by non-nail services targeted at women. The salon items sold by Joe's are also of lower quality.
For instance, they only have two product lines. Because of this, Joe's is forced to compete with the neighborhood pharmacy and grocery shop for customers. When it comes to unique items, however, [Company Name] has a plethora of possibilities that are unavailable in [Town's Name].
LUX CUTS
For the past five years, LUX CUTS has been in operation. LUX CUTS offers a high-end nail service for $50 per service as an initial deal.
While [Company Name] is primarily targeting homes in the city's top 10%, LUX CUTS is going for completely other markets.
If you're looking for the same services and goods as Lux Cuts, but at an affordable price, look no further than [Company Name].
Freddie's Fast Salon
If you want to have your nails done, Freddie's Fast Salon has you covered.
[Company Name] is four storefronts down the road from Freddie's Fast Salon. As a result of its exceptional position, Freddy's has had remarkable success over the past three years.
For a low price, Freddy's nail salon focuses on volume rather than on quality. A big portion of its customers is between the ages of five and thirteen.
In comparison to Freddy's Fast Salon, [Company Name] offers a number of benefits.
- A waiting room with TVs and board games to keep customers entertained while they wait for service. Great for families with little children.
- A emphasis on customer satisfaction rather than speed is the best way to keep customers coming back. Compared to Freddy's, [Company Name] spends an additional 20 minutes with each customer on average.
Despite the fact that we anticipate Freddy's Fast Salon to continue to do well because of its location and existing ties with clients, we believe that the high level of service provided by [Company Name] will attract more and more customers.
| | |
| --- | --- |
| Use this Nail Salon Business Plan Sample As A Guideline | |
What you Get in Your Nail Salon Business Plan Package
Competitive Advantage
There are various benefits that [Company Name] has over its rivals. Included in these benefits are:
Location: [Company Name]'s location is in the middle of town, making it easy for commuters, local office employees, and pedestrians to shop in the city to get to us. In addition, we have enough parking to make it convenient for consumers to come in and shop at our store.


Excellent service at a reasonable cost: [Company Name] offers a manicure service menu that is substantially identical to that of its most expensive rival, LUX CUTS. But [Company Name] will provide these services for much less money.


For this reason, we can market to and serve our clients far better than our competition.
Management: [Company Name]'s leadership has decades of business and marketing expertise.


Relationships: [Founder's Name] knows all of the local leaders, newspapers, and other influencers after living in the neighborhood for 25 years. Consequently, [Company Name] will have an easier time establishing its brand and attracting its first customers.


These benefits are expected to better [Company Name]'s nail salon income.
VI.- Nail Salon Marketing Plan
[Company name] seeks to position itself as a respectable, upper-middle-market competitor in the nail salon market. Customers can expect to receive professional nail care from familiar technicians for a price somewhere between discount chains and luxury establishments.
| | |
| --- | --- |
| Use this Nail Salon Business Plan Sample As A Guideline | |
The [Company Name] Brand
The [Company Name] brand will focus on the Company's unique value proposition:
Convenient location


Familiar, regular technician


Significant personal attention


Moderate price point


Comfortable, customer-focused environment


Promotions Strategy
Customers that live or work within a 5-mile radius of [Company Name] are its primary focus. In order to target these people, [the company's] promotional approach includes the following (which are incorporated in the opening nail salon cost):
Publications in the area
The opening of [Company name] will be advertised in many local newspapers and periodicals several weeks in advance. Relevant markets will be kept in the loop with regular advertising campaigns. A significant portion of our advertising budget will go into reaching out to local periodicals, school publications, youth sports organizations, and other media outlets.
Major Publications
We plan to target huge magazines with targeted advertising. Considering that [name of publication or newspaper] has a readership of xyz, we should be able to reach a larger geographic area with our publication. On the basis of cost-effectiveness, the employment of advertisements in major magazines will be limited. Tracking reactions to these advertising will be made easier by including discount vouchers.
Communal Organizations/Events
As part of its marketing strategy, [Company name] will distribute marketing materials and participate in community activities such as school fairs and local festivals. We'll not only be able to reach adult women, but their families as well, because moms are typically strongly involved in these kinds of activities.
Transport advertising
[Company name] will be promoted by hiring personnel to put up signage along [route or highway]. We can reach a large number of working people with disposable cash by advertising on major commuting routes.
Programs to Retain Repeat Customers
A successful customer loyalty program for [company namefinest ]'s customers will be developed. When our pros and other personnel aren't offering services to consumers in the shop, they will make regular phone calls to them. In order to ensure client satisfaction and to remind them that they may desire a new treatment after a specific length of time has passed, these phone calls will be made. Referrals and long-term clients alike will benefit from the loyalty program, which will be open to all consumers.
Direct Mailings
A massive direct mail campaign will be launched by [Company Name] to target residents in the areas surrounding its business sites. In addition to providing useful details about [Company Name], these promotional materials will feature special offers and other means of luring customers into the salon.
Maintaining Consistent Contact with Customers
A monthly email newsletter will be sent out by [Company Name] to inform consumers about upcoming events, goods, and more.
Pre-Opening Activities
Pre-opening activities for prospective consumers, local merchants, and press contacts will be organized by [Company Name] before the store's opening. These events are a great way to get the word out about [Company Name] in the community.
Pricing Strategy
As a result of [Company Name]'s pricing strategy, clients will believe they are getting a good deal when they visit the salon. Customers may expect to pay $25 for typical nail treatment and enjoy individualized service both during and after their appointment. For a fraction of the cost of an ultra-premium salon, the customer may expect the same high-quality service from a familiar professional. The stated pricing is detailed in [Company Name]'s nail salon business plan.
VII.- Nail Salon Operations Plan
On a day-to-day basis, [Company name] will mostly operate by appointment. Priority will be given to customers who phone ahead, but walk-ins will be attended to by the earliest available techs. Meanwhile, the lounge offers television and current mainstream periodicals to keep waiting clients entertained. During the busiest times, the company plans to use [X] technicians and [A] assistants, and [Y] technicians and [B] helpers off-peak. On a weekly basis, [Company name] expects to see [Z] clients.
[Company Name] needs to conduct a number of duties in order to carry out its business strategy. A total of X individuals will be employed by [Company name] for these jobs.
Service Functions
Pedicures
Massages
Waxing
Gel nails
Product sales
Administrative Functions
A wide range of general and administrative duties are performed here, including legal work, marketing, and accounting, for example.
Obtaining and keeping goods
Recruiting and preparing employees
Making appointments for customers to come in and use the cash register
Other Functions
- Maintenance workers of various specialties
| | |
| --- | --- |
| Use this Nail Salon Business Plan Sample As A Guideline | |
What you Get in Your Nail Salon Business Plan Package
Milestones
[Company name]'s long-term goal is to become the dominant provider of nail care and related services and products in the [city] area. We seek the standard by which other providers are judged.
The following are a series of steps that lead to our vision of long-term success. [Company Name] expects to achieve the following milestones in the following [xyz] months:
VIII.- Nail Salon Management Team
With over 20 years in the nail salon industry, [Founder's Name] is the CEO of [Company Name].
For the last two decades, the [Founder] has worked in prominent nail salons all around the world. Following completion of his training at [Nail Tech School] and the start of his first job at [big chain], he has now been in the beauty industry for [x] years.
[Founder] received his Bachelor's degree in Communications from the University of ABC.
Service for customers will be overseen by a person named [other person's name]. Experience in the hotel business is an asset to this person's job.
| | |
| --- | --- |
| Use this Nail Salon Business Plan Sample As A Guideline | |
Hiring Plan
It is [Founder's] responsibility to run the store. We need to recruit the following people to get our salon up and running:
[Number] of Nail Technicians
Demand and operational maturity will determine whether or not [Founder] decides to hire the following individuals:
Store Manager [Number]
Nail Treatment Specialist
Receptionist [Number]
[Founder] has also prepared the nail salon equipment packages ready for start-up.
IX.- Nail Salon Financial Plan
The primary source of income for [Company Name] will be the provision of services, with the secondary source being the selling of nail care goods.
Nail salons, like most other service businesses, rely heavily on labor costs to keep their overhead low. A mix of salary and commissions is used to pay nail technicians, making them an important aspect of a company's long-term viability and growth.
The following will be the primary cost drivers for the company's operations:
On a per-service basis, Nail Technicians are paid commissions.
In addition, [Company Name]'s continuing marketing spending and cost of goods sold charges are significant cost drivers.
| | |
| --- | --- |
| Use this Nail Salon Financial Model Demo As An Example | |
Capital Requirements and Use of Funds
In order to open its first store, [Company Name] is seeking a total of $260,000 in borrowed financing for start up and initial nail salon monthly expenses. Work on the business's infrastructure, recruiting of new staff, and marketing expenditures will all be aided by this cash infusion.
The following are the specific purposes for which these monies will be put to use:
Building a store from the ground up: $140,000.


Until [Company Name] is cash flow positive, it needs $120,000 in working capital to cover marketing, payroll, and lease expenditures.


Nail Salon Financial Plan Sources And Uses Report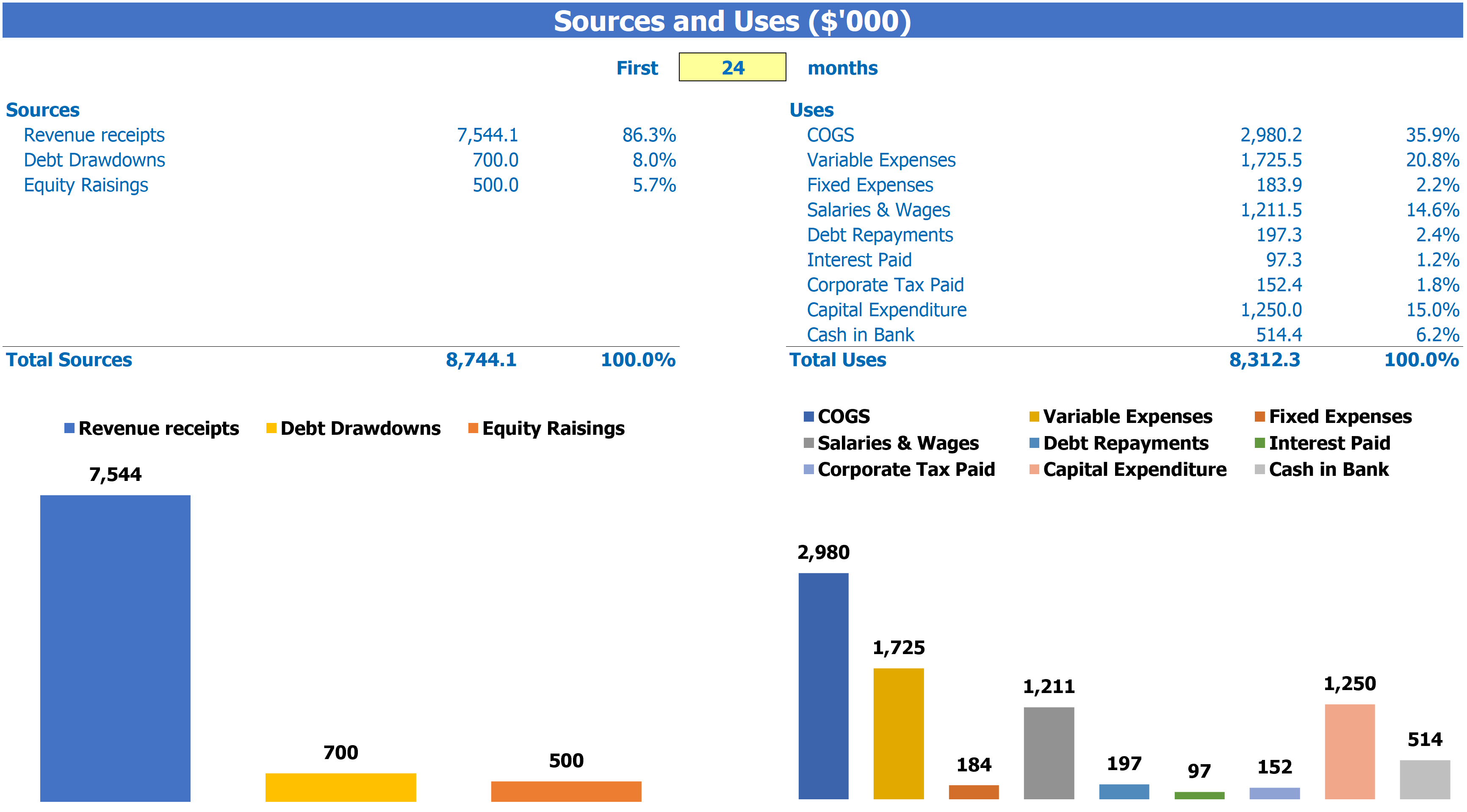 Key Assumptions
The following table reflects the key revenue and cost assumptions made in the financial model.
Nail Salon Financial Plan Core Inputs

Nail Salon Financial Plan Top Revenues Report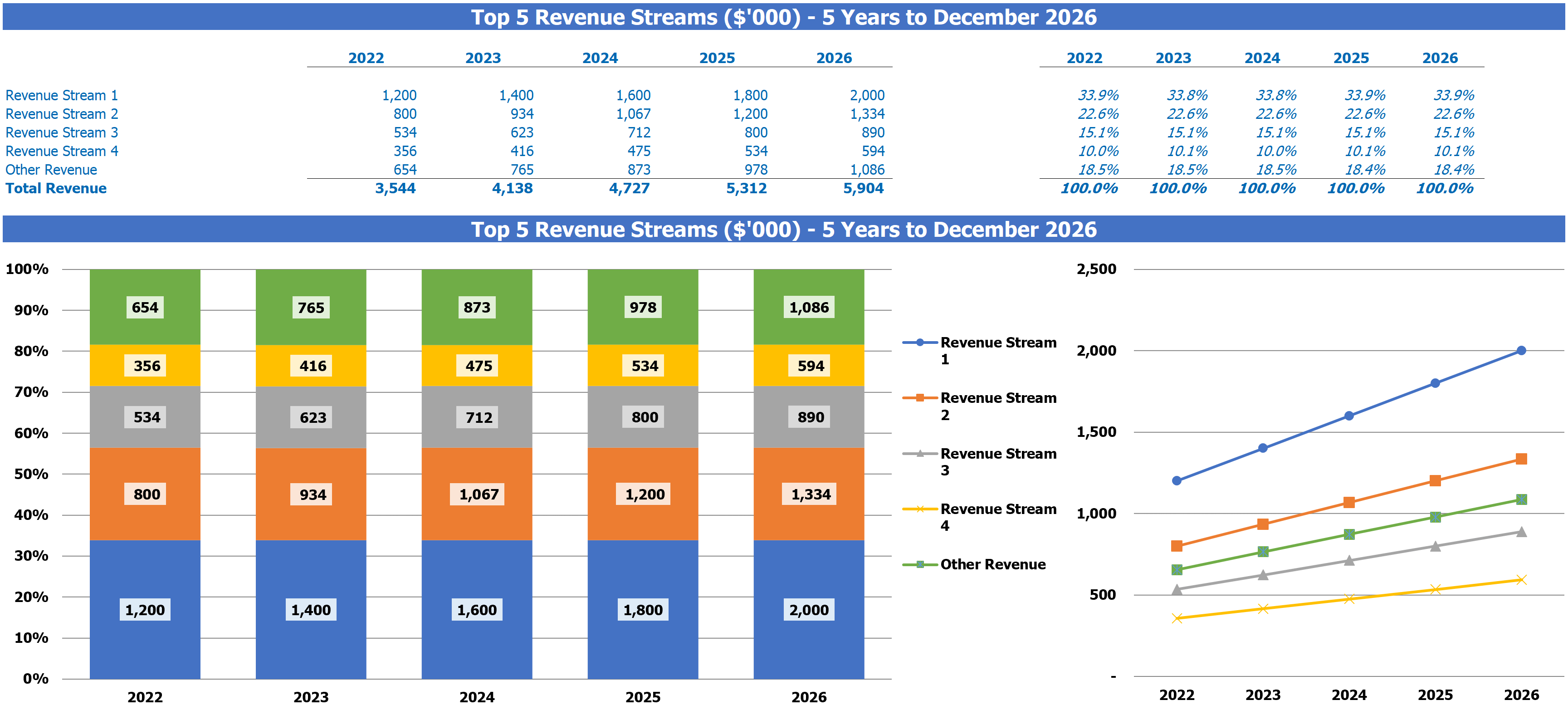 Nail Salon Financial Plan Top Expenses Report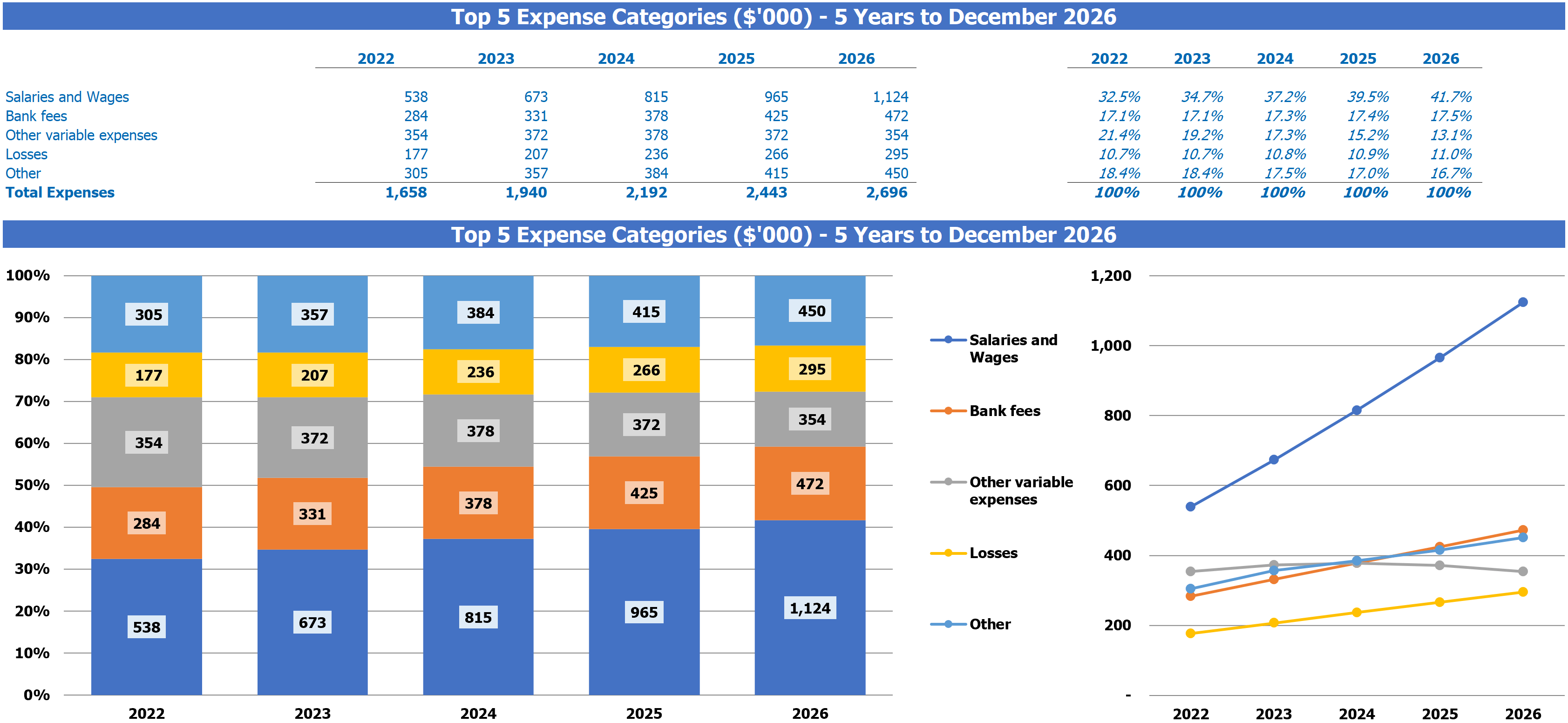 Nail Salon Financial Plan Income Statement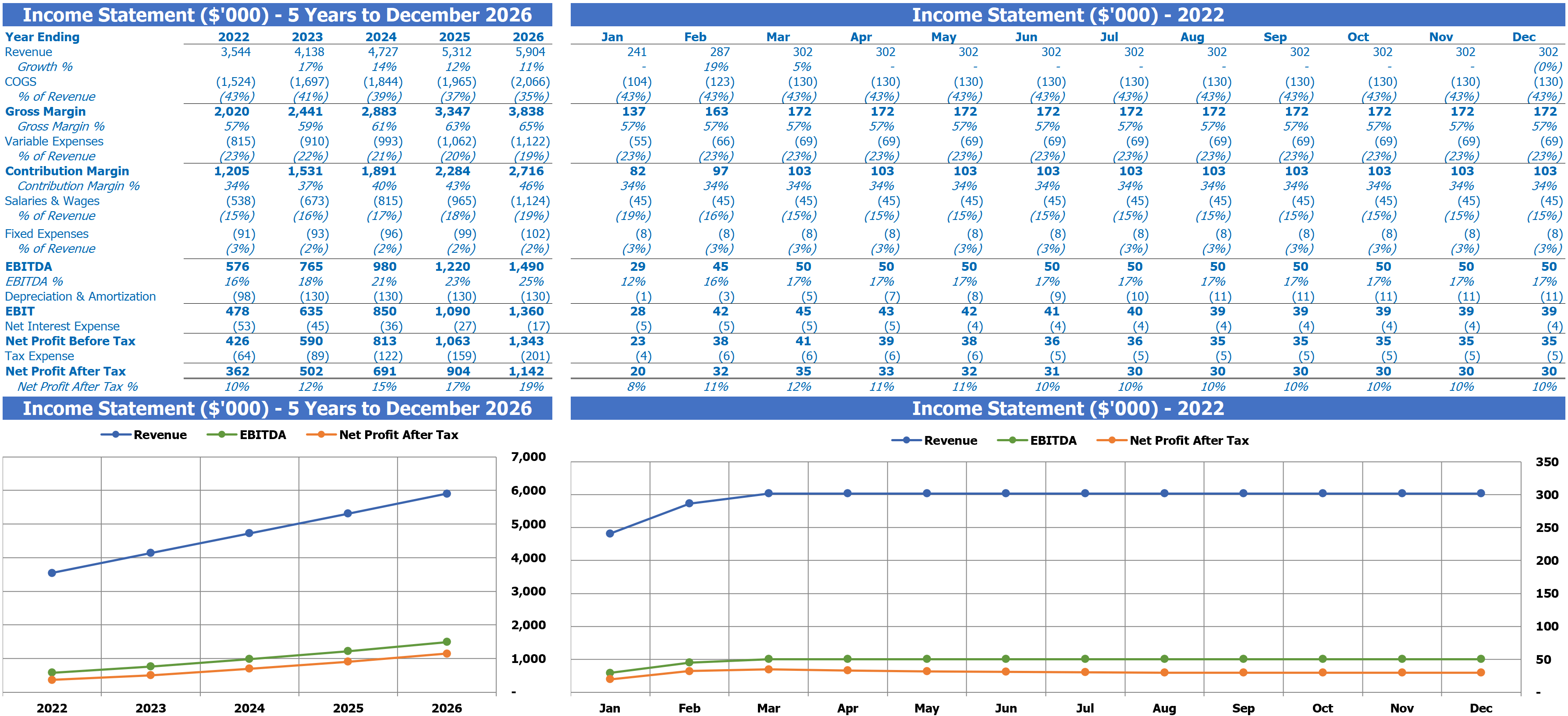 Nail Salon Financial Plan Cash Flow Statement

Nail Salon Financial Plan Balance Sheet Statement