Template for a 36-page Microsoft Word business plan with a professional appearance. The Short Business Plan Outline has all of the parts and subheadings that are required for a high-quality outline. The user is given step-by-step directions and examples of how each section should be completed. You may quickly and easily customize the pages to meet your specific needs. All of the photos now shown on the different pages can also be changed or replaced if you wish. The 36-page executive summary of a small business plan, prepared by professionals and available in Microsoft Word format, may be downloaded quickly and easily.
Using the Daycare Business Plan Template, you are not restricted to a time period of five or ten years, but are free to include as many years as possible. This template is easy to use and can be modified to match your specific requirements without any hassle. Whether you want to delete or replicate a single item or a slew, it merely requires a single click. A color palette of your own creation is not impossible, so feel free to experiment.
What you Get in Your Daycare Business Plan Package
| | |
| --- | --- |
| Use this Daycare Financial Model Demo As An Example | |
Daycare Financial Model in Excel, Google Sheets and Numbers
Our Daycare financial forecasting model is a 3-statement financial model, meaning it links the 3 core financial statements, profit and loss, balance sheet and cash flow, to create in-depth, valuable projections and insights. Our model allows you to assess your business on a monthly basis, offering granular detail on any changes between each period. All reports and analyses can also be viewed on a more high-level basis, looking at the number year-on-year. As the 3 core financial statements are integrated, any movements throughout the period will be reflected.
| | |
| --- | --- |
| Use this Daycare Financial Model Demo As An Example | |
I.- Daycare Executive Summary
Business Overview
[Company Name] is engaged in premium daycare services. We offer a play-based program that fosters the holistic development of children up to five years old. Our mission is to support you, the parents, in safeguarding the development of your children's minds in their critical, formative years.
[Company Name] is currently in the following locations: [insert location(s) here].
Services
[Company name] will maintain an environment within our school grounds that will encourage your child's holistic growth. The daycare business plan is described as follows: Sufficient equipment and materials will be in place that will inspire and stimulate each individual child. As we will have a play-based program, the syllabus is established on the premise that managed play with the appropriate educational tools is best for pre-schoolers. All of this will be facilitated by [Company Name]'s qualified educators and personnel.
Customer Focus
Within our opening a daycare checklist, it is key to have the right location with the right demographics. [Company name] will tap customers within the local community, reaching families approximately within a five-mile radius of the school. Within our current location, there are more than 28,600 individuals residing in the area, with an average (household) income of $98,119 per annum. Close to 60% are married and are 42.9 years of age on average. Sixty-two percent are professionals.
Management Team
[Founder's Name] founded [Company Name] in [insert year]. He/she has over 20 years of extensive experience within the daycare business and is knowledgeable across the value chain, from operations to management. Our founder also has had direct interaction with pre-schoolers, having taught classes in kindergarten for 20 years.
Success Factors
We believe our critical success factors are as follows:
Led by [Founder's Name], [Company Name] is being led by a highly experienced management team that has generated previous success in day-care


Attractive demographics within our target community, which includes high-income households comprised of professionals that have the capacity and demand to employ our services


Currently, [Company Name] has no known competitors in the area that offer premium day-care services. We have also confirmed untapped demand in the community involving parents that are aware of the need for quality education, especially in the child's formative years.


Financial Highlights
To launch the business, [Company Name] is doing a capital raise amounting to $325,000. Proceeds of the fundraising will go to:
Capex for design and build of the daycare center: $175,000


Estimated working capital to reach breakeven: $150,000



How much it costs to run a daycare monthly or a sample operating budget for daycare will also be explained to qualified investors.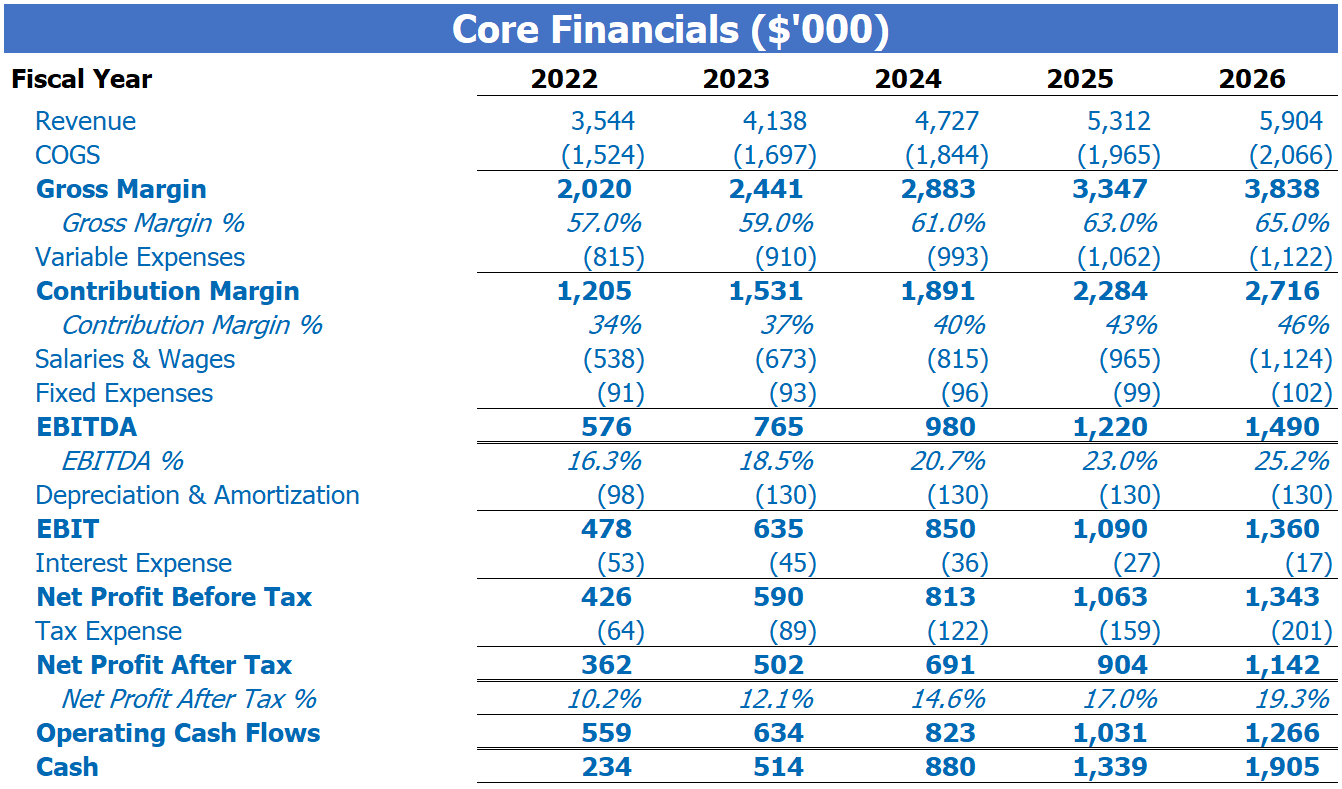 II.- Daycare Business Overview
Who is [Company Name]?
A template business plan for daycare center:
[Company Name] is an upcoming, premium daycare center located in [insert location here]. We are positioning ourselves as a nurturing center that promotes child development and overall lifelong learning.


[Company name] believes that truly compassionate educators, alongside adequate tools, facilitate a better learning environment for children.


We operate a licensed daycare center serving up to 80 children, Mondays to Fridays, from 7:00 AM to 6:15 PM. Your child will be taken care of by qualified educators and personnel, ensuring your child's wellbeing in the center.


The team will secure the development of good manners and right conduct, generating hobbies and cooperating with our children, as well as good eating habits.


In detail, our play-based programs include:
Incorporating daily art and dance lessons


Nourishing midday and afternoon meals


Promotion of inclusivity and diversity


Ambiance that exemplifies campus life in schools


Qualified personnel that promotes self-confidence, encourages independence and competence while upholding human dignity


[Company Name]'s History
In his/her 20 years of teaching elementary school students, [Founder's Name] noticed how much of an influence he/she was making on brilliant young minds and the limitations of the educational environment. Having an S-Corporation, [Founder's Name] was able to establish his/her childcare services from his/her house with only himself/herself as an employee after doing a market survey, securing a location, and incorporating [Company Name].
[Name of Founder] expanded his business after realizing that his services were in high demand and that his activities were being constrained by his physical location (his house). When the lease for [Company Name] commercial's location is finalized, all business operations will be conducted from that location.
Apart from creation of a daycare start up business plan, here are the highlights of [Company Name] since its incorporation in [insert year]:
Identified and executed a Letter of Intent to Lease commercial real estate space


Created the company's name, logo, and website, which can be found at www...


Elected on the materials that needed to be procured


Initiated the process of recruiting key personnel with previous childcare experience
| | |
| --- | --- |
| Use this Daycare Business Plan Sample As A Guideline | |
[Company Name]'s Products/Services
Below are [Company Name]'s daily service offerings that will engage its attendees on a daily basis. All items are classified under the following main categories:
Lessons in drawing, painting and dance as a part of day-to-day activities


Nutritious meal plan to take care of lunch and snack requirements


Curriculum that is gender inclusive, recognizing the society as multicultural and supportive of social justice


Environment similar to that of school campus and teaches encouragement of peers


Staff that fosters competence, dignity, a sense of independence and pride in oneself


In addition to these general principles, the Company will attempt to create concrete classes for its "students" in order to formalize its experience and efficiently advance their development as life long learners. Furthermore, this classroom learning environment, coupled with elements of play, will allow attendees to bond with their classmates and allow staff members to provide personal attention to each member. The following is an example for class design based on projected enrollment of children in four age groups.
| Age | Kids count | Class count | Staff count |
| --- | --- | --- | --- |
| 0-27 months | (4 children) | (1 class) | 1 senior staff member |
| 3 year old | (24 children) | (3 classes) | 3 senior staff members |
| 4 year old | (20 children) | (2 classes) | 2 senior staff members |
| 5 year old | (30 children) | (3 classes) | 2 senior staff members |
Overall strength in the enrollment of students will grow from year to year based on the demand for this service in the area. [Company Name] expects to be at full capacity from the onset and beyond. The Company's facilities will operate on weekdays from 7:00am to 6:15pm. The business will generate revenue through its enrollment of children.
Design
[Company Name] will develop a 1,820 square foot daycare center whose key elements will include the following:
Classroom Areas


Infant Room


Administration Office


Recreational Area


Kitchen


Restrooms
Below you will find a rough sketch of the floor plan:
III.- Daycare Industry Analysis
Daycare centers have become an essential part of the lives of many Americans. Women in the workforce as well as generally longer work weeks have led to an increase in the number of early childcare centers in the United States. In order to ensure their children's academic and mental development while they are at work, working parents often turn to these childcare facilities. The sort of care that working parents offer for their children when they are away from home is one of many considerations that working parents must make to achieve good work-life balance.
| | |
| --- | --- |
| Use this Daycare Business Plan Sample As A Guideline | |
What you Get in Your Daycare Business Plan Package
Industry Statistics & Trends
The following industry statistics are favorable for [Company Name] and its daycare center business plan:
In recent years, more and more families with two working parents have expressed concern about the cost and quality of childcare, according to the US Department of Labor. As the need for non-relative childcare grew in the last decade, the child daycare business stepped in. In addition, high demand for human resources often reflects the high demand for products or services within a sector and would usually predict the trend of growth in the sector itself. According to the US Department of Labor, "wage and pay positions in child daycare services are predicted to rise around 34% between 2016 and 2026, compared to the 11% projected for all industries combined."


The increased demand for childcare services is also driven by demographic trends. Within the same time period, the number of children under 5 is predicted to rise faster than in past years, and many of them will be reared in families with two working parents or a single working parent. As a result, non-traditional childcare programs will be in high demand. The number of centers for school-aged children is expanding as well.


As the amount of women in the workforce has risen, so has interest in professional childcare. Child care centers are in high demand due to the increased number of working couples. Child daycare centers are vital as stay-at-home parents decline.


IV.- Daycare Customer Analysis
Profile of Target Market
It is expected that [Company Name] will service inhabitants of [company location] and the local surrounding region.
In our service region, which is affluent and home to a large number of professionals, many parents must rely on reputable and trustworthy daycare services for their toddlers and young children particularly when they are not at home (i.e. during work hours).
| | |
| --- | --- |
| Use this Daycare Business Plan Sample As A Guideline | |
Demographics
The precise demographics of the town in which our location resides are as follows:
Customer Segmentation
Based on the daycare business plan template, our primary focus will be on the following three types of customers:
Stay-at-homeome moms: In spite of the fact that it may seem counterintuitive to promote [Company Name]'s services to stay-at-home mothers, it is possible that marketing services to this demographic may offer some specific advantages. First and foremost, [Company Name] will provide its clients with a nurturing atmosphere that integrates the notions of play with practical learning in a complete way (articulated in its extensive class offerings). In addition, our programs allow children to engage with one another via play, an experience that is difficult for moms to provide at home. Because these people may have a lot of children, it may be more convenient for them to use our services on a weekly basis in order to keep up with their other obligations.


Business professionals: Affluent persons who work in professional contexts populate the region around [business location] -- this means long work hours as well for this target market. People who now use, but are dissatisfied with, rivals of [Company Name] are included in this group of potential customers. As a result, we anticipate high demand for [Company Name] from this segment.


Single parents: There are a lot of single parents that work long hours and have no one to take care of their children. For this group of people, dependability is the most important consideration – we position ourselves as a daycare that is both dependable and flexible around their hectic schedules.
V.- Daycare Competitive Analysis
Direct & Indirect Competitors
In the United States, the childcare industry is one of the most rapidly expanding. Daycare providers must have a long-term competitive advantage in order to thrive in today's fierce marketplace. Despite the growing demand for daycare services and the number of people interested in delivering them, childcare centers are increasingly being viewed as an extension of parents' personal care. It's important to note that the services available at each of these facilities vary greatly. This sector is predicted to develop in the future due to an increase in demand.
There are two types of competition in general, and the following are the most important local competitors within a five-mile radius. It is good to take note of the competition as this would impact the daycare business plan financials:
1. Centers for childcare
Preschools and kindergartens both offer care for children as young as 6 weeks old in their daycare centers. The following are some of our direct competitors:
YMCA: In addition to after-school and all-day care, the YMCA provides toys and a jungle gym for its members to play with. It's no secret that the YMCA's services are well-known, but members must be potty trained and have a current vaccination record in order to take advantage of many of the YMCA's programs. They also just provide childcare services, which teaches their students almost nothing (mostly just looking after kids as they play).


Jane Street Daycare: Jane Street has been operating for ten years and can accommodate 100 children at a time. Jane Street has a high turnover of children and parents who are dissatisfied with the level of service they receive from the daycare's staff and caregivers. Jane Street has the benefit of being in the middle of everything, but it also has the disadvantage of having a bad reputation.
2. Pre-school
Early childhood education programs for children ages two and a half to five or six are referred to as pre-school.
Plainview Montessori: Although it has an established curriculum and employs a skilled teaching team, Plainview Montessori only provides half-day sessions. There are no plans to expand Plainview at its current site, which means it is already operating at capacity. If Plainview decides to relocate in order to expand, the process might take years. [Company Name] will continue to assist the local youngsters in the event this this situation materializes.
| | |
| --- | --- |
| Use this Daycare Business Plan Sample As A Guideline | |
What you Get in Your Daycare Business Plan Package
Competitive Pricing
Here is the pricing of our key competitors:
Competitive Advantage
In comparison to its rivals, [Company Name] has a number of distinct benefits. Included in these benefits are:
Location: Near the town's core, you'll find [Company Name]. Our position is in close proximity to a large number of professional business institutions, which allows us to reach our target consumers more easily.


Management: In contrast to our competition, our management team has a wealth of business and marketing expertise that enables us to better promote and service our consumers.


Relationships: Being in the neighborhood for the past 25 years, [Founder's Name] has built strong relationships with everyone from local politicians to journalists. As a result, we will have an easier time raising awareness within the community and establishing a consumer base that is dedicated to our products.


Highly qualified personnel: When it comes to our employees, [Company Name] has a distinct advantage over its rivals because of their dedication to each and every student. Classes that are entertaining and educational will be provided by our high-quality team, guided by the principles of efficient early development.


VI.- Daycare Marketing Plan
The Marketing Plan describes the type of brand [Company Name] seeks to create and the Company's planned promotions and pricing strategies.
The [Company Name] brand will focus on the Company's unique value proposition:
Offering a comprehensive learning environment that not only teaches children the value of play, but using those principles to further their emotional, intellectual, and physical development.


Offering a convenient location that is close to its customer base.


Providing excellent customer service.


| | |
| --- | --- |
| Use this Daycare Business Plan Sample As A Guideline | |
Promotions Strategy
Parent workers and/or residents within a five-mile radius of each [Company Name] store are [Company Name]'s expected target market. In order to reach these people, the company uses a variety of promotional methods, including:
Direct Mailings. [Company Name] plans to mail out flyers to the nearby areas in an effort to drum up business. Each of these items will provide basic information about [Company Name], provide discounts, and/or offer additional incentives for those who shop at [Company Name].


Public comms. We'll notify local newspapers and television stations about [Company Name's] upcoming opening and its distinct value offer.


Advertising. Initially, [Company Name] will advertise in local media and fund community activities.


Continual Customer Interaction. Every month, [Company Name] will send out an email newsletter informing consumers about upcoming events, new goods, and other noteworthy information.
Promotional methods and associated costs are identified within the daycare budget template and the daycare income and expense worksheet.
Pricing Strategy
Six-week-olds up to five-year-olds can be separated into distinct age groups. There will be a weekly fee of $200 for full-time care for all children regardless of age, which will be charged by [Company name]. This fee is considered to be competitive when compared with the local Montessori. Employees of firms with which the center has a partnership are also eligible for a 15% discount. The discount has been taken into account in the sample financial plan for daycare.
VII.- Daycare Operations Plan
To carry out the business strategy of [Company Name], the Company must undertake a variety of duties, including the following:
Administrative responsibilities
Legal, marketing, bookkeeping, and other general and administrative duties are all included in this category.


Finding and training new employees.



Functions of the Kitchen
Catering to the dietary needs of all day learners


Functions of the Store/Retail
Teachers assigned to each class


Representatives of the Customer Service


Custodial staff to ensure cleanliness


A cost-effective business strategy that streamlines operations and establishes an effective chain of command has been developed by the corporation to carry out these daily tasks. Following the daycare budget template excel should allow [Company Name] to keep costs and margins in check.
| | |
| --- | --- |
| Use this Daycare Business Plan Sample As A Guideline | |
What you Get in Your Daycare Business Plan Package
Milestones
[Company Name] expects to achieve the following milestones in the following [] months:
VIII.- Daycare Management Team
With more than 20 years of experience in the childcare industry, [Founder's Name] is at the helm of [Company Name].
For the last 20 years, [Founder] has been teaching elementary school courses at a community elementary school. With 10 years of experience in the childcare sector under his belt, [Founder] is well versed in the field. His time working at ABC childcare center taught him how to effectively connect with young children, and he used this knowledge when teaching at XYZ elementary school, where he was able to combine the concepts of learning with the aspects of productive play. [Founder] also has a 90-hour credential in Early Childhood Education from Prince George's Community College.
At ABC University, [Founder] studied Communications, graduating with a bachelor's degree.
| | |
| --- | --- |
| Use this Daycare Business Plan Sample As A Guideline | |
Hiring Plan
[Company Name] will adhere to the government-mandated student-teacher ratio. There will be a medical clearance and fingerprints on file for each employee. The following is a list of the staffing needs and background information:
Director:
To be eligible, a director must be 21 years of age or older, be able to cover 50% of the time, and have completed a 90-hour training program.


Senior staff:
At least 19 years old and a high school graduate are required for senior staff positions.

Group leader:
Must have 45 hours of training as a group leader (group leader class)
A minimum age of 19 is required.

The hiring plan and related salaries are accommodated within the cost of starting a daycare center.
IX.- Daycare Financial Plan
For [Company Name], childcare services are the primary source of income.
The majority of operating expenses will be from salaries, facility upkeep, and meal preparations at the school. Marketing is also expected to be elevated in the initial time period. After it has established itself in the market for a while, the company's marketing budget is expected to normalize at lower levels. Daycare revenue and expenses are identified within the daycare spreadsheet.
| | |
| --- | --- |
| Use this Daycare Financial Model Demo As An Example | |
Capital Requirements and Use of Funds
[Company Name] is looking for $325,000 in capital to get its company off the ground. Proceeds will go to funding for construction expenditures, human resources, marketing costs, as well as working capital.
Specifics of the intended proceeds are the following:
$175,000: center design and construction


$150,000: initial working capital to cover daycare operating expenses such as marketing expenses, employee wages, and lease payments.


An accompanying budget for daycare business plan will be provided to qualified investors.
Daycare Financial Plan Sources And Uses Report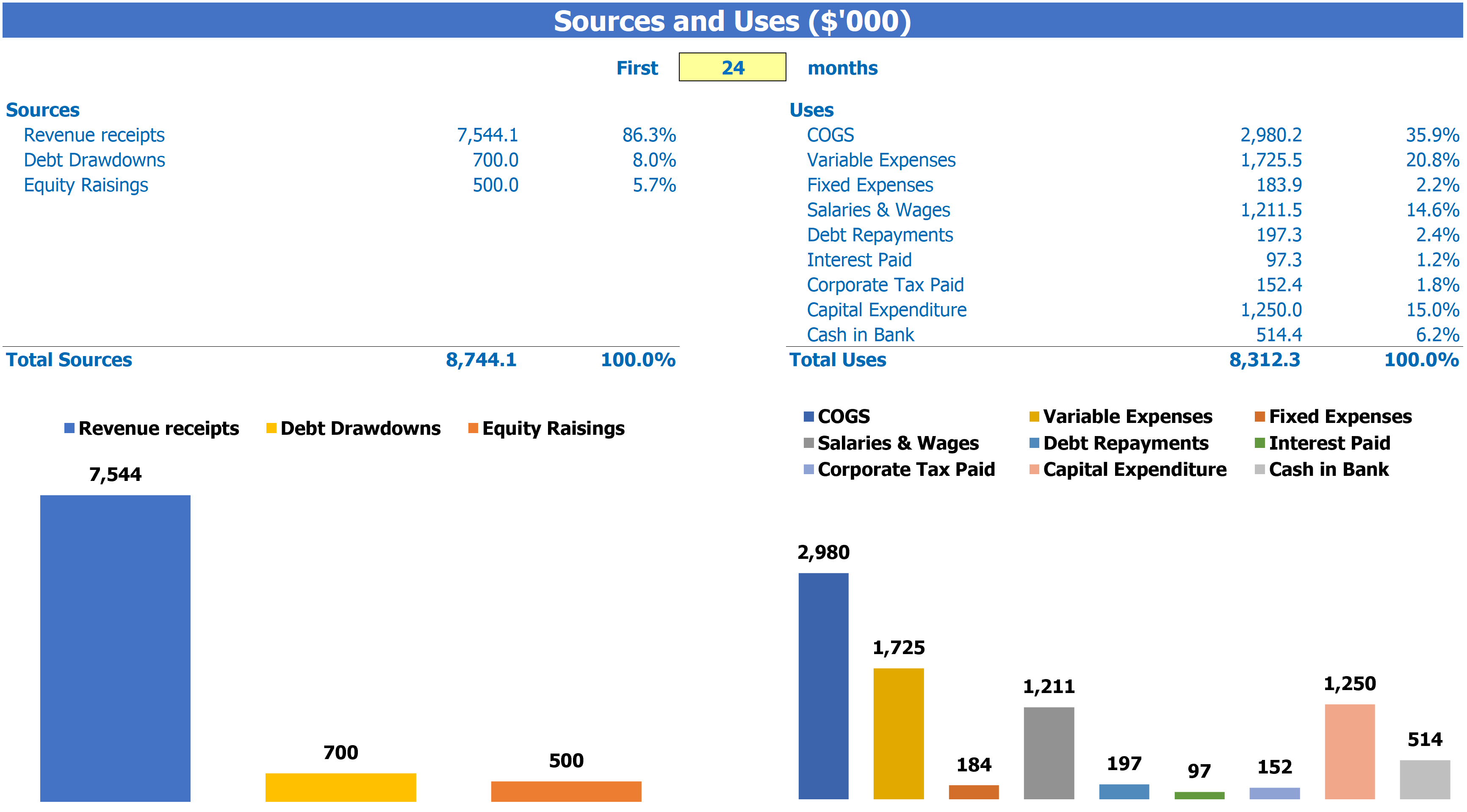 Key Assumptions
Below please find the key assumptions that went into the financial forecast and a summary of the financial projections over the next five years.
Daycare Financial Plan Core Inputs

Daycare Financial Plan Top Revenues Report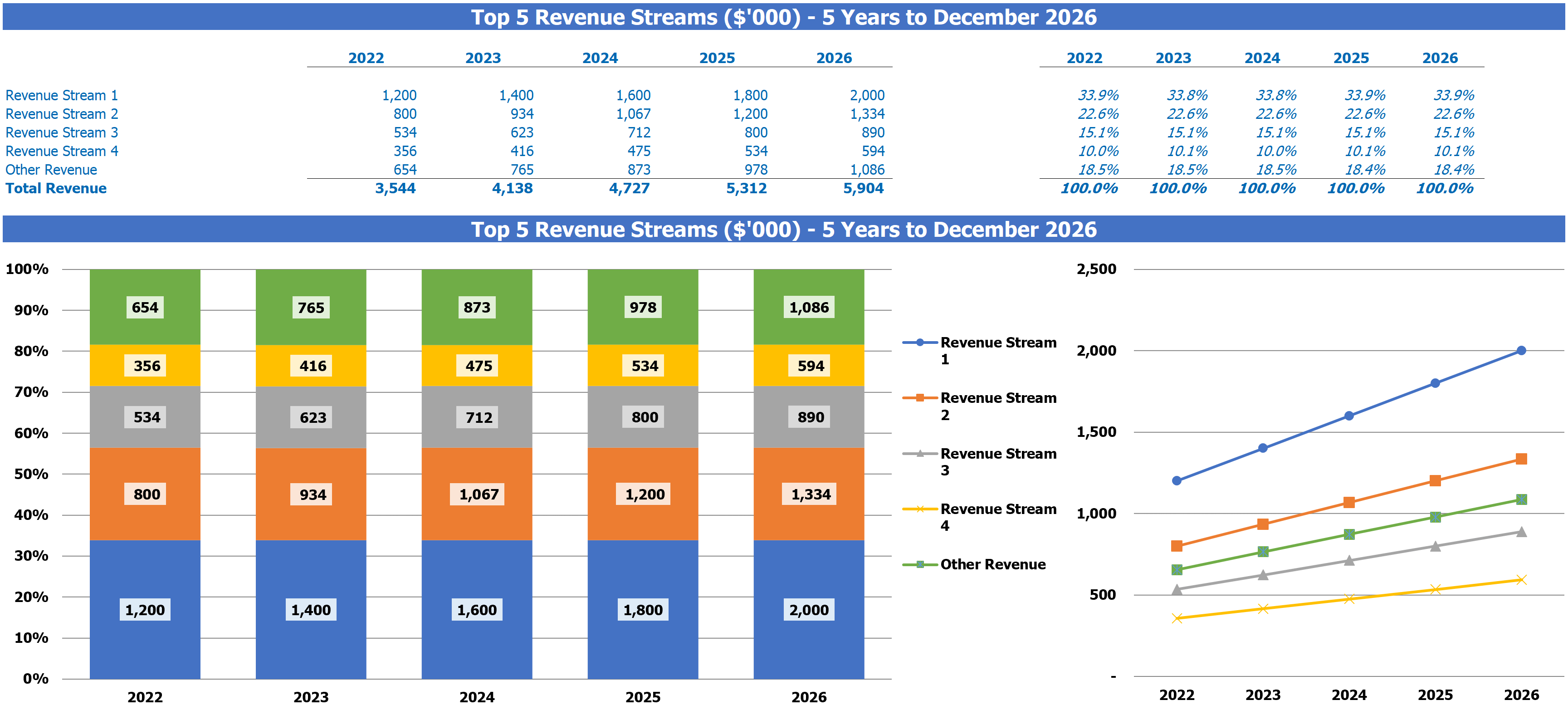 Daycare Financial Plan Top Expenses Report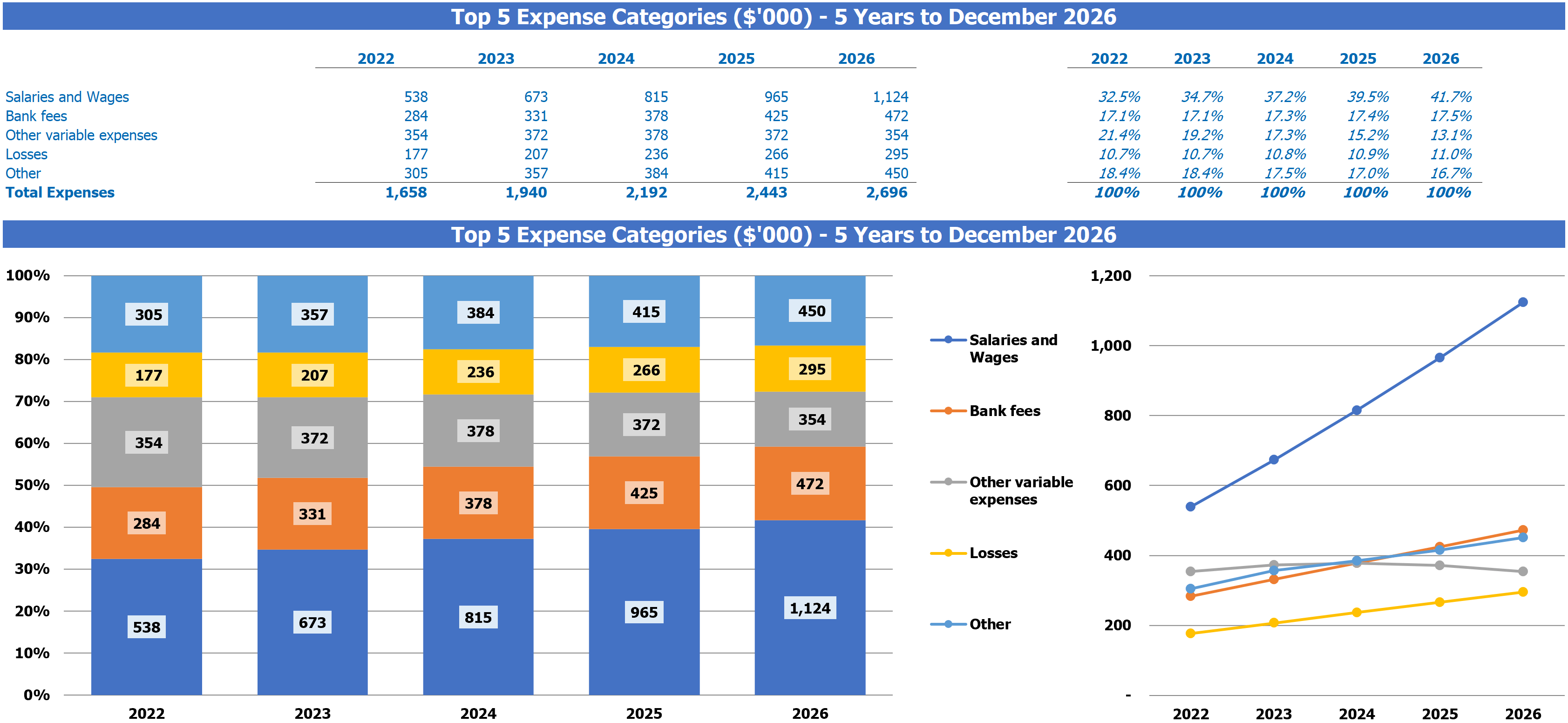 Daycare Financial Plan Income Statement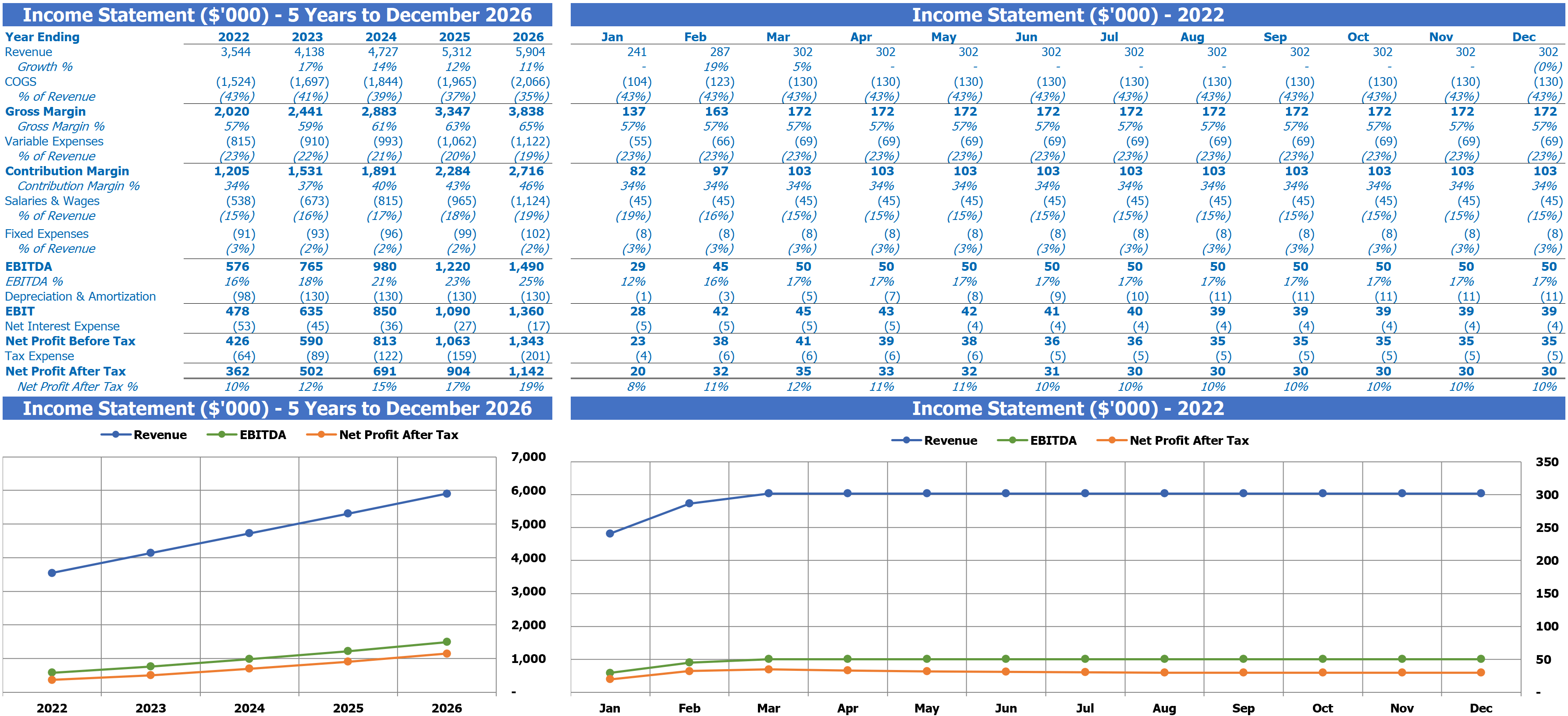 Daycare Financial Plan Cash Flow Statement

Daycare Financial Plan Balance Sheet Statement